TikTok sensation Dixie D'Amelio allegedly underwent a nose job plastic surgery.
TikTok star Dixie D'Amelio recently announced she eventually went through an operation on her nose, similar to the treatment her sister Charli had at the beginning of July and has clarified why she took a little longer to perform it.
Dixie's sibling, Charli D'Amelio, shocked fans at the beginning of July when she posted a TikTok that showed she's had treatment on her nose, claiming she couldn't wait to get her dance lessons again after her injury stopped her from doing so.
Did TikTok Star Dixie D'Amelio Get a Nose Job?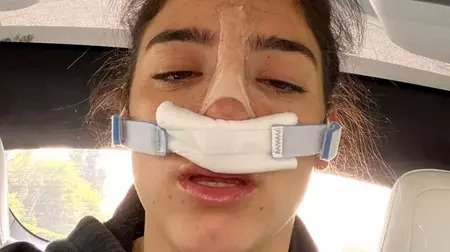 Dixie D'Amelio allegedly had a nose job plastic surgery.
Source: Dexerto
Dixie D'Amelio revealed she performed a nose surgery, and some people are wondering whether she had a nose job or if it's the result of some accident? With more than 38 million followers on TikTok, Dixie is one of the most influential social media influencers on the video-sharing site.
A few months after Charli D'Amelio had a nose operation, Dixie announced she performed one, too. Fans took to social media to voice their concerns, but it appears many remain uncertain as to whether she had surgery in the first place.
You Might Like: Did Pentatonix Lead Kirstin Maldonado Have Plastic Surgery?
On September 16, Dixie took to Twitter to announce the big news to her fans. In a couple of selfies, the TikTok star is seen with a bandage over her nose, and several of her fans are worried and puzzled. "# selfie," Dixie tweeted, followed by another post that said, "ow."
Why Did Dixie D'Amelio Have a Nose Surgery?
Dixie underwent a nose operation following numerous accidents she suffered when she was younger. In a live stream video, Dixie admitted she wasn't exactly sure what caused her issue, but she remembered a time when she was skating on ice and fell to the snow.
Her mother, Heidi D'Amelio, then interjected and said the doctors told Dixie she required surgery not long after the incident.
Dixie continued:
So either that…And one time, I was playing soccer and I got hit in the face and then I fell on the back of my head, had a concussion. Probably broke my nose.
Her mom, Heidi, added:
Remember when you slipped in and fell in the shower? That was bad, you had a whiplash then.
Dixie clarified she "waited for this surgery" because she was keen to do sports.
Many of Dixie's followers sent texts of love and encouragement and wished the TikTok star a swift recovery.
Also See: Real Truth About Sophia Bertolami's Plastic Surgery Speculations
One fan reacted:
Hopefully the nose surgery went ok.
The second wrote:
hope ur nose is feeling better. I actually cracked my nose bridge two months ago and i hurts. need to go get it checked out. glad to see im not the only one with nose problems.
Dixie D'Amelio is a TikTok celebrity with more than 38 million followers, growing to prominence in the last year or so along with sister Charli D'Amelio, and becoming one of the most recognizable faces on the app.
Dixie D'Amelio Previously Mocked Sister Charli After She Had Nose Operation
Dixie D'Amelio had the most memorable response when Charli returned home after performing surgery on her nose, while fans alleged her of undergoing a nose job.
In a YouTube video entitled 'Charli Got Surgery,' Dixie posted images of the instant she served a cake to her little sister to bring her home from the hospital.
Mocking Charli's bandages, Dixie said:
You look like the shark from Shark Tale because your face is flat with the bandages. I didn't say it was a bad thing. I just told her she looked pretty.
In April, Charli informed her followers about some of the breathing problems she's had.
Fun story time so I broke my nose in august and ever since then I have had breathing problems in my right nostril.
She added,
I was supposed to have surgery in November and to fix it but then I started having problems in my left nostril and now I can barely breathe out of my nose at all
Charli then shared a TikTok of herself following surgical procedures. The caption read,
Surgery is done and I am so beyond excited that I was finally able to fix my breathing!!!! And soon I will be able to be in dance classes again!!
Friends and supporters, too, wished her a swift recovery, with Charlie Puth adding,
I did this surgery too, it changed my life. The craziest part is when they take the stints out and you can breathe perfectly for the first time.
Needless to say, fans cannot get enough of Charli D'Amelio on social media platforms.
Visit Weight & Skin for more interesting plastic surgery stories of your favorite celebs.