Grab all the details of Pentatonix lead Kirstin Maldonado's plastic surgery speculations through a thorough examination of her before and after pictures.
Kirstin Taylor "Kirstie" Maldonado was born on 16th May 1992 in Fort Worth, Texas, USA, to Michael Cisneros, a Mexican father, and Angelica Maldonado, an Italian-Spanish mother. She was brought up by her mom in Arlington, Texas.
Maldonado was interested in singing from an early age, as early as merely five years old. Later, she persuaded her mother to permit her to take voice lessons by performing at her wedding reception when she was just 8.
She also took part in various local theater plays and toured with Theater Arlington for nearly a decade, during which she stumbled across Mitch Grassi.
She joined Holy Rosary Catholic School for a while before going to Martin High School, where she encountered Scott Hoying, another member of her future band.
After graduating from school in 2010, she pursued the Musical Theater Production Major Course at the University of Oklahoma, but quit college in her sophomore year to create 'Pentatonix.'
Lately, it's not her career that fans are fascinated by since many seem to be curious to learn if Kirstin Maldonado underwent some form of plastic surgery for her breathtaking appearance.
Did Kirstin Maldonado Undergo Plastic Surgery?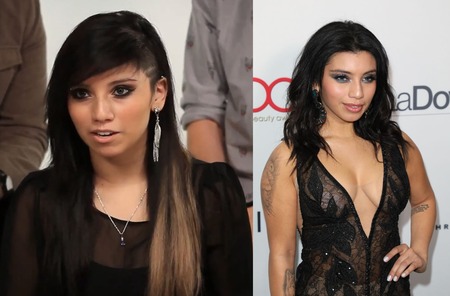 Kirstin Maldonado before and after alleged plastic surgery.
Source: Weight & Skin
It's not unusual to see celebrities being at the forefront of plastic surgery speculations, particularly those engrossed in the entertainment industry where looks play a significant part.
Kirstin Maldonado is one such star who is at the center of cosmetic surgery rumors lately. Did the Pentatonix lead really go under the knife?
It comes as no surprise people want to discuss the alleged plastic surgery of the 3-time Grammy award-winning multi-platinum recording artist and the only female member in the pop group Pentatonix.
Kirstin was a National Hispanic Scholar who studied musical theater at the University of Oklahoma. With the group Pentatonix, she was the season 3 winner of NBC's The Sing-Off. The singer has appeared in various stage plays, including plays across the Metroplex such as Casa Manana and Bass Hall.
You Might Like: Real Truth About Sophia Bertolami's Plastic Surgery Speculations
Born in Fort Worth, Texas, she bumped into a future boyfriend, Jeremy Michael Lewis during the fourth season of The Sing-Off. She and Lewis filmed a famous YouTube video entitled "Disney Love Medley." The couple got engaged in May 2016, but then called it quits in October 2017 after over a year of engagement.
Coming back to her plastic surgery allegations, there's no concrete proof of her ever going under the knife. Therefore, we took it upon ourselves to compare her most recent look with how she appeared in the past.
Following a careful inspection of these pictures, we can conclude she does look like she's had a few cosmetic enhancements, although we cannot claim for sure the precise procedures. Our best guess would be Botox, facelift, and lip fillers.
Some fans even think she's got a boob job, but we prefer to sit on the fence on that one.
Kirstin Maldonado Gives Her Take on Industry Pressure for Plastic Surgery
Often in the music industry, the aspiring stars encounter situations where record executives tell girls to get plastic surgery to either get skinnier or completely change their appearance. Some even want to dress them up like a Barbie doll to revamp their looks completely.
During an interview with Asian Fusion, Kirstin Maldonado was asked if she ever had such experiences.
Also See: Julianne Moore's Plastic Surgery is Trending But Is It True?
The singer responded,
I've actually been told that. It wasn't in the business; it was actually in school. It does suck; obviously you're sad. In the industry especially, if you look a certain way it does make life a lot easier.
The 28-year-old added,
I'm not the most active person in the world and I can admit that. What I used to struggle with was letting all that consume you as opposed to focusing on the good reasons to improve yourself.
Maldonado now feels like she's got a little more sense of her place. She continued,
People always feel like they have to fit into a cookie-cutter image and copy the stars but you have to find who you are.
Kirstin reckons such stars are already famous for who they were. Therefore, you need to seek the best version of yourself.
The Pentatonix Lead Shares One Suggestion She Would Give to Her Younger Self
Prior to Kirstin Maldonado's association with the multi-platinum, Grammy Award-winning Cappella group from Arlington, Texas, Pentatonix, the singer longed for a Broadway performance.
Since she was a kid, Broadway had always been her passion. She grew up believing this is just what she wants to do and where she wishes to be.
In fact, musical theatres began her love for music. She remembers visiting New York City with her mother and going to performances. "I remember seeing Chicago and Legally Blonde and waiting at the stage door."
Also Read: 'Flip or Flop' Star Tarek El Moussa's Plastic Surgery Discussed
Meanwhile, the now immensely successful singer revealed there's one thing she wishes she could tell her younger self if she was just starting out.
Don't be afraid to really go for what you want and put your dream out there. So many people live in fear of looking bad. At times, I definitely do. I will not do something because I don't want to be embarrassed. But that holds you back. You can't get any better.
Kirstin Maldonado used to dance when she was a little kid, but then she quit. Right now, she wishes she could take lessons to keep up with it since dancing used to be such a treat for her. However, she reckoned everybody else was getting better than her.
There were so many opportunities where I think now, I could have put myself out there more or tried something new.
The singer believes you just got to put yourself out there in this business and not be intimidated.
Visit Weight & Skin for more plastic surgery stories of your favorite celebs.