Jocelyn Wildenstein, aka Tiger Lady, is best known for her plastic surgery look. Although people accuse her of having bizarre appearances and her before and after looks have vast differences, she loves her outcome and keeps on doing photoshoots with her look. She is also claimed to have had many operations, but the exact number and all the details about the procedure are yet to be determined. 
Jocelyn Wildenstein, aka Tiger Lady, is a Swiss socialite known for her extensive cosmetic surgery, resulting in her catlike appearance. Recently, she has been in the news after she announced that she is busy with her biggest project. She told that her new documentary about her life is on the way.
Tiger Lady has revealed in an interview about her situation. She talked about how she is broke ahead of an upcoming HBO documentary about her life and a reality TV show. She also admitted to having no income at all for the last eight years. She has been cut her off from her $100 million annual divorce settlement payment by her late ex-husband's former family.
After hearing the statement, people are curious if Tiger Lady has had more surgery to make her broke or not. In this article, we will be talking about her plastic surgery experience and before-and-after differences. To know more, read this article.
Check out our other celebrity plastic surgery stories;  Rollie Pollie, Kate Langbroek, and more!
Tiger Lady Is Accused of Doing Plastic Surgery Many Times to Achieve Her Current Looks!
Jocelyn Wildenstein (@jocelynewildenstein) has admitted to doing plastic surgery, but the exact number of times she has gone under the knife has not yet been revealed. People are eagerly waiting to know more about her procedure in her real-life documentary, which is said to be released soon. He is accused of having had multiple procedures, including Botox, filler, lip injections, a facelift, and a brow lift.
Many people love to change their looks. It looks like plastic surgery has become a new trend in today's generation. Some surgeons claim that it's an addiction for some people who love changing themselves. Similarly, when discussing plastic surgery, the common name that comes to every person's mind is Jocelyn Wildenstein. She has admitted to doing many surgeries multiple times, but the exact number is unknown.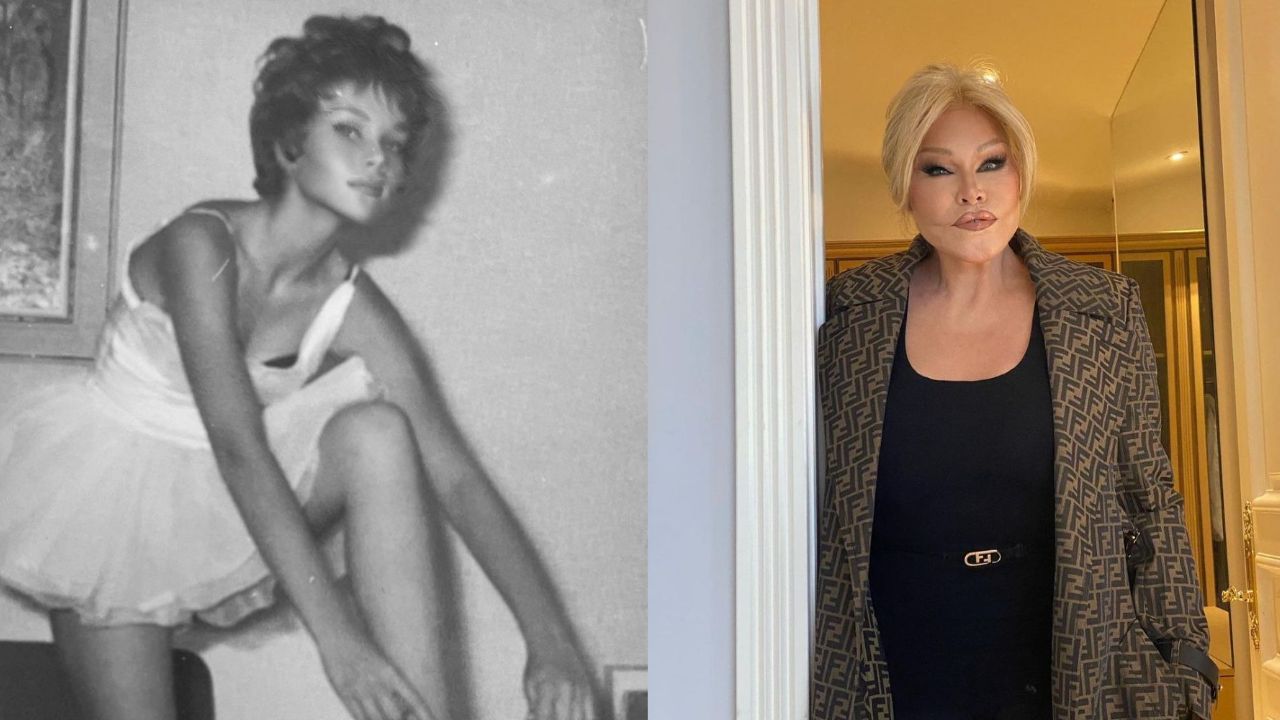 Before and after picture of Tiger Lady
Image Source: Instagram
Jocelyn, who is known for her plastic surgery and her divorce case, is currently working on her real-life documentary. In the documentary, all the details of her life story and surgeries are expected to be seen. She has gone under the knife many times throughout her life, which has made her appearance completely change and given her many nicknames such as Cat Woman, and Tiger Lady.
Tiger Lady Before and After Plastic Surgery
If we compare her before and after pictures, Tiger Lady's a different person. Before she used to have a normal, natural face, and now her face skin is all tight, her lips are filled with filler, her brows look artificial, and her full face looks bizarre.
Tiger Lady has been under the radar for undergoing multiple plastic surgeries.
Image Source: Instagram
Tiger Lady's obsession with plastic surgery started in the first year of her marriage when she had an eye lift. Though it was assumed by many of her friends and ex-husband that she was trying to look like Lynx with the surgery, it turned out to be unsuccessful. She also mentioned liking Lynx's perfect eye during the interview and stated;
The lynx has perfect eyes, but suggested her face dimensions were at least partially natural, adding, If I show you pictures of my grandmother, what you see is these eyes — cat eyes — and high cheekbones.
After looking artificial, people thought that Jocelyn would stop and wouldn't do any procedures, but her obsession didn't stop, and she continues to do many surgeries, which makes people think that she is full of plastic now. Besides an eye lift, she has been accused of going through different procedures, including, botox, filler, lip injections, a facelift, and a brow lift.
How Much Money Does Tiger Lady Spend on Surgery?
Everything comes with a price, and we all know how expensive plastic surgery is. Tiger Lady, who was the daughter-in-law of the richest family in France, seems to have no lack of money for doing things in her interest. She and her husband Alec are estimated to spend $1 million a month on average, and it seems normal to have plastic surgery with the lifestyle she was living.
In 2009, Jocelyn was estimated to have spent more than $4 million on her plastic surgery. Seeing her recent look, many might be confused, but her face was not as tight and artificial as it is now.
Before, when Tiger Lady used to work as a model, she looked like a normal American woman, but slowly, as time passed, her insecurities with her face started eating her. She started changing her lifestyle and face for her husband, which later turned out to be the result of their divorce, as her husband spoke about her obsession with plastic surgery and stated;
She was crazy. I would always find out last. She was thinking that she could fix her face like a piece of furniture. Skin does not work that way. But she wouldn't listen.