Everything you need to know about Twisted Sister lead Dee Snider's wife Suzette Snider's plastic surgery endeavors. Check out before and after transformation of the Celebrity Family Feud star.
The latest episode of Celebrity Family Feud is just everything you've asked for. Suzette Snider works on her husband Dee's squad. Her married life to Dee aided her rise to stardom, but she's been in the biz for quite some time.
Recently, though, Suzette Snider is at the forefront of plastic surgery speculations on the internet. Did she really go under the knife? Let's find out.
Suzette Snider's Plastic Surgery – Did Dee Snider's Wife Make Cosmetic Enhancements?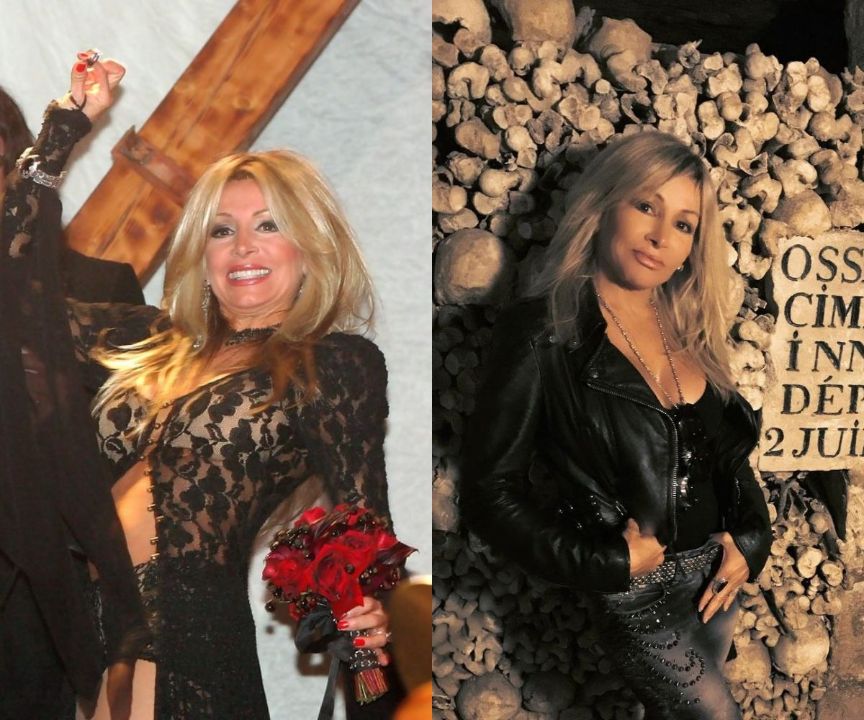 Suzette Snider before and after plastic surgery.
Image Source: Weight & Skin
Suzette Snider is currently making rounds on the internet over her plastic surgery speculations. So, what sort of changes has she made?
Since making her appearance on the ABC game show Celebrity Family Feud, viewers can't help but wonder if Suzette has gone under the knife.
You Might Like: LaLa Anthony Before Plastic Surgery – Butt Lift, Nose Job, Botox!
Before we break down her potential cosmetic surgeries, it's worth noting that the curiosity is unsurprising. Suzette has served as a makeup artist while she's also been a part of the costume department of films and television shows.
She appeared in the movie Fool's Day (2013) as well The Howard Stern Show. In addition, she's appeared as herself on E's Hollywood Story and Celebrity Wife Swap.
Most prominently, though, Suzette is known as the wife of Twisted Sister lead singer Dee Snider. They've been together since 1981. The couple shares four children: daughter Shy and sons Shane, Jesse Blaze, and Cody Blue.
Also See: Rita Moreno's Plastic Surgery – What's the Secret to Her Looks?
Coming back to Snider's plastic surgery, we took the responsibility of contrasting her present appearance with how she looked in the past. Upon close inspection, our experts at Weight & Skin reckon she's had Botox injections and lip fillers, at the very least.
Meanwhile, Suzette is yet to address the rumors of cosmetic enhancements, and she is unlikely to do so anytime soon.
Dee Snider and His Wife Suzette Snider are Perfect for Each Other
Twisted Sister's frontman said to The Sydney Morning Herald in 2019,
I met my wife, Suzette, when she was 15 and I was 21. She turned up to our show on her cousin's ID and thought she was seeing a girl band. I saw her and flipped. She was this hot Italian beauty. I told her I'd be famous one day. We've been together ever since.
Currently, they're in a marital relationship for nearly 45 years, and Suzette has always been supportive of his career.
He said,
She is a costume designer who came up with the band's logo, did our make-up, and made my costumes.
Snider, on the other hand, conceded they "nearly broke up" in the formative days of his success.
Dee said,
Twisted Sister was at the top of the charts and it went to my head. I became a megalomaniac. We ended up going to counseling.
Even so, Suzette did stand by Snider when his career was at its lowest point.
Also Read: 'In the Heights' Daphne Rubin-Vega's Plastic Surgery – The Complete Breakdown!
He explained,
I'd lost it all and Suzette went back to work until I got back on my feet. Suzette has stuck by me through thick and thin.
They have four kids together, and Suzette has managed to offset parenthood and her roll-and-roll husband.
Snider clarified,
I always wanted to be a rock star, but I wanted to have kids, too.
Needless to say, Dee and Suzette have done just that!
Visit Weight & Skin for more plastic surgery stories of your favorite celebs.