Learn all the facts about Persia White's plastic surgery speculations, most notably Botox injections, nose job aka rhinoplasty operation.
Persia White, born on 25th October 1972, is an American actress, singer, and songwriter. White is well-renowned for her appearance as Lynn Searcy on the UPN sitcom Girlfriends, which aired for eight years from 2000 to 2008.
In addition, the actress is a member of the band XEO3 and a solo artist who recorded her debut album Mecca back in 2009.
Lately, Persia White is the subject of plastic surgery speculations. So, is there any truth to it? Let's find out.
Persia White's Plastic Surgery Speculations – Did She Go Under the Knife?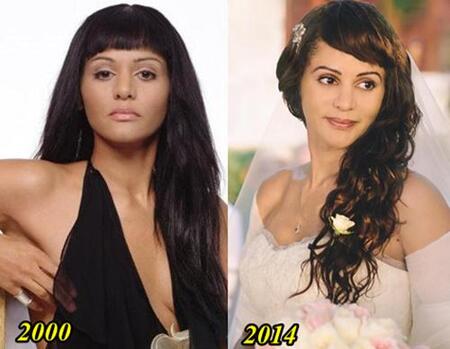 Persia White before and after plastic surgery.
Source: Pinterest
Persia White is a 47-year-old actress and a singer, who still looks beautiful and youthful to this day. The well-renowned star is leaving a lot of people puzzled and stunned through the before and after images.
In fact, she's got a peculiar shape of the nose. That's why she's been facing a lot of rumors about her plastic surgery lately.
Persia White, who is now nearing 50, appears younger than normal people at that age. People reckon botox injection played a significant role in improving her beauty.
The botox itself is no longer difficult to obtain. By using this procedure, the user can renew her face, eliminating or minimizing the symptoms of aging like pesky wrinkles.
As a result, you can see Persia White boasts a striking look and wrinkle-free appearance. She looks a lot younger than women her age.
You Might Like: 'The Boys' Starlight Actress Erin Moriarty's Plastic Surgery Speculations
Apart from renewing her look with Botox, Persia got a nose job. She seems to have altered her nose through rhinoplasty surgery as the improvement on her nasal region couldn't be more obvious.
Compared to her previous look, her new nose appears more straight with a narrower bridge. Furthermore, the plastic surgery on the nose made the tip look tinier. From the side and front, it appears more pointed.
Persia White's Early Life
Persia White's got three siblings born to an Irish-American mother and a Bahamian father. She spent her childhood in the Bahamas.
White's father was injured in a car crash when she was 3 years old and later moved to Miami to pursue proper medical treatment. White's mother shifted to South Florida with her kids two years later but did not get back together with White's father.
Also See: Complete Breakdown of Fai Khadra's Nose Job Plastic Surgery
Persia then entered the Miami Coconut Grove Children's Theatre. She practiced ballet, acting, singing, and drawing as a teenager.
After completing high school, Persia White signed with the Ford Agency to acquire her Guild Screen Actors card. She relocated to Los Angeles to pursue a career as an actress.
A Bit More Insight Into Persia White's Personal Life
Persia White is a vegetarian, animal and human rights activist, and environmentalist. She was named by PETA as the Humanitarian of the Year back in 2005. She is a member of the Board of Directors of the Sea Shepherd Conservation Society.
On 29 February 2008, Persia got engaged to her boyfriend (of half a decade) turned fiance, singer Saul Williams. They first bumped into each other in 2003 when he made a guest appearance in an American sitcom Girlfriends.
Also Read: Former Fox News Host Andrea Tantaros' Plastic Surgery – The Real Truth!
On 17th January 2009, White revealed on her Myspace page that she and Williams had gone separate ways.
Three years into their dating life, White exchanged vows with fellow Vampire Diaries star Joseph Morgan in Ocho Rios, Jamaica, on 5th July 2014. Persia's got a daughter named Mecca White.
Visit Weight & Skin for more plastic surgery stories of your favorite celebs.