Learn the real truth surrounding Fai Khadra's plastic surgery speculations, most notably his nose job.
If you've found yourself completely absorbed in the Kardashian world, you may wonder who Fai Khadra is.
A close friend of Kendall Jenner's, Fai's been a frequent guest at Kardashian hang-outs, and reports have recently surfaced about a potential romantic relationship with Kylie after both of them had spent vacations in Utah and Paris.
Meanwhile, fans recently can't help wonder if Fai Khadra underwent plastic surgery after looking at his old pictures. Most seem to be positive about his apparent nose job. Let's dig deep into the details.
Fai Khadra's Plastic Surgery Speculations – Did He Get Nose Job?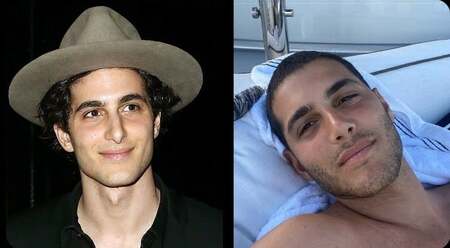 Fai Khadra before and after nose job plastic surgery.
Source: Weight & Skin
Kardashian-Jenner's followers not only keep up with the Kardashians; they remain informed about all their best friends. Fai Khadra, well-known BFF to Kendall Jenner, has accrued more than 1 million followers on Instagram and is a big star of his own.
But when an old picture of him recently reemerged showing him looking entirely different, fans were quick to notice the transformation, alleging plastic surgery.
The old image of Fai dropped on Reddit, and the fans are absolutely convinced he's done a nose job. The photo, dated March 2013, displayed him seated in his car in a pair of shades.
You Might Like: Former Fox News Host Andrea Tantaros' Plastic Surgery – The Real Truth!
Fans began sharing their honest opinions on Reddit. One person said:
He went from hot to hotter. Seriously, he was already a 10/10.
Another was swift to praise the plastic surgery.
His new nose looks fantastic though. His surgeon gave him the perfect nose.
The third commented,
I actually like this nose a lot. He looks like a less douchey Jean-Ralphio.
There appeared to be no doubt as to whether the KUWTK star had gone under the knife. However, not all of them were fond of Khadra's surgical alteration. "I liked him before the nose job," one of them said in the post.
Either way, with or without plastic surgery, the 28-year-old looks fantastic, and we love to see him in pictures of the Kardashian-Jenner family!
Is Fai Khadra Dating Kylie Jenner?
https://twitter.com/ChanelMajesty/status/1299734203198836737
Despite the set of images Kylie posted on Instagram in August, the duo's sources confirm they're just friends.
The Kardashian-Jenner clan likes to keep the public wondering, particularly when it comes to their romantic life.
Sources confirmed Kylie Jenner and Palestinian model Fai Khadra are not a couple – despite a series of photographs the duo posted on Instagram showing the two of them together at an unknown rooftop venue in France.
Also See: 'Love, Guaranteed' Actress Rachael Leigh Cook's Plastic Surgery is Trending But Is It True?
As per TMZ, despite the pair looking pretty close together, sources close to the youngest self-made billionaire confirmed Kylie and Fai Khadra are not in a relationship. He is, in fact, a pretty good family friend who has invested more time in the close sanctum of the Kardashian-Jenner fam since the beginning of the pandemic.
So, who is Fai Khadra? And how did the stories come about claiming Kylie Jenner was dating him?
The model was born in Saudi Arabia and later grew up in Dubai. He is the brother of social media stars Simi and Haze Khadra. With a remarkable 1.1 million followers on Instagram, the twins are recognized for their social media influence as well as their DJ talents.
Rumors began swirling back in July after the model, 28, tagged on a recent trip to Utah with Kylie and her buddies, where a lot of photos of the pair were taken together. The duo loved soaking up some of the desert suns while scaling the mountains and posing for the ultimate Insta-worthy snaps.
Also Read: Complete Details of 'Love Island' Cast Member Mackenzie Dipman's Plastic Surgery Speculations
Fai was also Kendall Jenner's "non-date" to the festivities, and he was seen spending time with Kourtney Kardashian.
Fai Khadra Received Birthday Wish From Kylie Jenner
Recently, Kylie Jenner's friendship with Fai Khadra has ignited a lot of discussion among her followers.
They went to a couple of trips together – one to the desert of Utah and one to Paris – a few speculations were surrounding the potential couple.
However, according to TMZ, the duo is nothing more than just friends.
Like every true friend, Kylie made sure to wish Fai a happy birthday on 9th September marking his 29th birthday. The beauty mogul posted a number of new videos and pictures of the couple on Instagram to celebrate the day – including some footage and snaps from inside Kylie's private jet, likely from one of the several trips they've gone together.
Do Not Miss: Real Truth About 'Claws' Star Niecy Nash's Plastic Surgery Speculations
Khadra's been in the Kardashian-Jenner circle for numerous years and has always been linked to Kylie and Kendall, and is also a longtime friend of Kourtney Kardashian.
Back in July, the 23-year-old shared quite a few pictures of her trip to the desert of Utah, some of them with the Palestinian model.
Then, last month, Kylie took a brief trip to Paris, where Fai and a few other friends joined her.
Visit Weight & Skin for more plastic surgery stories of your favorite celebs.