Mama Elsa Patton's plastic surgery brought several ups and downs in her life. Changing her facial structure completely, Patton had a hard time living with a distorted face. Elsa had also been the subject of a terrible illness in the form of stroke. Have a look at Mama Elsa's pictures before and after plastic surgery.
Eminently known for her participation in a prominent show, The Real Housewives of Miami, Elsa Patton was a popular personality. The show is specifically for those women who want to develop their personal as well as professional lives while living in Miami, Florida.
Having three seasons, the latest season was released on 16th December 2021 while the first-ever season was made public on 22nd February 2011.
In the series, Elsa Patton was famously known as Mama Elsa as she was the mother of a full-time cast member, Marysol Patton. More than her involvement in the show, Elsa was widely known for her plastic surgery.
In the past, she looked like a literal goddess with an exceptional look, conversely, the tables had turned around, and via the surgery, her face completely changed and looked different from what she looked in the past.
All her beautiful facial features were destroyed and distorted, and unfortunately, Elsa Patton had to live with a face that didn't belong to her.
Mama Elsa Patton's Plastic Surgery: How Did She Look Before Cosmetic Changes?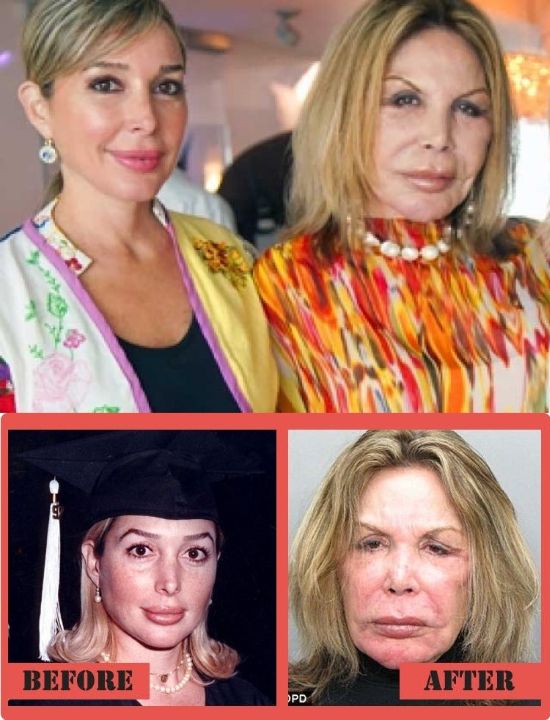 Mama Elsa Patton before and after plastic surgery.
Image Source: Weight & Skin
Born on 26th August 1934 in the United States, the American woman, Elsa Patton received maximum exposure from the public alongside her daughter, Marysol who starred in the well-known Bravo reality show, The Real Housewives of Miami. As Patton was the mother of a full-time cast in the show, people started knowing her as Mama Elsa.
You Might Like: Cole Sprouse's Plastic Surgery: Did He Get a Nose Job?
Hoping to glow differently with flawless and wrinkle-free skin, Mama Elsa got her procedure done in the 80s. Not much is known about what specific plastic surgery did she undergo at that time, however, this initiative brought her addiction to getting more cosmetic surgeries in the future.
At the age of 74, Elsa didn't want even a slight wrinkling on her face, and to expunge the unnecessary folding of her skin, the woman had undergone incisions to look younger, in 2008. This process ran till 2012 and eventually came to an end when Elsa Patton faced adverse ramifications.
Rather than giving her the fine look, the plastic surgery was appalling and gave her a horrific look. Elsa developed loose skin in her face, and her eye bags grew more; her cheeks bounced off completely and didn't even have a proper shape.
Also, her nose appeared to look wider and asymmetrical. It appeared as if her whole face was sagging. Moreover, only her face was gaining weight and her facial structure did not have any jaw or cheekbones.
On 6th January 2013, speaking about her facial structure, Elsa Patton revealed that the doctor did her bad, and betrayed her trust. Although it was the doctor's fault and negligence, Mama Elsa had to bear all the suffering.
However, this specific plastic surgery of hers acted as an awareness to the audience to research more before getting treatment by a specific doctor.
Although plastic surgery is done with the purpose of adding beauty and looking younger, the universe wasn't in her favor, and thus, her face got damaged.
Died at the age of 84, Elsa Patton is no more with us but people still reminisce about her dreadful surgery and face structure. Hence, before undergoing any cosmetic surgery, undoubtedly, people get mixed feelings when they think about Elsa's face.
Also See: Trevor Noah's Plastic Surgery: Details of His Lawsuit Against the Doc!
Despite the weird face structure, Patton had enormous confidence in her, and her surgery did no harm to her social life. To be specific, Elsa wasn't insecure about how she looked, rather she appeared in shows, and boosted her own confidence.
This is discernible that Patton was one of the strongest women and did not let any of insecurity bash her down. Since she carried confidence in her, no one developed the audacity to talk shit about her.
How did Elsa Patton Die?
On 12th May 2019, Mama Elsa Patton took her last breath in the presence of her family and children. Ending all of her suffering and pain, Elsa eventually rested in peace exactly after a year of her husband's death.
Patton had a hard time during the last season of ROHM, and therefore with the show itself, it was disclosed that Patton suffered from a stroke.
At the time of her death, Elsa lived with her daughter, son, and daughter-in-law and they all took good care of her until the last moment.
Also Read: Lisa Whelchel's Plastic Surgery: The Facts of Life Actress is Accused of Cosmetic Alterations!
Specifically, there is no particular reason for Elsa's death. Simplifying her death, it appears that Elsa Patton was in her early 90s, and therefore, due to elderly life, her body was probably weak and since she suffered from a long illness (which has not been revealed yet), her body gave up and thus, she died at the age of 84.
Visit Weight & Skin for more plastic surgery stories of your favorite celebs.