Grab all the details of Kristin Davis' plastic surgery procedures, most notably Botox injections on her face. How does the Charlotte York actress look now in 2021?
She might have had a lifelong dislike of needles. However, Kristin Davis appeared to be doing everything she could to look beautiful for the sequel to the film Sex And The City despite her fears.
The 56-year-old actress, who plays Charlotte York, looked to have had her fine creases around her eyes smoothed out over a decade ago. Back in 2009, onlookers observed a difference between wrinkles around her eyes and blemishes around her hairline as she was shooting scenes for Sex And The City 2 in New York.
The actress had confessed at the time that acupuncture helped her overcome her phobia of needles. She has been commended in the past for being one of a few Hollywood actresses who manage to keep their features without plastic surgery, albeit she is said to have had varicose vein treatment.
While her Botox injections are well documented, has Kristin Davis made other enhancements? Let's find out.
Kristin Davis' Plastic Surgery – Botox Injections & What Else?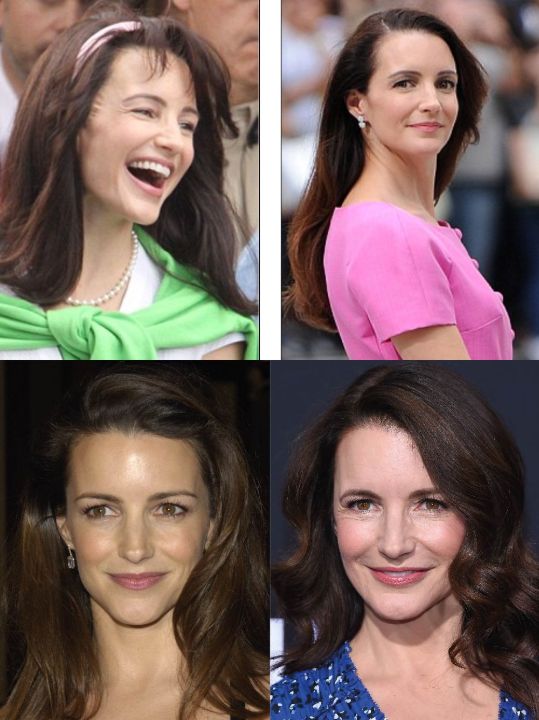 Kristin Davis before and after plastic surgery (Botox injections).
Image Source: Weight & Skin
When Kristin Davis reprised her role as Charlotte York Goldenblatt in Sex and the City 2 in 2010, she fueled allegations of plastic surgery.
The majority of people were persuaded to believe that she appeared odd and much different from her previous appearance in Sex and the City film two years prior. As a result, speculations surfaced that the now 56-year-old actress had experimented with Botox at the time.
You Might Like: Oklahoma Coach Patty Gasso's Plastic Surgery is Trending But Is It True?
It's not even shocking given Davis's age: she's in her mid-50s. She's not getting younger anytime soon, and the actress presumably decided it was best for her profession to do something about the inevitable reality of fading looks.
This story has only gotten worse since the actress is yet to respond, leaving fans with nothing to do but come up with speculations.
Meanwhile, Dr. David Shafer and Dr. Paul S. Nassif, both from New York, seemed to concur with the reports, claiming that Davis' improved skin is linked to Botox treatment.
Besides the obvious Botox injections, Kristin Davis is believed to have performed a facelift plastic surgery too, but this is yet to be confirmed.
Why Did Kristin Davis Opt for Botox?
Kristin Davis portrays Charlotte, an art lover and naive romantic who develops feelings for her divorce lawyer. While there is no doubting Kristin's timeless beauty, it is not unusual for a lady of Kristin's age to have non-surgical procedures such as Anti-Wrinkle injections, also known as Botox.
Also See: Teyana Taylor's Plastic Surgery – Rhinoplasty, Butt Implants, Breast Reduction?
As you can see, the benefits do not have to be spectacular; a modest amount applied to the appropriate locations can provide the impression of smoother texture and a more youthful look.
This avoids the creation of a "frozen look," which some patients request in order to inhibit facial movement entirely. Kristin has most likely requested more youthfulness.
The solution typically lasts 3-6 months as muscle activity steadily returns; however, lines and wrinkles continue to develop after this time and must be addressed again. She has most likely received the procedure on her brow and glabella (in between eyebrows).
Kristin may have undergone the non-surgical treatment of Dermal Fillers to her cheeks, sometimes known as "cheek fillers." Dermal fillers, like Kristin's, can be utilized in this region to restore contour and fullness along the cheekbone.
Fillers can replenish lost density in your face and plump regions, smoothing deep-set lines and reducing the severity of fine lines wrinkles, and other apparent symptoms of aging. Fillers can cost between £150 and £500 a session, depending on the region and quantity used.
Also Read: Jeff Bezos' Plastic Surgery – Does He Use Noninvasive Treatments?
Kristin Davis, now a parent of two, is sure to have recourse to a personalized instructor and dietitian to help her stay in shape and preserve her bright complexion. She may also have frequent 'tweaks' and non-surgical operations to keep her young appearance.
Visit Weight & Skin for more plastic surgery stories of your favorite celebs.