Dina Manzo provided details about some of the plastic surgery procedures she had performed a few years ago.
After a lot of her fans and followers speculated that the former Real Housewives of New Jersey star seemed "different" upon posing for a new picture with Teresa Giudice and a pal in Los Angeles, Dina posted a long message regarding what she had modified.
Dina Manzo Admitted to Plastic Surgery After Fans Claimed She 'Looks Different'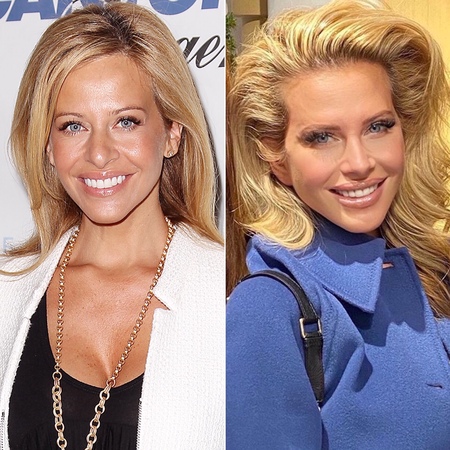 Dina Manzo before and after plastic surgery.
Source: Real Housewives
Dina Manzo looked stunning in a new picture shared on Instagram back in December 2019, but the "Real Housewives of New Jersey" actress said she was "flooded" with texts from fans wondering why she appeared "different."
"THANK YOU for the very very sweet messages saying I look great etc. I appreciate that more than you know," she wrote. "Some of you are commenting that I look different. You're absolutely right."
You Might Like: Full Story on YouTube Vlogger Gabi DeMartino's Plastic Surgery – Did She Get a Nose Job to Look like Ariana Grande?
"When the thing on the center of your face changes you're gonna look different lol," she added.
Manzo said she underwent a nose job two years ago. Since she was going under anesthesia, she decided to have her doctor "make a few tweaks," so she didn't have to use fillers on her face.
"I'll leave it at that," she said.
Dina Manzo claimed she had a tough time adapting to her "new nose" in the first year.
Also See: The Real Truth of Stephanie Pratt Plastic Surgery
"Although my Dr is amazing at what he does, it did change my overall look. I had a prominent Italian rounded nose and now I had this perfectly proportioned petite nose," she said. "It's a big adjustment especially when you live with the same face for 45 yrs."
Manzo said she was pleased with the tests after the swelling went down.
"I've grown to really like the new me. A smaller nose does make me look much younger & my tweaks' make me look refreshed," she wrote. "Make no mistake, I've always looked younger than I was thanks to good genes and lots of water."
Also Read: In-Depth Details on Kaitlin Olson Plastic Surgery
Dina joked her good genes were how she "landed my hot a** younger husband."
Dina Manzo Revealed She's Secretly Married to Dave Cantin
Dina Manzo shared the news on Instagram almost two years after she exchanged vows to her longtime boyfriend turned husband Dave Cantin.
While there had been speculations for a while on whether the lovebirds are husband and wife, Bravo states this is the first time Manzo revealed they are indeed married.
Do Not Miss: All of Tyra Banks Plastic Surgery – Including One She Confessed
Manzo disclosed the intimate details of their private wedding on June 28, 2017, nearly two years since the pair tied the knot in Malibu, California.
"The bride wore a dress from her closet, an orange blossom in her hair and carried a Calla Lily from her Malibu Garden. In front of the gorgeous Pacific, surrounded by nature and puppies, they promised to be there in good times and bad," she wrote a caption next to a nice shot of the delightful couple dressed in white on the beach.
Manzo called it a "simple, meaningful wedding on a day chosen by the stars." She added the #thirdtimesacharm hashtag, a nod to this being her third marriage. This is the second wedding of Cantin.
Recommended: American Businesswoman Carly Fiorina's Plastic Surgery History – The Real Truth
When Manzo changed her last name to Cantin on her Facebook profile a while earlier, it sparked rumors she may have had a secret wedding.
The Instagram post finally provided the official confirmation!
Visit Weight & Skin for more plastic surgery stories of your favorite celebs.