With almost 8 million subscribers on Youtube and 3.5 million followers on Instagram, Gabi DeMartino is no stranger to public criticism. What is unusual, however, is that, for years, the critique came not from her fans, but from herself.
Gabi DeMartino recently talked about the impact of relatives, peers, and Internet popularity on her journey to really feel confident in her own skin. Meanwhile, learn the complete truth about her plastic surgery procedures.
Gabi DeMartino's Plastic Surgery – Did She Really Get a Nose Job to Resemble Ariana Grande?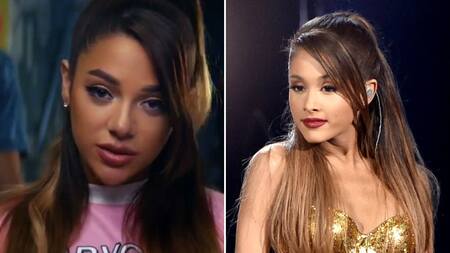 Gabi DeMartino is accused of undergoing plastic surgery to look like Ariana Grande.
Source: Elite Daily
The YouTube personality, Gabi DeMartino has received a lot of criticism in the last few years after being suspected by followers of the "Thank U, Next" songstress of trying too hard to be like Ariana Grande.
Gabi recently announced she had a nose job — and though she maintains this is something she has chosen for herself, Ari's similarities are once again entering her social media messages.
"I felt myself become me in this moment," Gabi wrote in an emotional Instagram post about the transformation. "Thank you @drjbloom for making something I've wanted for years real. #newnosenewlife."
You Might Like: The Real Truth of Stephanie Pratt Plastic Surgery
Several viewers immediately suspected her of having her operation to look more like the 25-year-old musician. "Copycat," one fan wrote, while another added, "Yep, just like Ariana's nose. Just as I expected."
Gabi even took lyrics from Ariana's latest single "7 Rings" for her caption on Instagram, and obviously being linked to Ari is something she completely acknowledges.
But she insists that her new nose has nothing to do with Grande. In a YouTube video, the 23-year-old clarified that she had undergone plastic surgery because she was not fond of her initial face.
Also See: In-Depth Details on Kaitlin Olson Plastic Surgery
"I have all this extra cartilage," she explained. "I'm pretty sure you guys can see what I don't like about my nose. It's really fat, and it moves around, and I don't like how it spreads out so far when I smile. I have to literally contour on nostrils."
How Did the Fans React?
Some fans rushed rapidly to the support of the YouTube star, Gabi DeMartino. "Beautiful with old nose and new," one fan wrote. "But what's truly the most beautifying is your happiness!"
This is not the first time she has been suspected of undergoing plastic surgery and copying the artist. After fans saw how identical the two ladies seemed, Gabi went on to share a video where she pretended to be Ariana Grande for a day.
She immediately got a lot of criticism, and the video also captured Ariana 's eye. "Yeah, this ain't it," Ari tweeted.
https://twitter.com/ArianaGrande/status/1021058582941294594
"It was a parody, I'm sorry if I upset you. Wish I didn't put it up," Gabi replied. "Sincerely, a fan."
After the former Nickelodeon star's followers started to give a lot of animosity to the YouTuber, Ariana took to Twitter again.
"I was just being funny I knew they'd laugh at that my bad babe," she wrote. "It's all love here, you know that. But next time can you wear more neutral tones and not do the cat laugh. JK."
https://twitter.com/ArianaGrande/status/1021068378293743616
And while things are all fine between the ladies right now (Gabi also featured in Ariana's "Thank U, Next" music video), the YouTuber later confessed that she had pushed it too far.
"I have parodied her in a light that isn't likable," Gabi admitted. "I have been overly inspired, therefore I unfollowed her on Instagram so that I can learn to be my own person."
She also clarified that while she uses Ariana as an inspiration, it is all out of affection. "I'm a huge fan of her. A lot of people misinterpret that," Gabi said. "I'm obviously very influenced. My makeup is so influenced by her."
Also Read: All of Tyra Banks Plastic Surgery – Including One She Confessed
"The extensions and all that stuff, yes, I am so inspired. Her hair is beautiful. She's a very beautiful girl," she continued.
"I don't want to be her, I'm very happy as me. I love my life, I love what I do, but at the end of the day when you want to see like, 'Oh, what should I wear to this event?' Or, 'How should I do my hair and makeup?' you obviously find someone that emulates how you look and has your style to get inspiration."
Who is Gabi DeMartino?
The host of Youtube's immensely famous "Fancy Vlogs by Gab" and "Niki and Gabi," Gabi DeMartino, spent most of her early teens fantasizing about improving the flaws she considered so undesirable.
"I didn't even know what surgery was, and I was in seventh grade saying, 'Mom and dad, let me change my nose', and they were like, 'What?'"
Notwithstanding her insecurities, Gabi began making beauty videos for YouTube with her twin sister Niki DeMartino when she was just 17. She became smitten with the transforming potential of lipstick while feeling dissatisfied as a model herself.
"I didn't have that makeup face," Gabi explains. "I didn't have lips to put lipstick on. I didn't have a tiny, cute little fairy nose that makes everything look proportionate when you do makeup. I had a bulbous nose, thin lips, and tiny teeth. The only feature I was actually not ashamed of was my eyes, so if you look at my older makeup videos, everything is about the eyes."
Becoming a popular beauty vlogger may have amplified Gabi DeMartino's disappointment with her looks, but it also motivated her to do something about it.
Recommended: American Businesswoman Carly Fiorina's Plastic Surgery History – The Real Truth
"People might think it would make me feel more insecure, but it actually made me feel empowered to follow what I want to do with my life." It also equipped Gabi with the funds she needed to make the beauty improvements through plastic surgery, something she had been striving for all through high school.
As soon as she turned 18, Gabi used the cash she had earned to get lip filler (without knowing it needed regular upkeep) and dental veneers, but the YouTube star was reluctant to go under the knife because of the complications and prejudice involved with plastic surgery. Her parents, both well-known dentists in their tiny town of Pennsylvania, were firmly against it.
"I think they were insecure about looking like bad parents," she says, "and I feel like my mom has wanted to change her nose for her entire life, but felt she couldn't."
Gabi DeMartino even endured blows from some of her peers, including those who showed curiosity in doing their own surgical procedures.
"There were friends I knew wanted to get their lips done, but told me I'd changed and I was full of myself," she says. "I told them I just modified something that I never liked and that doesn't change me. I did lose some friendships over it."
Do Not Miss: KUWTK Godmother Kris Jenner All Plastic Surgery Details!
In the candid episode of Niki and Gabi last year titled The Truth about Gabi's Face Transformation, the twins openly shared the devastating impact Gabi's non-surgical cosmetic treatments had on their relationship as identical twins.
Niki "has the same insecurities as me," Gabi DeMartino notes, but she's become accepting now that she also began getting procedures done.
Visit Weight & Skin for more plastic surgery stories of your favorite celebs.