Grab all the details of Stranger Things star Winona Ryder's plastic surgery speculations.
Winona Ryder is unquestionably one of our favorite stars of the 80s. Since she appeared in the cult hit Heathers in 1988, the actress has not only been renowned for her arthouse films, but also for her age-defying appearances. And whatever the secret is, we're eager to know it.
So, did this sensational beauty go under the knife? Let's dig deep into the rumors of Winona Ryder's plastic surgery.
Did Winona Ryder Undergo Plastic Surgery?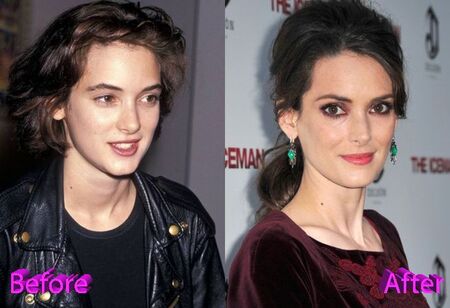 Winona Ryder before and after alleged plastic surgery.
Source: Pinterest
Winona Ryder recently surprised viewers with significant transformation on Stranger Things, but what's the real secret behind her changing looks? Could it be plastic surgery or something else?
Winona Ryder is usually in and out of the public spotlight ever since 1986, having her first glimpse of success in the movie Lucas when she was just 15.
You Might Like: Real Truth About Jill Biden's Plastic Surgery Speculations
Since then, Ryder, now 48, has had a tumultuous career, including a law incident in 2001 where she was convicted for shoplifting and becoming a sort of a recluse.
But Winona orchestrated her return in 2006 with A Scanner Darkly, eventually followed by the part of single mother Joyce Byers in Netflix's hit paranormal show, Stranger Things.
Recently, the actress surprised viewers with a throwback snapshot of her face in the test shots for the Netflix show.
Fans of the series couldn't understand how odd she seemed with sleek back hair and hardly any makeup – drastically different from her usual on-screen appearance as Joyce.
A surgeon at MYA Cosmetic Surgery explained the reason Winona could be looking quite different now.
Also See: Complete Breakdown of Amber Heard's Plastic Surgery Operations
"I believe that Winona may have recently undergone the non-surgical treatment of fillers to her lips as she appears to have fuller lips compared to previous images – especially when smiling," they said.
The provider has ensured her lips still appear natural and in proportion to her facial features.

The average cost of lip fillers in the UK can range depending on the provider and the amount of filler used, however, you can expect to pay anything from £200 to £1,000 per treatment.

I would also suggest Winona has had anti-wrinkle injections, often referred to as Botox, to her forehead and around her eyes (crow's feet). This non-surgical treatment will create a smooth forehead and limit any frown or expression lines.
The plastic surgery expert concluded, "The treatment will normally last three to six months as muscle action gradually returns and the lines and wrinkles begin to reappear. This procedure can give the appearance of smoother skin if the patient desires a more youthful appearance, or it can be used as a preventative measure to slow the process of getting wrinkles."
Winona Ryder Denies Getting Plastic Surgery
https://twitter.com/beycevens/status/1296534724383371264
In an interview with The Edit magazine, the 48-year-old confessed, "I love getting older. I think it has to do with always being the kid on set."
She may enjoy it, but Winona has shown no signs of becoming older. Despite her wrinkle-free features and radiant smile, it's hard to tell how she's grown through the years.
Also Read: Details of YouTuber Teala Dunn's Breast Augmentation Plastic Surgery
The Stranger Things star, however, has stayed away from plastic surgery procedures and previously admitted it's being perceived "almost like hygiene" these days.
I've had people say to me, 'Oh, you should, you know…' and they point to my forehead. 'Get that seen to!' But I'm like, 'No! I've been waiting so long for that to happen!'

I know actresses have a tough time because of their age — they're just not getting hired. I know it exists. You're the girlfriend, then you're the mother. But I don't see it as a bad thing — it can be just as interesting, if not more so, than the leading-lady, ingénue phase.
The "Beetlejuice" actress also spoke about coming back to the spotlight through her latest Netflix paranormal show, Stranger Things, despite having a long break from acting.
I was working a lot [in the '90s] and I needed to slow down. It's so important to have a life outside the industry, to not look to it to validate you as a human being… I'd been listening to the people I was working with — 'You should be doing this, you have to keep working or people will forget you and you won't be relevant…' — but my heart wasn't in it.
Ryder definitely understands what she wants to achieve with her career and her own personal life. The extremely private actress admits she has no intentions to get married.
I'm a serial monogamist. I was single for a while and dating and… I just didn't know how to do it! I've always been like that: when I was 15, there was a guy I liked, and we made out, and I thought that meant he was my boyfriend. My mom had to explain it to me.
Winona continued, "But marriage? I don't know. I'd rather never have been married than been divorced a few times. Not that there's anything wrong with divorce, but I don't think I could do it if that was a possibility."
Do Not Miss: Reality Star Christina Anstead Had Multiple Plastic Surgery Operations – Learn Them All!
Ryder concluded, "When your parents are madly in love for 45 years, your standards are really high. But I've been happily with someone for quite a while now."
Winona Ryder is currently dating designer Scott Mackinlay Hahn since 2011.
Visit Weight & Skin for more plastic surgery stories of your favorite celebs.