Grab all the details of Will Smith's plastic surgery procedures, notably Botox injections & facial fillers. Take a look at his before and after changes.
Will Smith's life has taken him on a rollercoaster ride, from devoted rapper to 90s icon and Hollywood megastar. One of Hollywood's most accomplished and adored performers, Smith has played characters ranging from Muhammad Ali in Ali (2001) to the wish-granting Genie in Aladdin (2019).
His brilliance and elegance on camera are well-known throughout the world, but there are many remarkable things about him that even his most ardent followers are unaware of.
In today's section, however, we'll be talking about Will Smith's much-speculated plastic surgery lately. Has he gone under the knife? Let's find out.
Did Will Smith Undergo Plastic Surgery?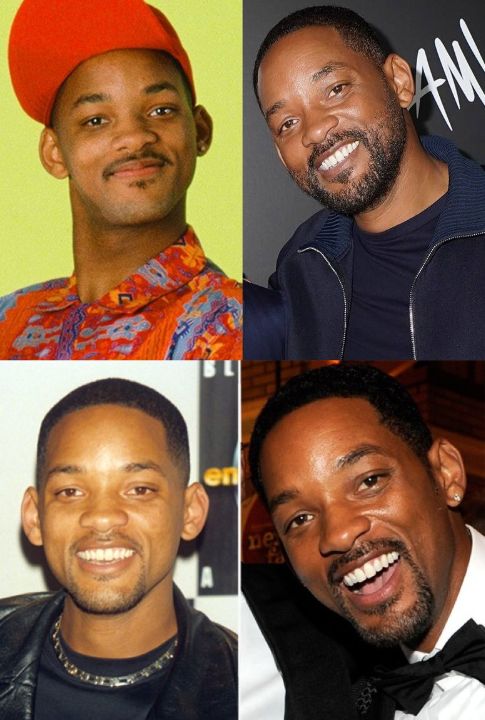 Will Smith before and after alleged plastic surgery.
Image Source: Weight & Skin
It is no longer major news when Hollywood stars apparently get work done to maintain their immaculate appearance. However, this doesn't stop fans from speculating their alleged plastic surgery with utmost curiosity.
Recently, many are now wondering if Will Smith has undergone cosmetic surgery to tweak his looks. Given that Will Smith did undergo enhancements as many seem to believe, the major question on everybody's lips is what sort of plastic surgery treatments has he had!
You Might Like: Monica Crowley's Plastic Surgery: Did She Go Under the Knife?
It's worth noting that based on a quick glance at the before and after photos, many believe he had some work done, possibly a little plastic surgery, to maintain his appearance looking as appealing as when he was younger.
The most amazing thing about Smith's appearance is the fact that he still looks completely like his younger self. Many other 50-year-old guys, on the other hand, have lines on their faces as a result of the inevitable aging process.
The best guess in many people's minds about Will Smith's plastic surgery is unsurprisingly Botox injections and facial fillers. Needless to say, it's far from normal for someone to have such smooth skin without the aid of Botox.
Moreover, the actor is believed to have had an ear pinning surgery aka otoplasty or plastic surgery on the outer ear to correct protruding ears.
Also See: Jocelyn Wildenstein Before Plastic Surgery: Check Out Cat Face Lady Before and After!
Irrespective of the work he's done, Smith has remained silent on this subject as he's never publicly addressed accusations of surgical enhancements.
Will Smith is Passionate About Chess and Can Solve Rubik's Cube in 55 Seconds
Characters in any film or small screen programs frequently do amazing feats that make us question if the actor doing the scene can genuinely display these skills in real life.
Will Smith's character Chris Gardener in The Pursuit of Happyness (2006) becomes entangled in a Rubik's Cube.
Also Read: Laura Kightlinger's Plastic Surgery: What's Wrong With Her Face?
This performance not only reintroduced the puzzle item into popular culture but also left viewers wondering if this talented actor was truly capable of cracking the cube as rapidly as it appeared in the movie.
Will, ever the perfectionist, didn't look for a hand double or any other kind of deception for this scenario, according to Tyson Mao, world blindfolded Rubik's Cube solving king and founder of the World Cube Association.
Mao taught Smith the fundamentals, and the actor practiced until he could complete the puzzle in 55 seconds.
Likewise, Will Smith, as seen in The Fresh Prince of Bel-Air (1990-96), is an active, passionate, and compassionate young guy with a mind-boggling 90s taste in clothes that is unparalleled.
He's got the intelligence and common sense, but the actor shows no interest in academic endeavors. The aspects of Will's life that we see in the Fresh Prince show don't exactly point to a young man who enjoys chess.
Will, on the other hand, has commended his father for training him to play the game, stating that it offered him important life lessons, some of which he attempts to pass on to his own kids.
Do Not Miss: Will Poulter's Plastic Surgery: Fans Think Marvel Actor Has Gone Under the Knife!
He said,
The elements and concepts of life are so perfectly illustrated on a chessboard. Whatever move you're going to make in your life to be successful, you have to accurately access the next couple of moves–like what's going to happen if you do this?
Smith reckons once you've made a decision, you can't go back on it. The universe will retaliate.
Visit Weight & Skin for more plastic surgery stories of your favorite celebs.