All the facts behind Taylor Swift's alleged plastic surgery, most notably boob job, rhinoplasty, teeth work, and Botox. Check out her before and after pictures.
Introducing herself as a country singer with the image of a quirk innocent girl, Taylor Swift – who became the subject of weight loss recently – is now one of the best-selling music artists of all time, and the youngest-ever person on Forbes' list of the world's most powerful women.
Since Taylor's first debut in 2009 with the song Tim McGraw, not just her music but her appearance has changed quite a lot too.
Now in her 30s, the All Too Well singer looks very different from how she used to. Well, it could all just be aging since people too transfigure with time but fans speculate it to be something else. Yes, you are right! PLASTIC SURGERY!
Taylor Swift's Plastic Surgery: What Procedures Did She Get Done?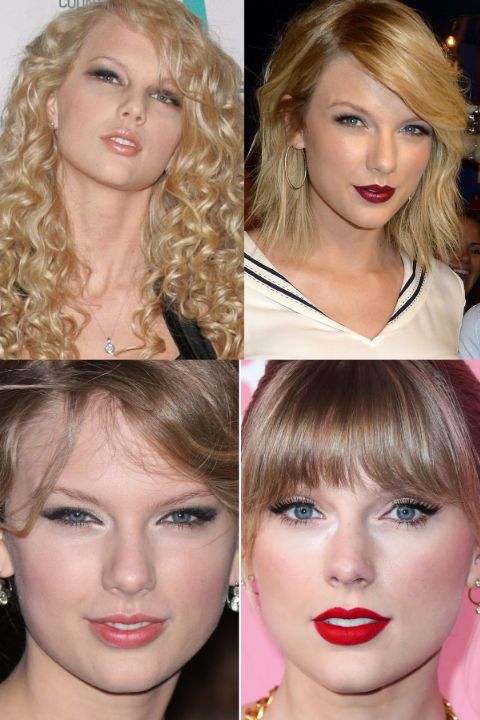 Taylor Swift before and after alleged plastic surgery.
Image Source: Weight & Skin
Golden blonde locks, deep blue eyes, a fresh face, and a mesmerizing presence, Taylor Swift made her first red carpet debut in 2006 at the age of 16.
Button nose and hooded eyes, young Taylor looks natural with no procedures done. Her roots appeared darker at times but the pop megastar rocked the signature golden curls with her natural features.
You Might Like: Miesha Tate's Plastic Surgery: Did the MMA Star Get a Nose Job?
In the same year, the Love Story singer made another red carpet debut. This time her hair looked icy blonde accompanied by defined makeup on her face. Her features looked exactly the same with no signs of any plastic surgery.
Swift went through the long curl innocent angel phase for quite a while. Her facial features and style remained the same till 2010 when the singer decided to experiment more with her style.
She let her hair flow in ash brown color and her facial features more defined through professional makeup artists. Till the time, her face looks as natural as it was when she first debuted.
It wasn't until 2015 when she was around 25 that Taylor looked a bit different than she used to. A much more defined chiseled nose and gaps between her hooded eyes. Many speculated that the all-time superstar got a nose job and lifted the hood of her eyes slightly.
She had a discreet and well-executed nose operation, according to Dr. Anthony Youn of Youn Plastic Surgery.
"Taylor Swift's nose appears to be considerably narrower and more polished than when she was younger," he remarked. "She appears to have had rhinoplasty, which is the most common type of plastic surgery among celebrities. I believe a plastic surgeon performed a minor nose job to make it look as nice as it does."
Looking as stunning as ever with pretty much unnoticeable changes, Taylor opened up about her struggles with weight but never once mentioned going under the knives.
It could just be the incredible skills of contour and highlights that made her nose look smaller, or she really got plastic surgery for the defined nose.
Also See: Emily Blunt's Plastic Surgery is Trending But Is It True?
Changing her style from the innocent country girl to a badass over time, Taylor's fashion choices transformed as well.
Amongst all this, fans speculate if she has had a boob job too. While they look quite normal and change over time as she got older, no source confirmed the rumor of Taylor getting her breasts done.
So, all in all, Taylor Swift may have undergone rhinoplasty and botox to stretch the area around her temple to reduce the hood of her eyes. She is also alleged to have gotten her teeth fixed. Apart from this, the era's heartthrob is a natural beauty.
Taylor Swift's All Too Well Becomes the Longest Song in History to Reach No. 1 on the Billboard Hot 100
The most anticipated, uncut, and raw version of Taylor Swift's 2012 album Red, All too well, successfully became the longest song in history to reach No.1 on the Billboard Hot 100.
Able to surpass Don McLean's American Pie which, with its 8 minutes and 37 seconds, topped the charts for four weeks in 1972, the pop sensation's song made it into Guinness World Record.
Not just that Taylor shattered her own record for the most simultaneous US Hot 100 entries by a female which was previously achieved with Lover in 2019.
Also Read: Belinda Carlisle's Plastic Surgery: What's the Tea?
Along with that the album also bagged the most simultaneous US Hot 100 new entries title which is also the first in the history of the chart since August 1958.
Taylor Swift recently published a cover of her 2012 album Red, which was about her breakup phase which had all the broken hearts crying to the tunes of Swift's songs. Taylor's 2012 separation with Jake Gyllenhall is remembered and detailed in this 10-minute musical short film.
During a performance on Saturday Night Live, Taylor said in an interview with The New York Times:
It was about a very personal matter for me. It was quite difficult to perform it live. Now, this song is 100 % about us and you, in my opinion.
While All Too Well became Taylor's one of the most successful albums, it holds a deeply emotional story behind it.
All Too Well is a story about a young woman's attempt to create retroactive equilibrium in a relationship based on a power imbalance she didn't recognize at the outset. The song, which stars Sadie Sink and Dylan O'Brien, is edgier, less filtered, and more explicit in every way.
The song's profundity of lyrics and Taylor's comeback from 2012's Red with such an emotional short video had the audience in tears, while Swifties all over the world are losing it to the breakup ballad.
Do Not Miss: Madonna's Plastic Surgery Hands: The Real Truth!
All too perfectly captures the deepest of emotions of Taylor's former relationship, thereby gaining the hearts of the listeners. The Swifties' shade on Jake Gyllenhall is making the internet all too intriguing in the wake of the song's triumph.
Visit Weight & Skin for more plastic surgery stories of your favorite celebs.