The Bold and the Beautiful's Taylor Hayes star Hunter Tylo's plastic surgery in 2021 includes lip fillers, Botox injections, cheekbone enhancements, and facelift surgery. Take a look at her before and after transformation.
Playing the fictional role of Taylor Hayes from the American CBS soap opera The Bold and the Beautiful, Hunter Tylo made a name for herself through her exceptional acting and an incredible portrayal of the character.
The character created by William J. Bell was originated by Hunter Tylo during the episode dated June 6, 1990. Tylo's recent appearance shocked many as she might have taken her plastic surgeries a bit too far!
Portraying the character for three decades; from 1990 until her departure in 2019, and winning the hearts of many over the period, Hunter Tylo AKA Taylor has always been the public's favorite.
According to Variety, Bell created Taylor as "a romantic leading lady but also as a character who could facilitate social issues — and directly partake in a few, too". Hunter fitted best in the role thus making the audience be more invested in her life to date, especially her transformation over the years.
So, here's everything we know about Hunter Tylo's plastic surgery.
Taylor Bold and the Beautiful Plastic Surgery: Has Hunter Tylo Gone Under the Knife?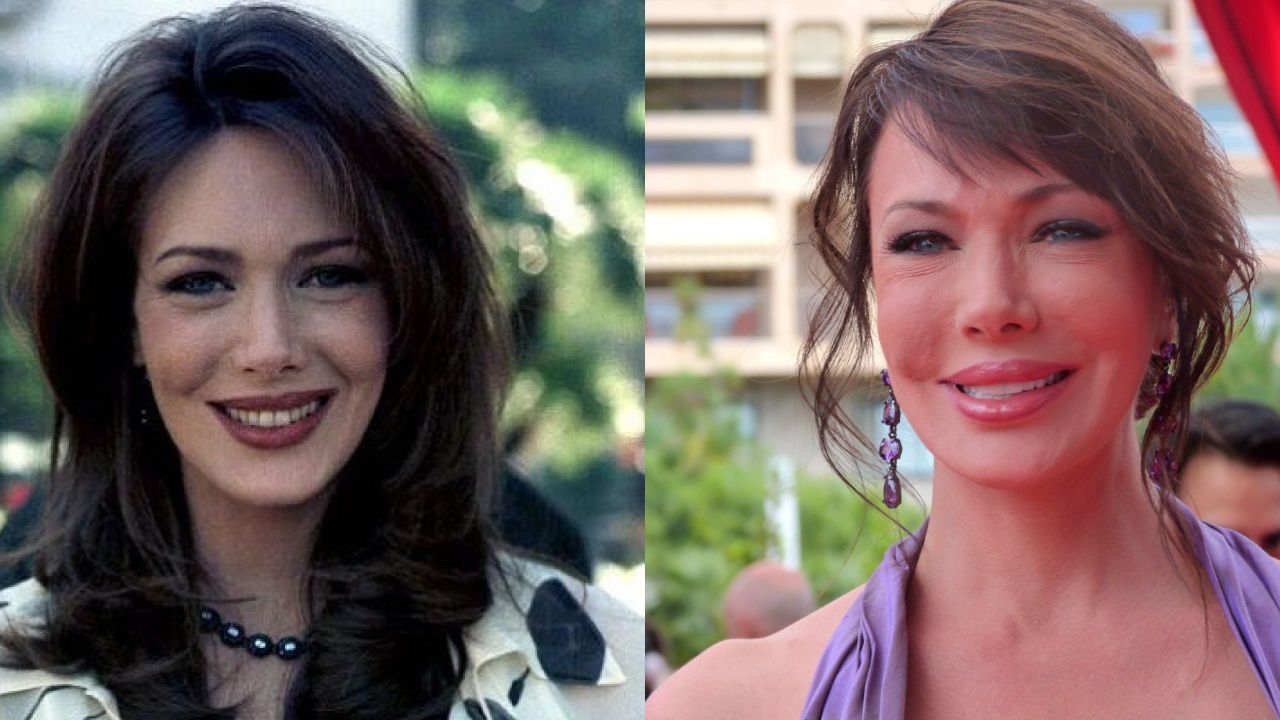 Hunter Tylo before and after plastic surgery.
Image Source: Weight & Skin
Hunter Tylo has changed a lot since her television debut on My Children in 1985. The actress always looked stunning and flawless since the time of her debut. The actress's recent appearances created many buzzes since she looks completely different than how she used to.
There's no denying that the actress underwent multiple plastic surgery procedures to receive the look she has right now. While some believe that she looks timeless many say that she has taken it too far.
You Might Like: The Witcher: Freya Allan's Plastic Surgery Includes Nose Job & Botox Injections!
Looking almost unrecognizable, Hunter Tylo's surgery has also been called "extreme plastic surgery." The bias views on this topic collected even more attention to the actress's alterations.
Many celebrity plastic surgery experts shared their views regarding what procedures she could have done. Manhattan cosmetic surgeon Dr. David Shafer thinks Hunter Tylo has had lip filler but they are still natural. However, Dr. Sherrell J Aston thinks she is overdoing it with cosmetic surgery, saying her lips look "abnormal."
Celebrity plastic surgery specialist Dr. Anthony Youn also chimed in with his thoughts: "Her lips look like they've been inflated to massive proportions, possibly from excessive injections of fat." Her lips' transformation is very apparent since they look lumpily full as the result of overdoing the fillers.
Dr. Anthony also added, "Her cheeks also appear overly plumped, possibly from fat injections as well. Her face is excessively smooth, too smooth to be natural in my opinion."
"I suspect she's undergone hefty doses of Botox to look this way. Botox may also explain the change in her eyebrows," he concluded. The actress could have undergone multiple surgeries many times to enhance her looks or "fix" it time and again thus creating what she is left with now.
Also See: Sierra from Love and Hip Hop Before Plastic Surgery: The Untold Truth!
Looking at the actress's now and then pictures thoroughly, her alterations are very apparent. The fillers in her lips and cheeks are very noticeable since they completely changed her looks. Tylo could have also had a facelift thus explaining her stretched eyebrows and chinkier eyes.
Concerned about all the surgeries the actress performed, Dr. Anthony told Radar, "If I could give her one piece of advice, it'd be to leave her face alone for a while. She's such a natural beauty.  She doesn't need any plastic surgery."
Did Recasting of Hunter Tylo's Iconic Role of Dr. Taylor Hayes Change the Character's Likeability?
In an exclusive cover by EW, it was revealed that veteran TV actress Krista Allen will assume the iconic role starting on Dec. 10, 2021. She steps into Hunter Tylo's incredibly large stilettos, which she wore from 1990 until 2019 as the psychiatrist who stole Ridge Forrester's heart.
Brooke Logan played by Katherine Kelly Lang put Taylor and Ridge's relationship to the test on a regular basis, and the love triangle became one of the show's most popular plot lines.
Also See: Mindy Cohn's Plastic Surgery: Did She Go Under the Knife?
After Tylo left B&B in 2019, the show tried to explain Taylor's absence by saying she was doing missionary work in another country. In October 2001, reports surfaced that Tylo was to exit the series again following unsuccessful contract negotiations.
Taylor is a well-known psychiatrist who practices at UCLA Medical Center. When she first appeared, the character was positioned as the "nice girl" among other female characters, yet she maintained a powerful personality.
According to Network Ten, "When it comes to matters of the heart, this Freudian Doc always seems to fall short of Brooke. Taylor is as intellectual and astute as they come, always able to deconstruct the problems of others, as well as her own."
According to Tylo, the writers wanted Taylor to keep her "pristine" and "well-mannered" nature to contrast her with rival Brooke Logan, who was "feisty and irresponsible," the distinct elements that drew Ridge to both of them.
Tylo, on the other hand, was critical of a 2000 scenario in which Ridge was duped into sleeping with his mentally ill high school lover Morgan DeWitt played by Sarah G. Buxton, who became pregnant with his kid.
Do Not Miss: Jennifer Aniston Facts of Life Plastic Surgery: Did She Get Face Treatment in 2021?
Fans however preferred Hunter Tylo in the role of Taylor Hayes since she was the original cast. Though Kristen Allen too perfectly fitted the role of Taylor, the love for the original actress remains unhinged to this day.
Visit Weight & Skin for more plastic surgery stories of your favorite celebs.