All the facts behind Tawny Kitaen's plastic surgery speculations on the internet. How many times has she gone under the knife? Check out her before and after changes.
It's hard to recall everybody from the 1980s because the number of films released and the emergence of the stars appeared to never stop, as some were only able to shine for a short period before being overshadowed by a completely new bunch.
Tawny Kitaen was one of them, and she was once just as attractive as any lady could be, both physically and professionally. Sadly, actors that rise without attempting to protect their spot generally fall the hardest.
Kitaen was one of those who rose quickly through the ranks and even got to the status of pinup girl for a time. She possessed the long hair, the sultry look, and reasonably good acting ability. But, once the 1980s were over, it appeared that her career followed suit.
Besides her notorious personal life and professional adventures, she made rounds for her botched plastic surgery. What's the reason she tried to undo her cosmetic alterations? Let's find out.
Tawny Kitaen's Plastic Surgery – Why Did She Remove Breast Implants?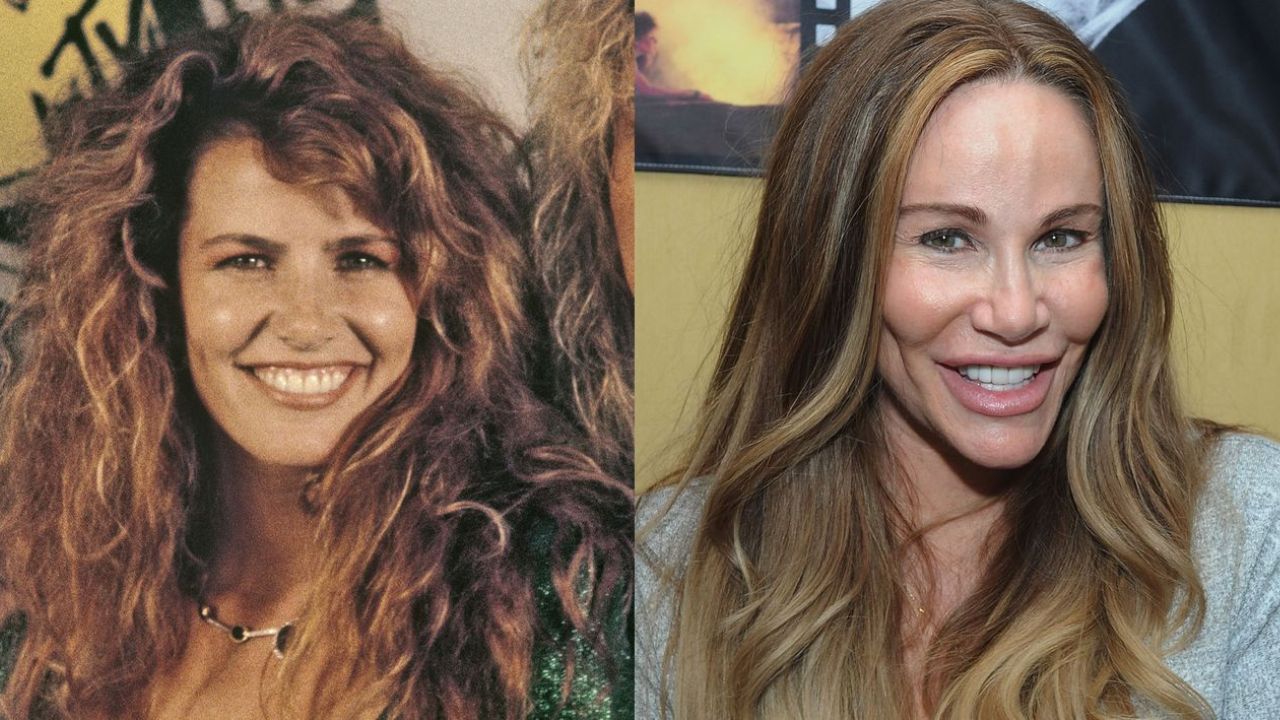 Tawny Kitaen before and after plastic surgery.
Image Source: Pinterest
Tawny Kitaen, an eighties rock vixen, model, and actress, shocked viewers by appearing on the E! television series Botched to have her D-cup boob job extracted.
In the 1980s, Kitaen rose to fame after appearing in the video for Whitesnake's hit Here I Go Again On My Own. She also featured alongside Tom Hanks in Bachelor Party (1984), but she revealed on Botched that she had never felt confident in her appearance and had breast implants to enhance her personality.
During the episode, she stated that she was never happy with the final product of her plastic surgery and wished to return to her natural state.
You Might Like: 'RHONJ' Jacqueline Laurita's Plastic Surgery Includes Multiple Boob Jobs!
Kitaen said she's had six breast augmentations and has changed the scale and texture of her breasts since the birth of her kids. She seemed to be overburdened by the protocols and requested that they be withdrawn.
When it was disclosed that Kitaen's breast implants plastic surgery had gone wrong and the surgeons needed to be using leeches to completely eliminate some of the dead tissue from her chest and increase blood flow, the program took a major turn. While leeches were widely used in traditional medicine, they are seldom used today.
Kitaen claims she didn't feel the treatment, but she was taken aback when she first learned about it. Kitaen was serious about not having any more implants, so the specialists were able to effectively repair her breasts using her own tissues after the implants were extracted.
She posted an after photo on Twitter and expressed her delight with her real frame and the fact that she is finally free of the fake surgeries.
On the Botched episode, Tawny Kitaen said unequivocally that having the implants pulled would improve the quality of her life. The augmentations had fallen through the mesh and were resting on the base of her rib cage, she said.
Also See: Melinda Gates' Plastic Surgery – The Complete Breakdown!
The actress added she was unsure what to do if the doctors refused to support her decision to undo cosmetic surgery. Kitaen's implants detachment and restoration were a success, and she seemed to be the happiest she had ever been.
Tawny Kitaen Passed Away at the Age of 59
Tawny Kitaen, the star who featured in Bachelor Party and had a turbulent private life, passed away on 7th May 2021 in Newport Beach. The manner of death has yet to be determined by the examiner.
Kitaen, whose highlights include Gwendoline (1984) and After Midnight (2014), was a prodigious girl who caught the Hollywood fever at the age of 14 when she witnessed Peter Frampton perform at San Diego's Balboa Stadium.
Also Read: 'Full House' John Stamos' Plastic Surgery is Trending But Is It True?
She received a backstage pass and watched Peter's girlfriend, Penny, get the All-Access VIP attention and that was the end of it. She was completely sucked in.
In 1976, Tawny began her career on a game show titled, To Tell the Truth. She made the transition to film and had some luck with her parts, especially in Bachelor Party (1984). Tawny was also famous for appearing in music videos, including Whitesnake's Is This Love (1987) and Here I Go Again (1987).
Kitaen began dating Ratt guitarist Robbin Crosby during her high school days, and she also traveled to Los Angeles with his group in the late 1970s. She appeared on the band's album Out of the Cellar and their debut EP Ratt album covers.
Tawny had a tumultuous personal life. She tied the knot with David Coverdale, the lead singer of Whitesnake, in 1989, but the union only lasted two years.
She later married baseball star Chuck Finley, with whom she had two children, but their marriage ended in disaster. She was convicted of domestic assault after Finley alleged she frequently kicked him in the face with her high heels. Those charges were eventually dropped. Three days later, he filed for divorce.
Do Not Miss: Anna Duggar's Plastic Surgery Includes Nose Job Aka Rhinoplasty
Tawny also struggled with drug addiction and was convicted for drug offenses and DUI, which was widely publicized.
Visit Weight & Skin for more plastic surgery stories of your favorite celebs.