Sophie Dahl is an English writer, and a retired fashion model (1996 to 2010), calling it quits to devote her career as a full-time author. Her first book, The Man with the Dancing Eyes, was released in 2003. She followed her first novel with Playing With the Grown-ups back in 2007.
In 2009, Sophie Dahl published Miss Dahl's Voluptuous Delights, a cookery book of recipes re-created for the six-part BBC 2 series, The Delicious Miss Dahl. Her cookery book Season to Season was released in 2011, and her first children's book Madame Badobedah was published in October 2019.
While people, from kids to adults, love her books, many want to know about her weight loss story as well. And we have gathered the details of the subject in the parts below.
Sophie Dahl's Weight Loss Transformation – From Size 16 to Size 8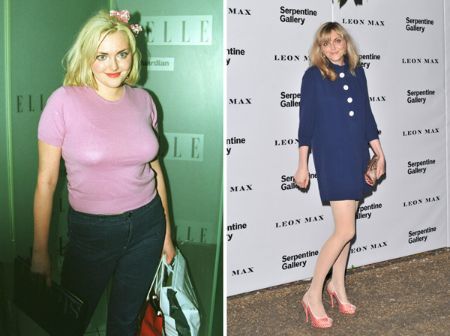 Sophie Dahl before and after weight loss.
Source: Pinterest
Sophie Dahl stood out as a curvaceous model famous for her size 16 curves. From 1996 till 2010, she served in the industry with a voluptuous physique.
After Sophie Dahl gave up modeling and started writing, she decided to pursue weight loss. And she did, going from the size of 16 to the size of 8. Her diet plan, which she also wrote in some of her books, is the key contributing element aiding to her weight loss goals.
Also See: ABC7 Meteorologist Brian van de Graaff's Weight Loss is Trending But Is It True?
The granddaughter of famous Cardiff-born author Roald Dahl (Charlie and the Candy Factory) wrote a book entitled Miss Dahl's Voluptuous Delights, which inspires people to bring extra effort into the kitchen.
"I wanted to write a memoir about food, a recipe book that gets over the message that you don't have to starve yourself to be reasonably skinny," Sophie said, as per Wales Online.
Sophie Dahl's Diet Plan and Fitness Routine
Sophie Dahl's lifestyle transformations and her interest in rigorous exercises quickly helped her shed weight dramatically. Sophie stated she slimmed down naturally, dismissing any reports of an eating disorder after she lost her weight, crediting the entire process to 'good old-fashioned exercise.'
"Healthy breakfasts, lunches and suppers, and some fattening puddings. Easy, simple home cooking that's healthy," Sophie recommends anyone seeking to know her diet plan.
You Might Like: Cristie Kerr's Weight Loss Journey in a Nutshell
As for her book Miss Dahl's Voluptuous Delights, the author revealed: "It's an anecdotal book about how to be slim, but still eat."
In brief, both Sophie and her book warn you not to starve yourself of calories but rather to eat nutritious food products consistently.
Sophie Dahl is Married to Singer Jamie Cullum
Sophie Dahl is reportedly married to English singer Jamie Cullum. The couple started dating in 2007 and exchanged vows three years later on 9th January 2010.
The wedding ceremony couldn't be more amazing as the bride's godmother called it a huge success: "It was a beautiful occasion for close family and friends. Sophie looked absolutely fantastic."
"She's a very honest, open person, and she's taught me to be more honest and open myself, just by being around her," the singer praised his wife. "She's influenced me hugely."
Also Read: Young Sheldon Actress Melissa Peterman's Remarkable 60 Pounds Weight Loss Journey
Jamie Cullum and Sophie Dahl share two daughters: Lyra Cullum, born on 2nd March 2011, and Margot Callum, born on 4th March 2013. The family is currently living in Buckinghamshire.
Visit Weight & Skin for more weight loss stories of your favorite celebs.