Simi Haze's plastic surgery allegedly includes Blepharoplasty, nose job, lip fillers & Buccal Fat removal surgery. Have a look at their before and after pictures.
Simi Khadra and Haze Khadra, collectively known as Simi Haze, are undoubtedly the most powerful twin fashion pair on the internet right now, with their opulent and voguish style.
Grabbing the attention of their followers with their incredible style and just as astonishing lifestyle, the pair's transformation is now the topic of the talk.
Besides their weight loss, the most recent question was raised: Did they get plastic surgery? So, here's everything we know about Simi Haze's plastic surgery.
The Palestinian identical twins, Simi Haze, wild, wonderful, wavy, and worldly, reflect a simmering moment in not only fashion and music, but also in an increasing community of diasporic Arab creativity.
Growing up in Riyadh, London, and California, the twin has a multinational background which can clearly be seen in their music and fashion.
Drastically changing how they look, their followers want to know did the twin really get plastic surgery, and if yes, what procedures they got done. Here's all you need to know about Simi Haze's alluring transformation.
Simi Haze's Plastic Surgery: Is Their Face Artificial or Did They Just Have Insane Glow-up?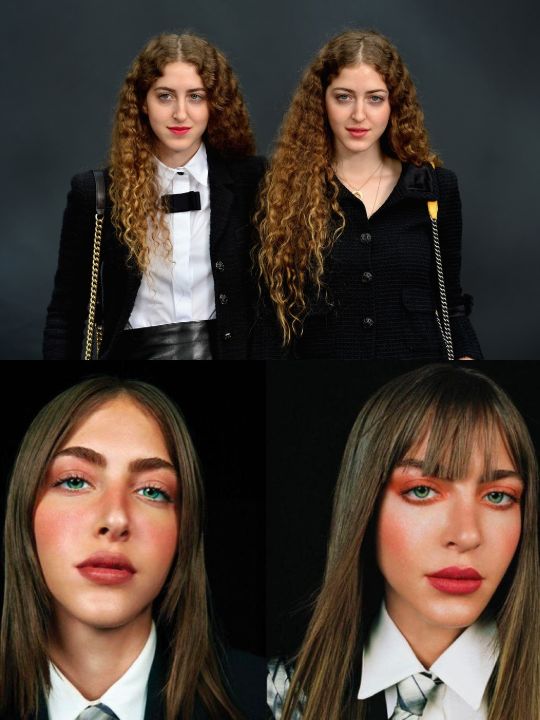 Simi Haze before and after alleged plastic surgery.
Image Source: Weight & Skin
With faces that can beat supermodels, Simi Haze are not just fashionable but are incredibly beautiful. Blessed with eloquent features thanks to their Palestinian and Arab roots, the pair's face looks too perfect seeming like it's carved by hands.
Also, comparing pictures of the twins from when they were just teens, the differences are quite significant. This raises the question, 'Did they get plastic surgery or is it all just makeup and contouring?'
You Might Like: Kataluna Enriquez Before Plastic Surgery: Check Out Miss Nevada 2021 Before and After Pictures!
Though the pair never really revealed or commented on them having plastic surgery, it's quite apparent comparing their features in-depth.
Comparing the twins back in 2015 to now, they look drastically different. Looking at their pictures from 2015-2017, most of the twin's features look transformed or rather enhanced.
Droopy eyes, elongated nose, and slimmer lips, Simi Haze had quite the Palestinian features. The twins also flaunted long afro-like curls.
Looking at their pictures now, it's quite obvious that the two got plastic surgery to fix their features here and there.
Their extremely hooded eyes consist space between them now, indicating that the pair could have undergone Blepharoplasty, a type of surgery that repairs droopy eyelids and may involve removing excess skin, muscle, and fat. Instead of it, the voguish twin may have gotten brow lift.
Differences in their nose too can be observed. While they had pretty long, slender, and pointy noses back then, the pair now possess the perfect nose. Many believe that they got their nose done too, that is, Rhinoplasty aka nose job.
Along with their nose, the twin's lips also appear fuller than how they used to back then. Lip filler could be another thing they got done to enhance their features further. Many likewise believe that they might have undergone Buccal Fat removal surgery to enhance their bone structure of lowe face along with botox injections.
Also See: Wesley Snipes' Plastic Surgery: Did the True Story Netflix Star Make Cosmetic Changes?
Its also believed that the twins had their hair permanently changed along with liposuction to reduce their body fats. Though the iconic twins never denied or admitted the rumors, it's quite obvious that they went under knives to achieve the beauty they are blessed with today.
Take a Peek into the World of the Iconic Duo Simi Haze!
Attending their first-ever fashion show at an amazingly early age of 14 as buyers for their mother's Riyadh-based boutique, Simi Haze were meant for the fashion world.
Moving to the United States opened gates to the incredible world of recognition for the twins. Between classes, they went from being asked to DJ house parties to getting shoot requests from Vogue Italia.
All things opulent followed, establishing Simi and Haze as among the world's most stylish electronica DJs, with influences ranging from Aphex Twin to Die Antwoord.
Also Read: Piper Perabo's Plastic Surgery: Did the Yellowstone Star Go Under the Knife?
However refusing to be labeled as "Influencers", in an interview with GQ, Haze said:
The word influencer has gotten so diluted, it's overused in a way that now, I never really want to be in that category.
She continues,
We're very careful about it now and anything we do, has to be really authentic. We don't tag brands that we don't have a campaign with or are working closely with or are obsessed with.
Striving to set a name for themselves, not just as influencers but something beyond that, Simi Haze stepped into the realm of beauty and makeup with their makeup company SimiHaze Beauty. The minimalistic and aesthetic SimiHaze Beauty launched in the summer of 2021.
Owned by the incredible iconic duo, the company already built a name for itself by providing velvety soft lip balms, beginner-friendly eyeshadow palettes, and pinch-able liquid blushes for cheeks to its customers.
With their third collection, which includes glistening lip glosses, a galaxy-inspired eyeshadow palette, and easy-to-apply eye jewels, they've raised the ante.
Recently introducing their third collection, which is holiday-ready, Simi Haze are tirelessly campaigning their products. "The whole collection is inspired by nature and natural elements," Simi and Haze told ELLE in an exclusive interview. "We were thinking about the moon and the reflection of the moon."
Do Not Miss: Diane Sawyer's Plastic Surgery: What's the Secret to Her Everlasting Beauty?
While the flashy components of the collection are perfect for the holidays, producing wearable looks without the assistance of a cosmetic artist was a key goal while designing the new line.
They add on, "I want [consumers] to feel like they can wear it with casual clothes to make it more dressed up, or they can have like a dressy look, and then not need a makeup artist and elevate it even more, and feel more glamorous."
Visit Weight & Skin for more plastic surgery stories of your favorite celebs.