Check out the complete breakdown of Sarah Taber's plastic surgery procedures. She allegedly went under the knife to look like Angelina Jolie, only to botch the entire surgery and look like a "corpse bride."
Pictures of Sarah Taber, an Iranian lady who allegedly underwent more than 50 plastic surgery to turn herself into an Angelina Jolie doppelganger, went viral online.
As per Al Arabiya, the 19-year-old said she was one of Jolie's "biggest fans and would do anything to look like the Hollywood actress."
She was claimed to be 19, 22, and 29-year-old. After several failed surgery procedures and drastic weight loss, Taber is now being labeled "Corpse Bride."
In recent months, the young girl has built an Instagram account where she sometimes posts selfies. Soon after her stories began to hit media, Taber's Instagram soared to 307k followers.
Sarah Taber's Plastic Surgery – How Many Times Did She Go Under the Knife?
Sarah Taber's real name is Fatemeh Kh, as per the Tasnim News Agency, but her nickname is most probably shortened for protection and privacy purposes.
She was first noticed in Iran in around 2017 when she shared online images and clips displaying her extensive plastic surgery and tons of makeup.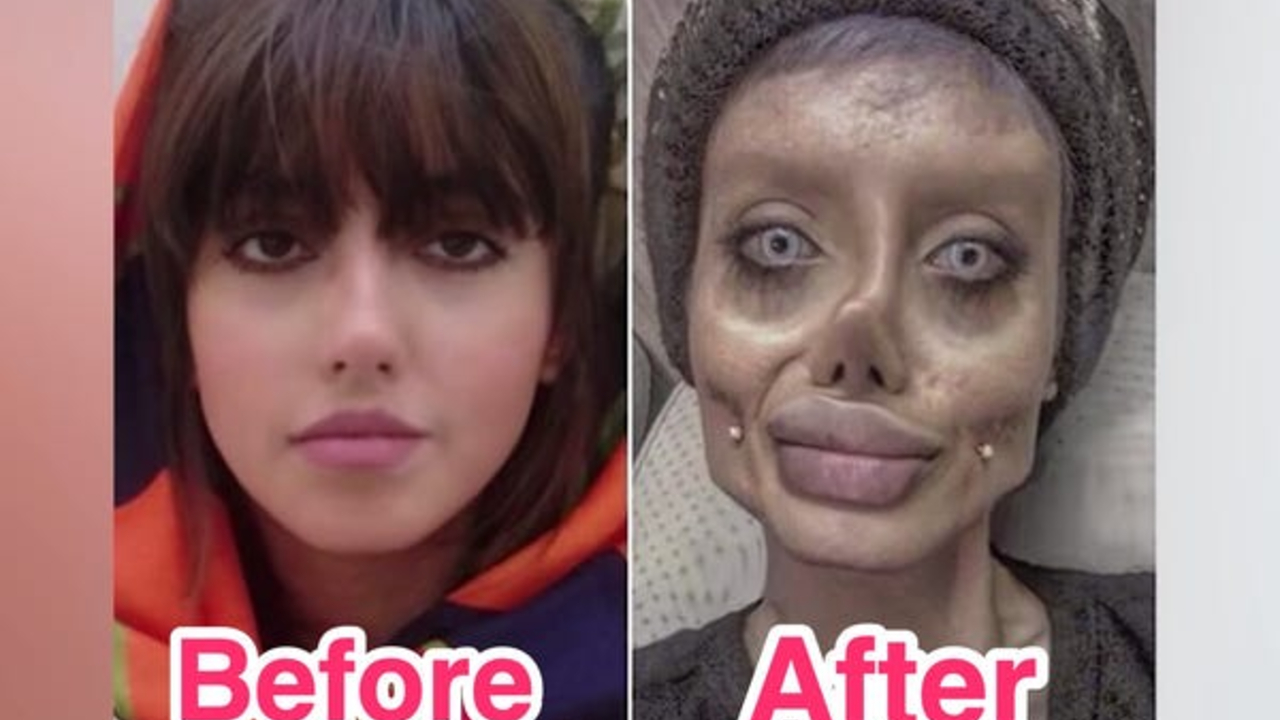 Sarah Taber before and after plastic surgery.
Source: Pinterest
Taber had more than 26,800 followers on Instagram prior to her arrest in 2019. Her account had been deleted since her detention, but some fan pages had pictures and videos of her.
Much of the footage shows Taber singing and dancing to Iranian pop music. In one clip uploaded to a fan account, you can see orange and yellow dreadlocks and cucumber feeding.
You Might Like: Real Truth About John Kerry's Plastic Surgery Speculations
Taber is 19 years old, and as per Radio Farda, there are reports that she has had more than 50 surgical treatments, but she has explicitly said much of her appearance comes through "heavy editing."
Radio Farda is an Iranian affiliate of the United States government-funded Radio Free Europe/Radio Liberty broadcasting station.
The precise number of Taber's cosmetic enhancements is unknown, but in a 2017 interview posted by the Russian government-owned news portal Sputnik, she admitted she had a nose job, botox, and liposuction.
She said,
I don't see anything bad in this. It's simple and many people around the world do it. Here in Tehran, the cost of one operation is 10 million Iranian rials (or about $300).
BBC Persian claimed when Taber first caused a stir, several people believed she had undergone plastic surgery to try to look like Angelina Jolie.
Speaking in an interview with Sputnik, however, Taber refuted she had ever wanted to look like Jolie.
Also See: Gina Carano's Plastic Surgery is Making Rounds on the Internet
When asked if she was going to change her appearance to look like a Hollywood star, Taber said:
Never. I had no interest at all to be like Angelina Jolie, and I did not want to look like the character from 'Corpse Bride.'

I understand that I do have some similarities with them, but I am my own muse and I did not want to look like anyone. That was not my aim.
Speaking in the same interview, she also clarified how makeup and image editing were part of her appearance. Taber said she found her beauty "an art form" and "a form of self-expression."
Sarah Taber was Arrested on Claims of Blasphemy Back in 2019
Iran's Instagram celebrity, identified as Sarah Taber, was detained on a variety of offenses in October 2019, including gaining money by illegal means and inciting crime.
In Iran and abroad, the social media celebrity has earned wide recognition for her dramatic and frequent plastic surgery operations and unusual aesthetics.
Her appearance is distinct by the narrow, upturned nose, augmented pout, and sharp, hollow bones of the jaw.
Also Read: 'Friends' Star David Schwimmer's Plastic Surgery – Did He Go Under the Knife?
Taber enhances her beauty look more and sometimes dresses in vividly colored clothing and wigs.
The Iranians have severely ridiculed her for modifying her appearances to look like actress Angelina Jolie, and she's been said to imitate the title character in Tim Burton's "Corpse Bride" movie.
CNN stated Taber has been likened to "zombie Angelina Jolie."
Taber was subsequently detained by the Iranian authorities and charged with multiple offenses.
She was arrested as a consequence of many online accusations made against her by users in her posts on social media, as stated by Tasnim.
Charges involved blasphemy, inciting crime, corrupting children, and gaining money by illegal means, Tasnim stated.
Do Not Miss: 'Big Sky' Star Ryan Phillippe's Plastic Surgery – Did He Perform Facelift?
Reza Sobh Khiz, a cybersecurity specialist, stated in Iranian news that under Iranian rule, Taber could face 91 days to two years in prison if punished.
Visit Weight & Skin for more plastic surgery stories of your favorite celebs.