All the facts behind Netflix's Sex/Life star Sarah Shahi's plastic surgery procedures, notably nose job & Botox. Take a glance at her before and after transformation.
The Sex/Life co-stars Sarah Shahi and Adam Demos' real-life romance is in the limelight like never before, thanks to the release of their new Netflix show.
On Sex/Life, Shahi, 41, plays a woman who finds herself in a love triangle with her hubby (Mike Vogel) and an old boyfriend (Demos, 35). The Netflix original series is adapted from BB Easton's novel 44 Chapters About 4 Men.
Aside from Sex/Life, Shahi has started production on the eagerly anticipated Newline/DC superhero film Black Adam, which she will co-star in with Dwayne "The Rock" Johnson. Sarah plays a university lecturer and liberation fighter who leads the Kahndaq rebellion.
Recently, however, Sarah is making rounds over the accusations of plastic surgery. Has she gone under the knife? Let's find out.
Sarah Shahi's Plastic Surgery is Trending on the Internet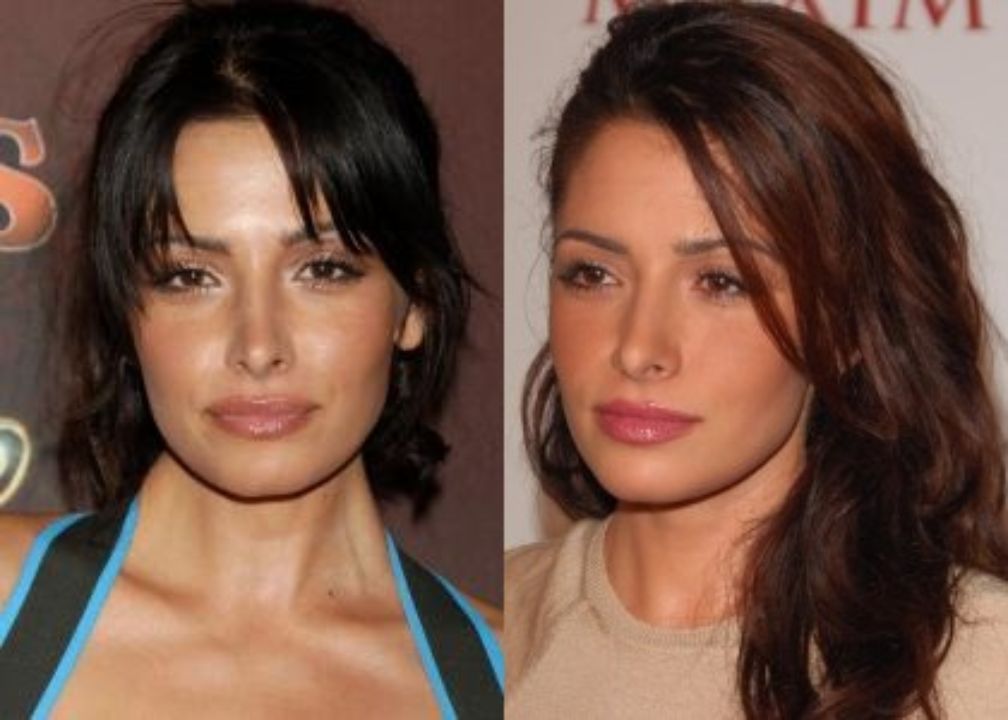 Sarah Shahi before and after plastic surgery, notably a nose job.
Image Source: Weight & Skin
Sarah Shahi, 41, is noted for her distinct beauty as a result of her Iranian and Spanish ancestry. Shahi has become a familiar figure among TV watchers after playing a number of prominent roles on the small screen.
As her career grows, the Sex/Life star raises the accusations of plastic surgery. Going by the rumors, the star may have undergone a rhinoplasty treatment aka a nose job, which is evident upon observing the change in the shape of her nose while contrasting the before and after images.
You Might Like: Piper Rockelle's Plastic Surgery – Did She Pull a Prank?
Her nose was said to be lengthy and had a large hump on the bridge line that didn't fit her features. She allegedly chose to have surgery to improve her looks by modifying the shape of her nose.
Shahi supposedly had the bridge of her nose altered to make it appear smaller while removing the bulge. Her nose is now more polished and straight, complementing her lovely features. If the reports are genuine, the treatment went well for the actress, since it improved her appearance.
Likewise, there are also allegations of Botox injections. Her recent pictures depict the actress with an extremely active smile, and everything but her brows and forehead moving. In a full-motion like this, you'd anticipate the brows to be raised and at least a few lines to develop on the forehead.
This appears to be a full forehead treatment. Needless to say, we're not really fans of less-than-complete erasure of face mobility in small regions to make things appear more realistic.
There's no denying that Sarah Shahi is one of the most beautiful women on television right now, but she didn't get there by herself. Actually, she did cement herself as one of the most stunning ladies in the business on her own, but she opted to have plastic surgery shortly after her career began to take off.
Also See: American Magician Criss Angel's Plastic Surgery – Did He Go Under the Knife?
The talented performer rose to prominence with her alluring looks, but she reportedly decided that they weren't for her and had a nose job (rhinoplasty) to remove a bump from her nose and slim it out a bit.
Sarah is still a lovely lady, but she's somewhat blander than she used to be. There have also been allegations that she underwent breast augmentation surgery due to the volume and richness of her bustline, but given that they shrank slightly after the birth of her child, we believe her boobs are all-natural.
Sex/Life Star Sarah Shahi is Turning Heads in the New Netflix Dramedy
Sarah Shahi's leading role in Netflix's drama streaming series, Sex/Life, is currently stirring heads. Sex/Life is the drama of a love triangle between a woman, her spouse, and her history, based on BB Easton's self-published chronicle 44 Chapters About 4 Men, which takes a fresh contemporary look at femininity and sexuality.
Billie Connelly (Shahi) was not always a suburban stay-at-home housewife. Billie was a free-spirited social butterfly living in New York City with her closest friend Sasha (Margaret Odette) before she exchanged vows with loving and loyal Cooper (Mike Vogel) and relocated to Connecticut.
Billie, weary from caring for her two young children and homesick for her past, begins writing and dreaming about her intense adventures with handsome ex-boyfriend Brad (Adam Demos), the great tragedy she never recovered from.
Also Read: Suzette Snider's Plastic Surgery – Has Dee Snider's Wife Gone Under the Knife?
The more Billie thinks about it, however, the more she marvels at how she got here – until her husband discovers her notebook.
Will Billie's past spark a sexual liberation in her marriage, or will it bring her back to the life she believed she'd left behind with the guy who gave her the heartbreak? Well, you gotta watch to find out.
Visit Weight & Skin for more plastic surgery stories of your favorite celebs.