Grab all the details of Rush Limbaugh's unbelievable 90 pounds weight loss in 2009 in a span of 4 months. Learn his diet plan and fitness routine along with before and after pictures.
Rush Limbaugh, an American media personality, a conservative radio icon, a writer, and a tv show host, highly remembered as the presenter of his radio program The Rush Limbaugh Show, which was nationwide broadcasted to AM and FM radio stations, passed away on 17th February 2021 following a battle with lung cancer.
Besides his controversial, outspoken, and admirable personality, he is well known for his dramatic weight loss in 2009, when he claimed an unorthodox technique helped him shed an unbelievable number of pounds in a short span of time.
If you're someone who is curious about his incredible approach, stick with us to learn more.
Rush Limbaugh's 90-Pound Weight Loss in 2009 Thanks to Quick Weight Loss Center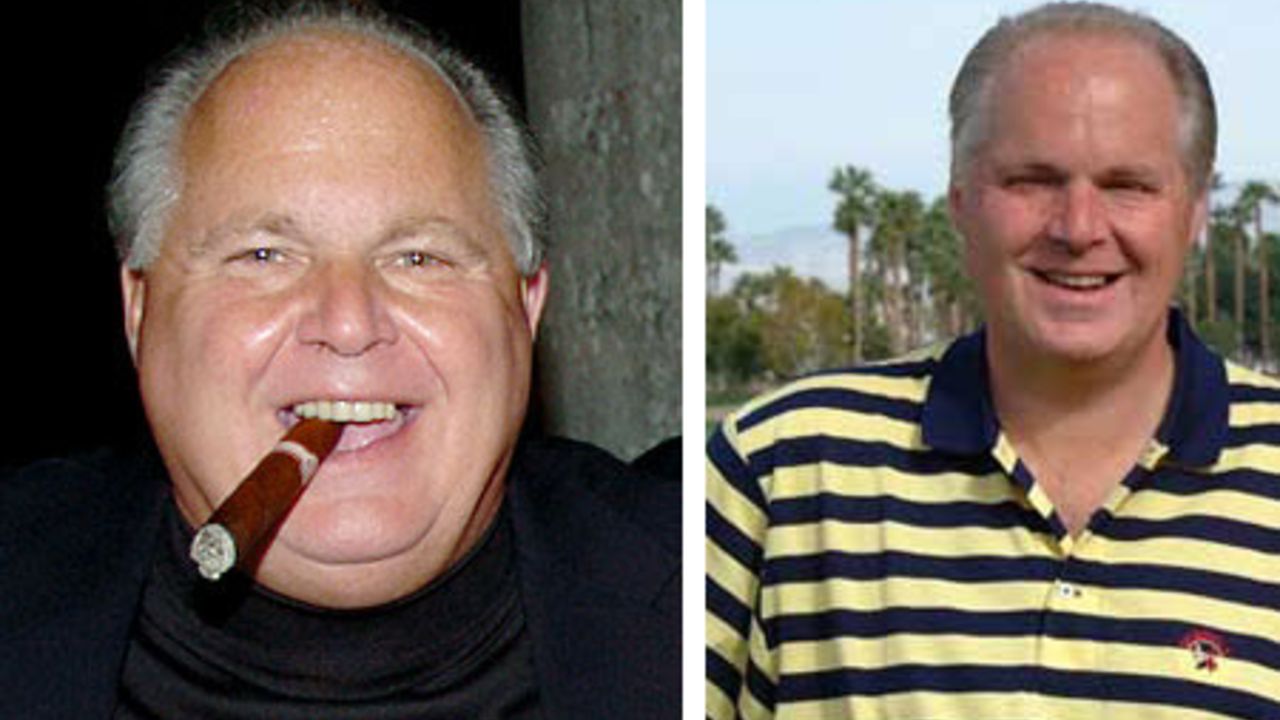 Rush Limbaugh before and after 90 pounds weight loss.
Image Source: Pinterest
Widely regarded as a legend in the world of radio, Rush Limbaugh talked on air for decades. And on numerous occasions, he got entangled in some pretty divisive subjects which placed him on the back seat.
Likewise, Rush has endured a variety of health issues in the past. In fact, he turned deaf in 2001 and underwent surgery to regain his sense of hearing.
And last year, in one of his episodes on The Rush Limbaugh Show, he revealed he had gotten diagnosed with lung cancer. Following a persistent battle with the fatal disease, he sadly passed away on 17th February 2021.
You Might Like: Gary Anthony Williams' Incredible Weight Loss – Secrets to His Diet & Fitness!
Previously, the radio personality had opened up about his remarkable weight loss back in 2009.
In the July 2009 episode of The Rush Limbaugh Show, his guest James Golden, better known as Bo Snerdley, inquired to Limbaugh how much weight he had lost in order to slim down dramatically.
In a peculiar tone, the host informed him he was hoping 'not' to make the episode about him. However, he did explain how he achieved such a remarkable weight loss.
Limbaugh was 211 pounds at the time and considering his goal was 210 lbs, he was not looking to slow down because he liked what he did for his slimmer physique.
He told Snerdley,
Today, I weighed 211, so I've lost 79 pounds. I've lost seven pounds since Saturday. Yeah, I'm still trying to lose. My original goal was 210, but I'm going to keep going, there's no reason to stop. I'm going to see what happens at 200, see what happens there. I may keep going. I mean, I love this diet. The food is delicious.
Rush advised people to follow a specific diet plan, revealing the product as Quick Weight Loss Center or QWL, but he asked them to buy without mentioning his name in the supermarket.
He said,
It's not a business thing, it's a personal thing.
Limbaugh admitted he had never tried anything before, and the QWL diet pushed him to lose 90 pounds in merely four months.
Also See: American Chef Kevin Belton's Weight Loss Journey – What's His Diet Plan & Fitness Routine?
He continued,
It's just the easiest one, and it's the fastest. I'm 58 years old, I never lost weight this fast, almost 90 pounds here since March 9th, not even six months yet, and it was 40 pounds in like 45 or 50 days. And then I had a couple golf trips and varied off the diet two or three days that week, but I didn't gain any weight, kept losing.
The media icon couldn't have been more impressed with QWL.
Rush Limbaugh Claimed Exercise was Fruitless for His Weight Loss Aspirations
During a May 2017 episode of his popular show, the conservative political personality dotted his own weight loss journey by highlighting a Daily Mail article that read:
Why LESS exercise is the key to weight loss: Nutritionist reveals how going too hard at the gym can prevent your body from burning fat
Basically, the article claims how less vigorous workouts made clients return to the nutritionist Jessica Sepel's office and their outfits were looser, their energy levels were greater, and they were resting much better.
This was precisely how Limbaugh connected to his narrative. He said he tried working out to lower his weight, which he never really succeeded. All the weight he shed in his life came without the inclusion of exercise in his diet program.
Also Read: Fox Meteorologist Janice Dean's Weight Loss – In Response to Multiple Sclerosis?
Limbaugh claimed,
… And I've tried exercise. I tell you, I have not lost weight faster, I have not lost weight sooner, I have lost… The more weight in my life I've lost, I've lost without adding a shred of exercise to the regimen.
He reiterated,
So the naysayers say, 'Well, you may be losing weight, but if you don't exercise, you're not losing fat. You're losing muscle tone.' Bull! You people don't know what you're talking about. Your body is gonna burn fat before it gets to any of that. So many things out there that people think they're experts on.
The man went on to clearly advocate dieting as the answer to losing weight, not buying into the need for extreme workouts to burn calories.
While agreeing exercise does indeed help a little, Rush insisted:
Who's gonna do that? Now, I always say I'm not arguing against exercise on general principles, but if you're thinking you're gonna lose weight with it, you have a big surprise or two coming. The key to losing weight is what you put in your mouth. That is 90% of it. And all the rest of it is talking points.
He clearly feels diet makes or breaks your weight loss program, irrespective of how much exercise you perform.
One Professional Dietician Blasted Rush Limbaugh's Diet as "Unhealthy"
Following his comment on the diet that he sought from QWL, people were swift to discover flaws in his diet strategy.
The then-Dietician at Memorial Health System of East Texas, Tim Scallon, stated:
Diets that promote rapid weight loss I don't recommend because, for one thing, we don't gain weight rapidly. If we gain weight gradually, why should we expect to lose weight rapidly.
One convincing argument was that of Tessie Menefee, who tried another quick weight loss diet. She said she'd lost 50 pounds with it just to add all the pounds later.
Scallon also had some specific recommendations for people wanting to try Limbaugh's diet.
Do Not Miss: 'Finding Bigfoot' James Bobo Fay's Weight Loss – All the Facts Here!
Despite the means, Rush Limbaugh indeed lost impressive weight. While there might be risks of gaining the entire weight back, he definitely adapted well to his technique.
Having said this, you can't deny physical exercise is just as significant.
Visit Weight & Skin for more weight loss stories of your favorite celebs.