Grab all the details of Ronan Farrow's alleged plastic surgery procedures. The son of Mia Farrow and Woody Allen reportedly went under the knife numerous times. His adoptive sister Dylan Farrow had accused Woody Allen of sexually molesting her as a child. The new HBO documentary Allen v. Farrow sheds light on their family controversy.
Ronan Farrow's book on the Harvey Weinstein controversy was released in 2019, and it was just one of the highlights of the 33-year-old's incredibly successful professional life.
Born to high-profile celebrity parents Mia Farrow and Woody Allen, Ronan has spent almost the entirety of his life in the spotlight, but as an adolescent, he stepped out of the confines of his parents to build a reputation for himself as a journalist.
Ronan was a wonder kid since he was a boy, completing his college graduation at the age of 15 and receiving a coveted Rhodes Scholarship. He also hosted his own TV show and wrote for a number of outlets.
Recently, this accomplished personality is making rounds over the accusations of plastic surgery. Is there any shred of truth to it? Let's find out.
Did Ronan Farrow Undergo Plastic Surgery?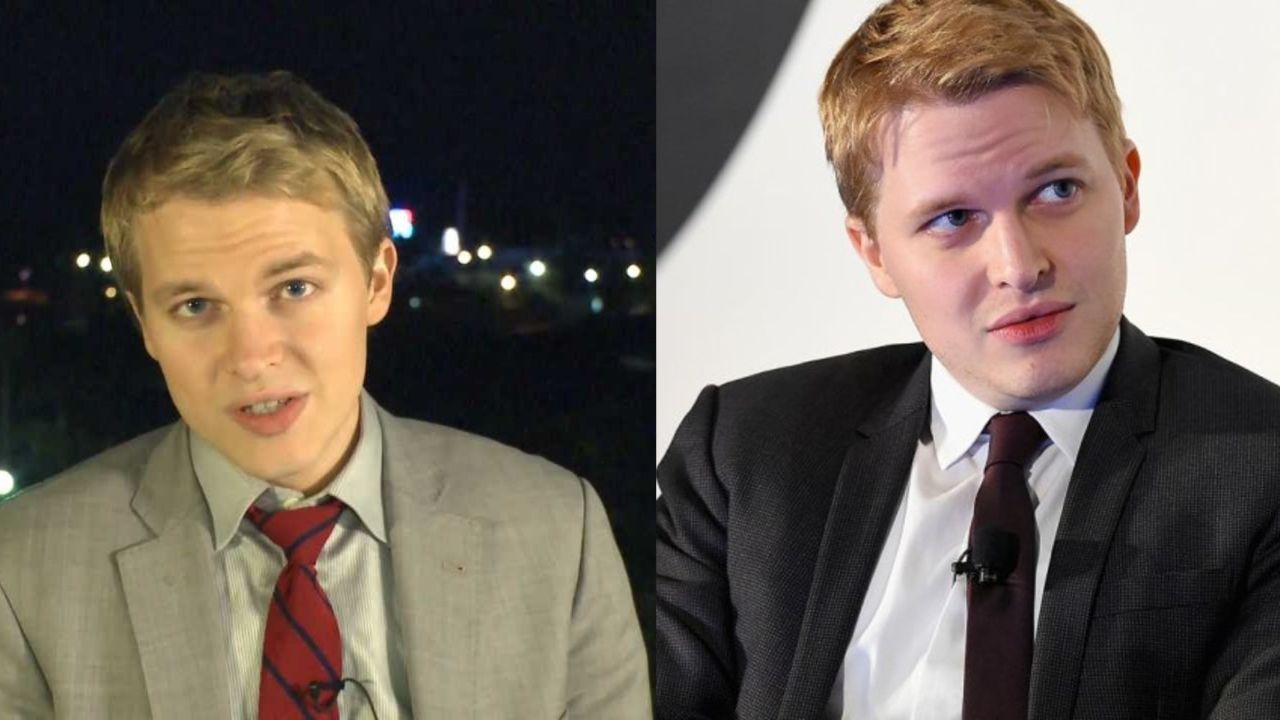 Ronan Farrow before and after alleged plastic surgery.
Image Source: Weight & Skin
Celebrities are no strangers to plastic surgery. They often opt to go under the knife because their appearance tends to make or break their careers. However, the story of Ronan Farrow and plastic surgery is a bit different, to say the least.
In Woody Allen's autobiography, the actor quoted his adopted son Moses Farrow in one of the most bizarre allegations made against Mia Farrow. The book alleges Mia made Ronan undergo painful plastic surgery operations on his legs to make him taller.
You Might Like: Lana Condor's Plastic Surgery – The Untold Truth!
Moses is quoted saying in the memoir,
After Ronan finished law school, Mia had him undergo cosmetic surgery to extend his legs and gain a few inches in height.
Moses added,
I told her I couldn't imagine putting someone through the ordeal for cosmetic reasons. My mother's response was simple, 'You need to be tall to have a career in politics.'
A 2018 feature article on The Hollywood Reporter about Ronan claimed,
During a trip to Sudan, Ronan contracted a bone infection in his leg and would spend much of the next four years in a wheelchair and on crutches as he endured multiple operations.
Following the controversy surrounding Ronan Farrow's biological father, fans became more and more invested in the real truth concerning his paternity. One such online user claimed,
Ronan Farrow has had at least one nose job, if not more plastic surgery, to erase any trace of Woody Allen from his face. That plus the bleach blonde hair and bright blue contact lenses seem to be the only proof people have that he could have been sired by Frank Sinatra. Not a whole lot to go on. As much as I like Mia Farrow, she handled this paternity thing very badly and still seems hell-bent on revenge after all these years.
Many online users also claim Ronan looked much different in his "original face" before he underwent multiple plastic surgery procedures.
Also See: Has Bette Midler Had Plastic Surgery? Learn the Real Truth!
In fact, he is alleged to wear blue contacts that he himself admitted, ensuring his mother Mia can keep making claims about his possible paternity.
Ronan Farrow's Eye Color is Reportedly Fake
Ronan Farrow's eye color is supposedly fake.
Image Source: Page Six
The son of Mia Farrow and, as per Mia, Frank Sinatra, uses colored contact lenses to give the impression of brighter blue eyes, claimed Page Six in 2014.
The MSNBC anchor at the time landed his show shortly after Mia stated Sinatra, and not Woody Allen, is likelier to be Ronan's father, stirring controversy about whether he's got the same piercing eyes of the iconic singer.
But Ronan was caught adding fuel to the rumors by opting for contacts to make his eyes look Sinatra blue at the Time 100 Gala at the Lincoln Center in Jazz.
Also Read: Alejandro Fernandez's Tattoos & Meanings – Everything You Need to Know!
A spy at the event said,
You could see the outline of his contacts.
A friend seemingly provided the ultimate confirmation of Ronan's colored contacts.
He's blind as a bat, they are prescription contacts. They are tinted white, but they do make his eyes brighter blue.
In fact, even Allen had accepted his son looks more like Sinatra, writing:
Granted, he looks a lot like Frank with blue eyes and facial features.
Azure-eyed Ronan spoke to the same publication at the gala claiming he was seeking to drown out the turmoil concerning his family.
I think it's important to tune out some of the noise, do your job, keep your head down.
Despite his best efforts, though, there's no way this controversy is drowning out anytime soon.
Ronan Farrow's Relationship with Woody Allen and Paternity Controversy
Farrow is alienated from his supposed biological father, Woody Allen. After Allen tied the knot with Soon-Yi Previn, the adopted daughter of the journalist's mother, Mia Farrow, and her second husband André Previn, Farrow said:
He's my father married to my sister. That makes me his son and his brother-in-law. That is such a moral transgression.
Speaking in a 2013 interview with Vanity Fair, Mia Farrow claimed her son Ronan could "possibly" be the biological offspring of singer Frank Sinatra, with whom she "never really split up."
Do Not Miss: 'Expedition Bigfoot' Cast Dr. Mireya Mayor's Plastic Surgery Allegedly Includes Lip Fillers
Ronan Farrow tweeted,
Listen, we're all—possibly—Frank Sinatra's son.
In a 2015 CBS Sunday Morning interview, Sinatra's daughter, Nancy, refuted the suggestion that her dad was Farrow's actual father, labeling it 'nonsense.'
Nancy further stated her father had undergone a vasectomy long before Ronan's birth.
Farrow remained reluctant to discuss DNA and maintained that despite their distance,
Woody Allen, legally, ethically, personally was absolutely a parent in our family.
In a story in 2018, Woody Allen admitted Farrow could be Sinatra's child:
In my opinion, he's my child … I think he is, but I wouldn't bet my life on it. I paid for child support for him for his whole childhood, and I don't think that's very fair if he's not mine.
The controversy was further fueled by the new documentary, Allen v. Farrow, revolving around Woody Allen and the childhood sexual abuse allegations made by Dylan Farrow. The four episodes miniseries premiered on HBO on 21st February 2021.
Check Out: 'WandaVision' Star Elizabeth Olsen's Plastic Surgery – Did She Get a Nose Job?
Visit Weight & Skin for more plastic surgery stories of your favorite celebs.