Riley Burruss' alleged nose job plastic surgery made rounds on the internet after she shared a graduation picture on Instagram. Check out her before and after changes.
Graduation ceremonies are a hugely significant moment for any young individual. Such was the case with Riley Burruss, the daughter of R&B singer Kandi Burruss of Xscape, also a leading cast member of The Real Housewives of Atlanta (RHOA), and most lately the Showtime drama series The Chi.
Obviously, Riley and her family enjoyed the moment and posted the achievement on their Instagram page for everyone to witness – in the expectation of their congratulations.
However, although she got a few good wishes from her personal page update, something unexpected happened when the photo was posted to various web pages, when many fans and critics found a change in her profile, especially the nose.
Riley Burruss Reportedly Underwent Nose Job Plastic Surgery
People began to note Riley Burruss, the famous daughter of Real Housewives of Atlanta (RHOA) star Kandi Burruss, looked a little different back in July when Riley shared a graduation picture revealing she was moving to NYU.
Riley wrote,
So blessed to have received an amazing education, and special thanks to my amazing mom who is the reason I will be going to my dream school. Wishing all other members of the class of 2020 the best during such a hard time. NYU here I come.
It wasn't till her selfie on 1st August that fans really began to suspect Riley may have had plastic surgery, most notably a nose job.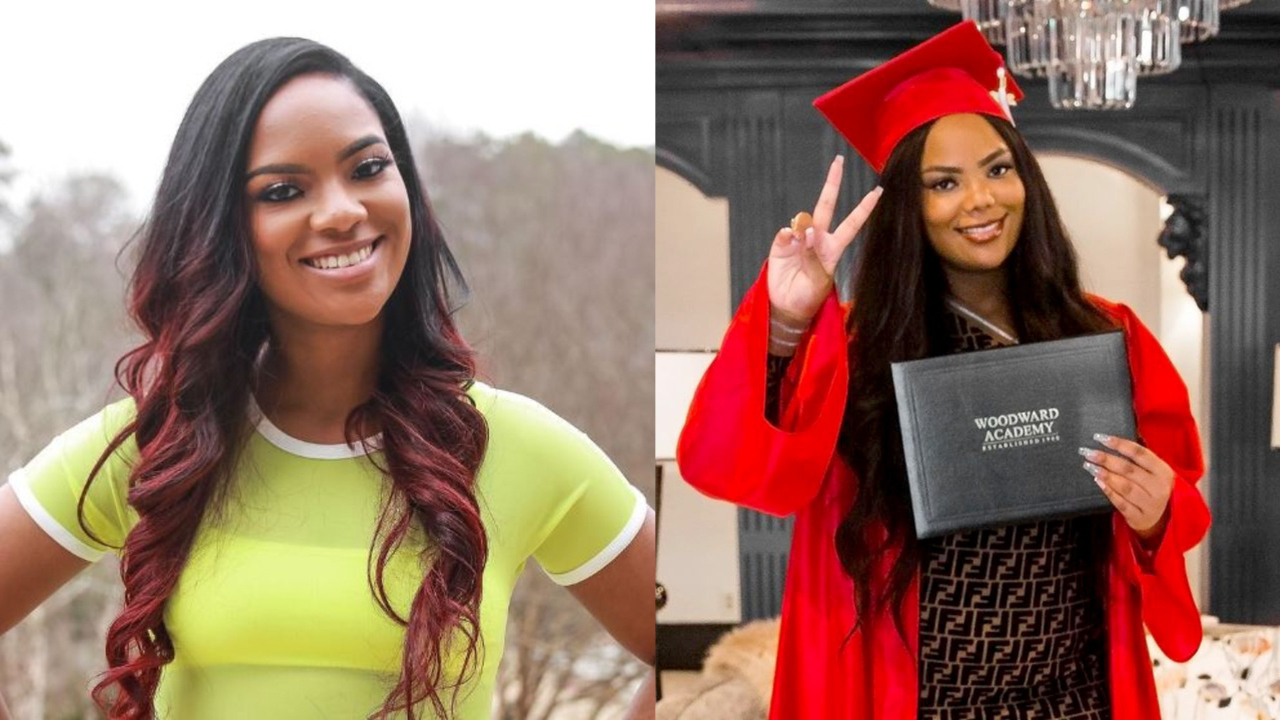 Kandi Burruss' daughter Riley performed nose job plastic surgery in 2020.
Image Source: Weight & Skin
One person commented,
Nah sis. Whatever doctor did this to you needs their license revoked. You don't need to worry about haters because they won't even recognize who you are.
The second wrote,
Your body, your choice…but you were perfect just the way you were 🙁
Neither Riley nor Kandi has addressed the speculations of Riley's nose job, but the picture evidence appears to suggest she did.
You Might Like: Jenny Lee Burton's Plastic Surgery Addiction – The Untold Truth!
Her nose is thinner and her nostrils are narrower, and the transition became evident the day she shared her high school snap.
Many of her fans have left comments below her post about her looking "better" previously, with one saying:
I'm sorry and I don't say this in a bad way but you looked better before your face look so different.
While this may be intentional, we can only guess what it would be like to be under the spotlight at all times.
We've witnessed Riley grow up on TV, so some may feel unnerving to see her appear so different now. Maybe Riley felt the need to look better from her perspective.
Growing up in front of a massive crowd must be tough, even if Riley finally opened about her luxury.
Last year, Riley said:
I definitely think that I'm probably going to get backlash as we have before for certain things. Clearly, we're very fortunate and I'm definitely very privileged, so certain things to other people might sound so abnormal, such as my car and things like that, which I know [my mom's] gotten criticized for doing, giving to me.
During the episode, her stepfather, Todd Tucker, said he felt she was too young to live such a lavish life.
It's too fast… 16, driving a Porsche, got a high-rise apartment in the city.
Riley also said,
Please don't roast me. I know I'm privileged and sometimes don't know things. You see, that's why we learn. I personally do not like the comparisons 'cause you can't compare me. I'm still a child and then [to] an adult. I'm not an adult yet.
Riley is not the first Real Housewives child to perform plastic surgery. Real Housewives of New Jersey's Teresa Giudice's daughter, Gia, officially revealed she's got a nose job and that she's never been more glad.
Also See: Nadia Bjorlin's Plastic Surgery – The Complete Breakdown!
She wrote on Instagram,
Yes I got a nose job. yes I'm swollen. thank you so much @drtobiasnyc I'm absolutely in love with it I am an adult now, this has been an insecurity of mine for a while and I've never been happier and so comfortable in my own skin!!
After all, whatever Riley chooses to do with her appearance, it's her own decision. Either way, she's stunning.
Kandi Burruss' Daughter Riley Responded to Haters Following Alleged Nose Job
Kandi Burruss' daughter Riley doesn't let the haters get to her after she was suspected of getting a nose job.
After "BCK" posted a picture of Kandi Burruss' daughter Riley in her graduation dress, some users on Instagram began to comment, accusing her of getting a nose job.
Also Read: Olivia Jade's Plastic Surgery is Trending But Is It True?
The beautiful photo of the recent high school grad and her family was filled with derogatory messages, with some even lambasting her mother for making her get plastic surgery.
But Riley isn't the one to take it lying down as she responded by posting a beautiful picture of herself, telling the haters she wasn't troubled by what they said.
After another follower said they hoped she didn't have a nose job, Burruss' daughter replied with a quote from Nicki Minaj, writing:
Shout out to my haters, sorry that you couldn't phase me.
Recently, her mother organized a beautiful high school grad party for her, posting updates with a series of pictures displaying her family marking the milestone.
Check Out: Matilda De Angelis' Plastic Surgery – Did 'The Undoing' Star Go Under the Knife?
In the posts, the reality star illuminated her lawn with huge signs and balloons and acknowledged all who were willing to come for the celebrations.
Earlier in 2020, Riley unveiled her latest hairdo by rocking her waist-length woven style of hair. She participated in her mom's TikTok, showcasing her natural afro, and it looked amazing.
Burruss posted a wonderful clip on her Instagram showcasing her daughter's hair and offering her perspective on her daughter's fresh style.
She wrote,
2 weeks ago my baby girl @rileyburruss decided to cut all her hair off. Her hair was damaged & she wanted to cut it short & start all over. I like her Afro.
The latest picture comes with the aid of Bravoleb hairdresser Derek Jae, who is popular for Real Housewives of Atlanta and Fashion Queens.
Burruss has always embraced Riley, even praising her workout journey in 2018, when the 15-year-old dropped 53 pounds.
Do Not Miss: Did Selena Quintanilla Have Plastic Surgery?
The supportive mother disclosed Riley had collaborated with a fitness instructor to get healthy in the "right way."
She confirmed her daughter was the victim of online abusers due to her weight, and Riley acknowledged the process was tough, but she wanted to motivate others.
Visit Weight & Skin for more plastic surgery stories of your favorite celebs.