Grab all the details of Rabiya Mateo's alleged plastic surgery procedures. Fans accuse the Miss Universe Phillippines 2020 of going under the knife to look better.
Beauty tends to find ways to glow in the gloom, and this is what the Miss Universe Philippines competition did during the coronavirus pandemic. The 23-year-old Rabiya Mateo came out victorious in the pageant.
Landing the crown of Miss Universe Philippines, Mateo, from Iloilo City, will lead the nation for the Miss Universe Pageant (the date of the global event is yet to be confirmed).
Away from the glam and success, Rabiya Mateo is under scrutiny for allegedly going under the knife. Did she perform plastic surgery?
Fans Accuse Rabiya Mateo of Plastic Surgery Operations
Rabiya Mateo took to Instagram to address the allegations of plastic surgery after her yearbook picture from over a decade ago reemerged online.
Since the photo appeared on social media, internet users called her ugly and suggested she had undergone plastic surgery to make herself look more attractive.
She clarified 11 years earlier, her teeth weren't repaired by braces, she didn't know much about makeup, and she wasn't aware of what angle would make her look more beautiful.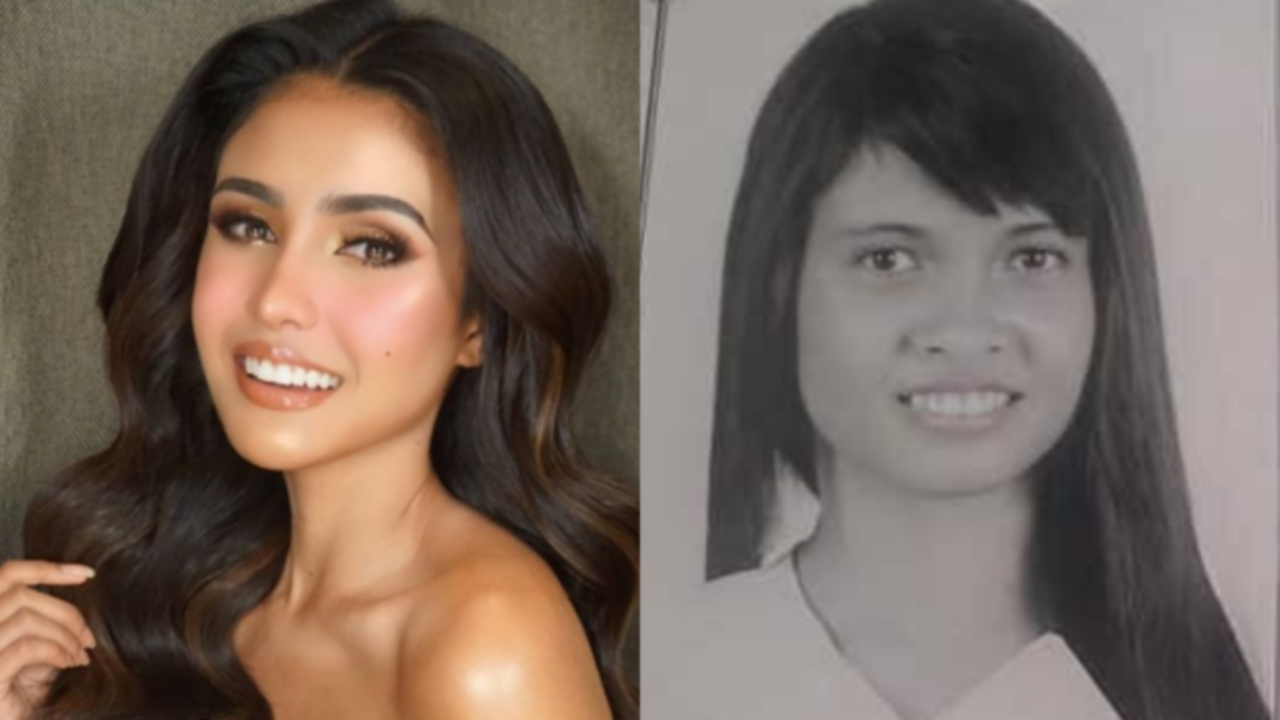 Rabiya Mateo is accused of plastic surgery through before and after images.
Source: Showbiz
She also encouraged netizens to quit bullying people's physical image, and the people who call someone ugly would need to get their souls cleansed.
Mateo said,
This is me 11 years ago. I still didn't have my braces. I don't [know] how to put [on] makeup. I'm not aware of what angle flatters me most — but this is still me. A lot of things happened in that period of time.
The 24-year-old added,
I grew up and became more mature. I was able to invest in myself and practice self-love. If there would be one thing that I want to offer other people to know about me, it's that I'm beautiful then and now. The only thing different is now, I know better.
She continued,
P.S. Stop calling anyone ugly. If that's how you see things, and maybe then, it's your soul that needs surgery.
Rabiya Mateo is most renowned for winning the Miss Universe Philippines in 2020. While some online users accused her of being a diva and getting an unfair competitive advantage during the contest, several people defended her personality.
You Might Like: Complete Breakdown of Jared Kushner's Plastic Surgery Procedures
When it comes to her alleged plastic surgery procedures, however, we believe she most likely had Botox and fillers.
Miss Universe Philippines Rabiya Mateo's Yearbook Photo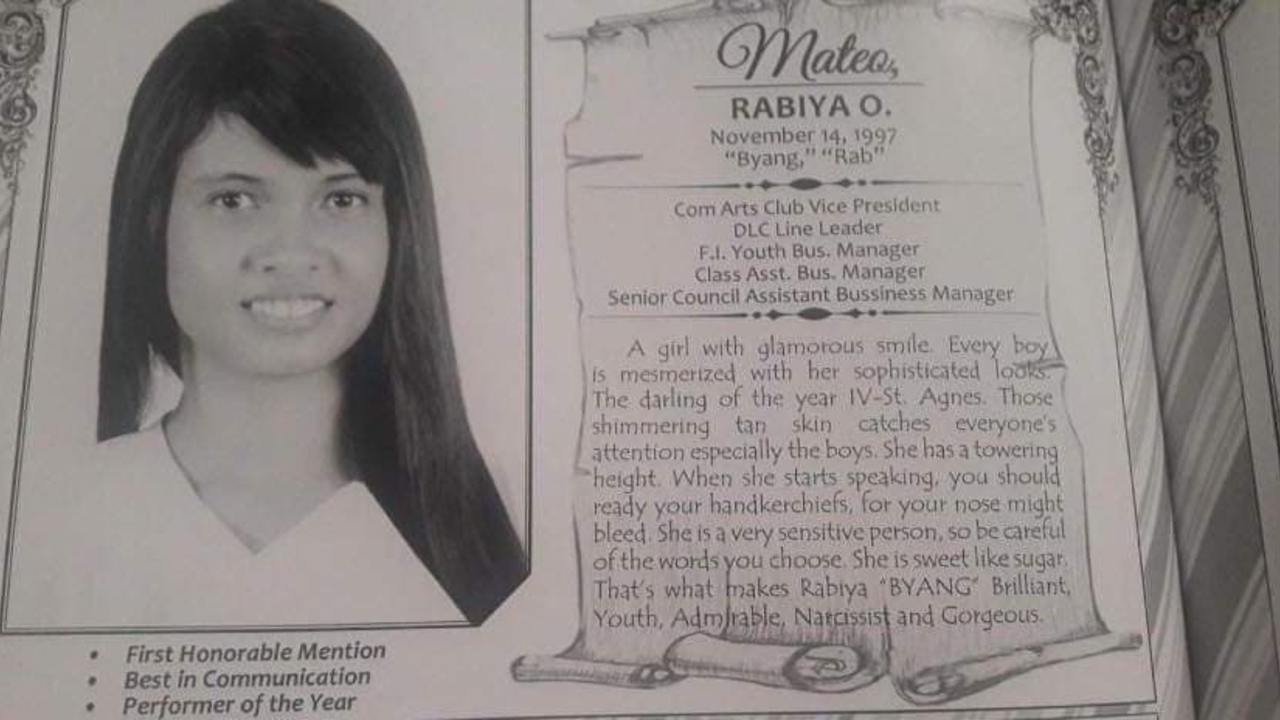 Rabiya Mateo on yearbook photo: "I'm beautiful then and now."
Source: Pep
Past yearbook pictures give us a snapshot into the personality of the person before they were renowned: were they inquisitive? Were they great students?
When it comes to the recently announced Miss Universe Philippines 2020 Rabiya Mateo, she was both of them. Mateo completed her graduation from Saint Candida School in Iloilo, one of the establishments operated by the Congregation of Hijas De Jesus.
Also See: Real Truth About Alicia Witt's Plastic Surgery Procedures
Her yearbook writeup states,
A girl with glamorous smile. Every boy is mesmerized with her sophisticated looks. The darling of Year IV-Saint Agnes. Those shimmering tan skin catches everyone's attention especially the boys. She has a towering height.

When she starts speaking, you should ready your handkerchiefs for your nose might bleed. She is a very sensitive person so be careful with the words you choose. She is sweet like sugar. That's what makes Rabiya "Byang": Brilliant, Youth, Admirable, narcissist and Gorgeous (sic).
It's worth mentioning Rabiya Mateo's academic achievements are off the charts as well.
The Miss Universe Philippines 2020 is Accused of Cheating to Win the Pageant
Current reigning Miss Universe Philippines 2020 Rabiya Mateo responded to the accusation that she cheated to win the contest.
Speaking with GMA News, Mateo refuted the allegations, notifying her fans she performed "right" and "fair."
Also Read: Lara Trump's Plastic Surgery is Making Rounds on Internet
Rabiya said,
As much as I want people to love me, not everyone will like me.
As maintained by her, she's taking the failures as part of the obstacles she's faced on her road to the Miss Universe crown.
So now, it's a test of character, a test of faith. But I know because I played the game right and fair.
As for fellow contestants who accused her of breaching the pageant standards, such as supposedly bringing her own glam squad and getting fed up with queries prior to the Q&A. She said she would like to feel the good side of these people not to feel negative about them.
Rabiya Mateo explained:
Some of the girls also said, I befriended them during the competition and you know, that's not how they treated me all throughout.

So I'd like to still remember them as somebody who was there when I was struggling rather than those people who are bitter about my success. I need to understand where they're coming from.
Miss Universe Philippines 2020 was overshadowed by controversies following the announcement by Taguig delegate Sandra Lemonon on her Instagram that she would shortly disclose the "truth and facts" of the contest.
Do Not Miss: Matthew McConaughey's Plastic Surgery – Hair Transplant, Eyelids, Nose Job, Facelift, Botox
Visit Weight & Skin for more plastic surgery stories of your favorite celebs.