Check out the complete story of Princess Diana's dramatic weight loss prior to the royal wedding.
Princess Diana was merely 19 when she tied the knot with Prince Charles, now 70.
A documentary that aired in 2017 shared several facts about the big day that had never been learned before. Diana's wedding dress couturier disclosed how much her waist had shrunk before the wedding.
In case you're wondering how and why this happened, you've come to the right place. We've got you covered with the complete story of Princess Diana's unbelievable weight loss.
Princess Diana's Weight Loss – How Did Her Waist Shrink So Much?
When Prince Charles tied the knot with Lady Diana Spencer on 29th July 1981, people from all over the world were tuning in to see what was called "the wedding of the century."
Well over 3,000 guests attended the royal marriage that cost around $100 million, and one of the stuff most people recall from that day was the outfit Diana wore during her big day.
The stunning ivory silk dress displayed puckered sleeves, a full skirt, while the 25-foot train couldn't be more memorable.
For years after the wedding, the gown became emblematic of bride wear, but Diana's dramatic weight loss leading up to her wedding was a concern for her designers.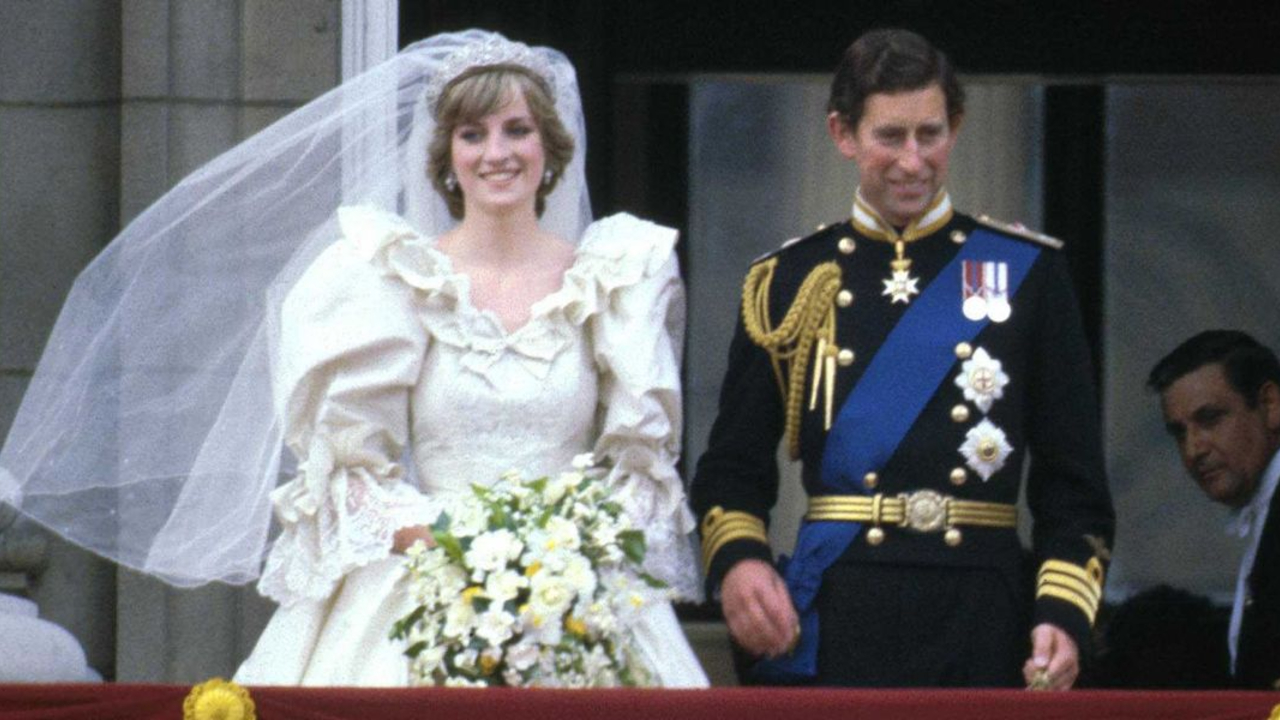 Princess Diana underwent a dramatic weight loss prior to her wedding.
Image Source: Elle
Here's the sad explanation of why she lost too much weight prior to her wedding.
Many of the brides will say they want to be in the perfect shape for their wedding day, and in many situations that means losing several pounds or retaining a slim waistline.
As per Daily Mail, Meghan Markle had a 27-inch waist when she exchanged vows with Prince Harry, while Princess Eugenie and Kate Middleton were 28-inch and 26-inch, respectively.
You Might Like: 'Grey's Anatomy' Patrick Dempsey's Weight Loss – How Many Pounds Did He Lose?
Evidently, none of them were as scaled-down as Diana at the time of her wedding. In the documentary, Charles and Di: The Truth Behind Their Wedding, the lady who modeled the princess of Wales' iconic dress, Elizabeth Emanuel, disclosed Diana's waist was 29 inches when they started designing.
However, it shrunk to 23 inches for her last fit before she and Charles got married.
The Express noted it's basically identical to size 000 and is a "healthy waist measurement for a 12-year-old."
Emanuel explained,
She was losing so much [weight] we even had to start again a couple of times. We put it down to nerves. But it did make it incredibly difficult for us to get on with making the dress.

We had to keep taking the bodice in and changing the pattern. The last thing we wanted was to make it up in silk, then have to play around with that. Silk soon looks worn if you work it too much.
So, why did Diana's waist drop by six inches prior to her wedding?
Also See: Full Story on 'NCIS' Star Joe Spano's Weight Loss & Health Issues
Years following the royal wedding of Charles and Diana, the world discovered how miserable their marriage was. It soon gathered media coverage that the princess was dealing with bulimia nervosa, a dietary condition in which binge eating transpires, accompanied by purging.
Diana talked about her struggle with the disorder in her secretly captured tapes given to biographer Andrew Morton, and again during her 1995 Panorama interview.
She admitted her eating problem started right after Prince Charles and she got engaged when he made a joke about her body.
She remembered him rubbing her waist and asking, "Oh, a bit chubby here, aren't we?" The princess also added the remark had ignited something in her.
The princess talked about undergoing dramatic weight loss between her engagement and wedding, stating:
I had shrunk into nothing from February to July. I had shrunk to nothing.
After almost ten years, Princess Diana eventually defeated the disorder.
Also Read: 'The Blacklist' Star Aida Turturro's Weight Loss – The Complete Story!
Princess Diana's Diet Plan for Breakfast, Lunch, and Dinner
Princess Diana's battle with bulimia was no mystery, but after breaking up with Prince Charles back in 1992, the Princess of the People ventured on a healthy and more stable lifestyle.
During an exclusive interview with Hello, her former head chef Darren McGrady shed light on her dietary changes.
By the time I moved to Kensington Palace, the Princess had already confronted the bulimia and talked about it in the hope that other people would do.

She got her life back on track. She was working out at the gym every day, looking the best she ever did. She had changed, she was now a healthy eater.
He then provided an insight into just precisely what she consumed and when.
Do Not Miss: Young Kate Star Mackenzie Hancsicsak's Weight Loss – The Complete Breakdown!
As stated by the Saturday Evening Post in 1989, Diana began the day with grapefruit, muesli, and a slice of toast. When Darren joined Diana on her fitness quest, she had already begun to incorporate richer food.
Darren said,
(One of her favorite dishes was) an Egg Suzette which was a baked potato scooped out with wilted spinach in the bottom and a poached egg on top and then a little hollandaise sauce, a tiny amount, with some potatoes piped around the edges.
As for lunch, McGrady remembers one of Diana's beloved mid-afternoon recipes as bell peppers filled with courgette, mushroom, rice, mozzarella, and Parmesan cheese with a tablespoon of spicy tomato pepper sauce.
In 1981, a nursing home in Johannesburg, South Africa, asked members of the royal family for their best dishes to be put together as part of a recipe book.
Check Out: 'Teenage Kate' Hannah Zeile's Weight Loss Story – The Untold Truth!
The response from Diana's personal secretary, Oliver Everett, was released in January 2020 saying it was a bowl of Ukrainian beetroot soup.
The ingredients listed were beetroot, natural yogurt, onion, chicken stock, milk, sour cream, salt, and pepper.
Darren added,
The Princess never ate much red meat. She never ate beef, never ate pork, occasionally she'd have lamb when she was entertaining guests but for the most part, it was chicken, fish, or vegetarian options.
When it comes to condiments, Diana asked Darren to resist strong sauces and creams, but she allowed herself a delicious dessert: bread and butter pudding.
Darren explained,
She would have a small portion every now and then. And only when William and Harry were at home; she wouldn't request it when she was alone.
Clearly, Princess Diana urged her sons William and Harry to have a healthy meal as well.
Recommended: Bishop Harry Jackson's Weight Loss – What's the Reason?
Visit Weight & Skin for more weight loss stories of your favorite celebs.