Grab all the details of Portia de Rossi's plastic surgery, most notably Botox, nose job, and facelift surgery. Check out her before and after changes.
Portia de Rossi is an Australian-American actress who first gained fame in the 1994 movie Sirens. She's been in a variety of shows since then, including Ally McBeal (1998-2002), Arrested Development (2003-2019), Nip/Tuck (2007-2009), Better Off Ted (2009-2010), Sean Saves the World (2014), and Scandal (2014-2017).
She declared her retirement from full-time acting in 2018. While her decision has reduced her appearance on our screens, it has had no effect on the media's curiosity in her personal life.
Lately, Portia De Rossi is at the forefront of plastic surgery speculations on the internet. Is there any truth to it? Has the actress gone under the knife? Let's find out.
Portia de Rossi's Plastic Surgery – What are the Secrets to Her Changed Face?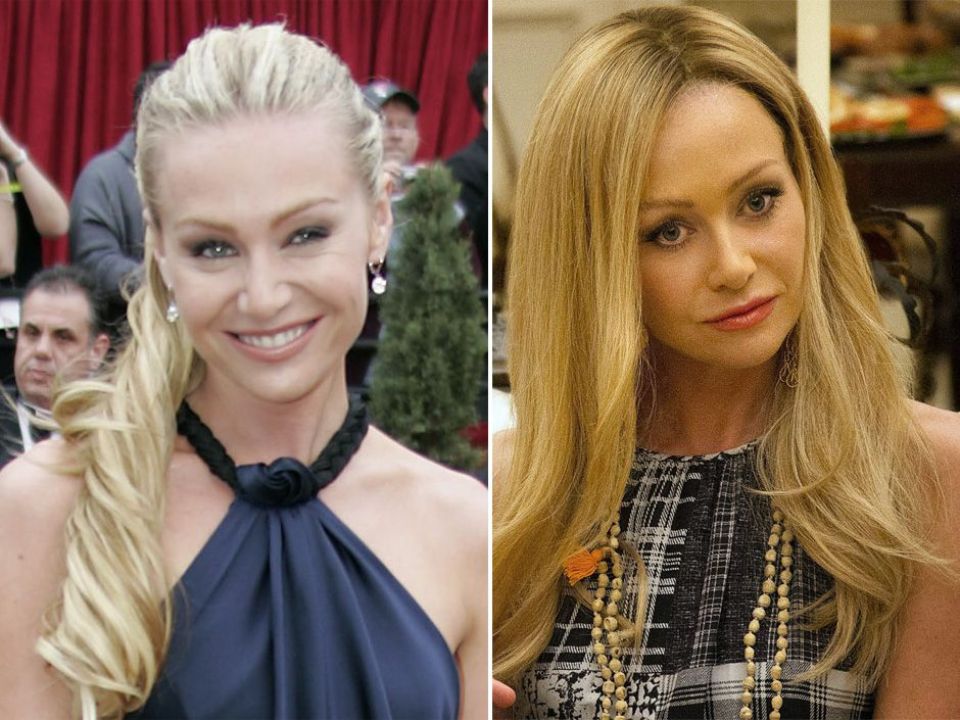 Portia de Rossi before and after plastic surgery.
Image Source: Pinterest
Could it be plastic surgery or perhaps makeup? Viewers of Arrested Development at one time were less concerned about the latest plot twists in the American sitcom.
They were rather debating if Portia de Rossi, who plays the shallow, superficial, egotistical (but charming) Lindsay Bluth-Funke in the show, has had plastic surgery to look younger.
You Might Like: Real Truth About Elon Musk's Plastic Surgery – Facelift & Hair Transplant?
Online users were arguing if the 48-year-old actress has undergone rhinoplasty aka nose job, brow lifts, filler procedures, or Botox. Cosmetic surgeons were also asked to weigh in on one particular website. Their conclusion? A resounding yes.
Another website that goes the name Jezebel, however, stated:
Lindsay's plastic surgery is something that's been repeatedly referenced on AD — it's easy to imagine she'd get work done in the seven years since the show's final Fox season, and It's just the kind of subtle joke [creator] Mitch Hurwitz and co. would let go unmentioned.
Looking at her most recent pictures, meanwhile, there remains little doubt she has indeed made cosmetic enhancements, most notably Botox injections and facelift surgery.
Has Portia de Rossi Performed Nose Job?
When addressing season 4 of Arrested Development, Daily Beast wrote:
Could one reason behind the lack of excitement be that one of its main stars, Portia de Rossi, is practically unrecognizable?
The famous sitcom had marked a return to Netflix on Memorial Day 2013 after a seven-year hiatus, launching an entire season (all 15 episodes) at once. It's fair to say this hilarious show was intended to be viewed: all at once, over and over, at the fan's convenience.
Also See: Tawny Kitaen's Botched Plastic Surgery – The Untold Truth!
However, it seemed like all anyone could think about was actress Portia de Rossi's face. De Rossi, who portrays the narcissistic, self-centered, and oblivious Lindsay Bluth-Fünke in the show, had supposedly undergone some form of cosmetic surgery, which did not go over well with viewers.
The horror of de Rossi's changed face was almost perceived as a continuity mistake on the program.
The National Post wrote,
There is a very specific type of pressure we put on the females of Hollywood – for de Rossi, now 40, the pressure is no longer just to be thin and beautiful, but to be young.
Likewise, one confused fan wrote:
Was I the only one who spent the first two minutes of that episode Googling whether that was actually Portia de Rossi playing Lindsay Bluth?
Another wondered,
How many episodes till I get used to Lindsay's face?
The third said,
It may be something with the wig she is wearing (maybe it pulls at her face?) and her weird makeup.
Similarly, another reporter tweeted,
I hate to be a hater, but Portia de Rossi looks more like Calista Flockhart than Lindsay Bluth now, with her face-lift and all #bummer.
That was not the end of it. Another said,
So is no one going to address the fact that Lindsay Funke [sic] completely changed her face in a matter of minutes?
To rub salt in the wound, The Hollywood Life enlisted the help of four cosmetic surgeons to ponder on whether the actress and Ellen Degeneres' wife may have got some work done.
It appears that Portia underwent nasal tip reconstruction … She also may have had blepharoplasty (eyelid surgery) … She definitely appears to have Botox injections …
To conclude, Portia de Rossi has definitely performed multiple plastic surgery procedures, including one around the nose.
Also Read: 'RHONJ' Jacqueline Laurita's Plastic Surgery Includes Multiple Boob Jobs!
Visit Weight & Skin for more plastic surgery stories of your favorite celebs.