All you need to know about Piper Rockelle's plastic surgery procedures. Did she really make cosmetic enhancements? Take a glance at her before and after changes.
Piper Rockelle is an actress, singer, dancer, YouTube star, and social media personality from the United States. She is best known for her role as Sky in the American web series Mani (2017) and Chicken Girls (2018), in which she co-starred with Jules LeBlanc, Hayden Summerall, and Hayley LeBlanc.
Lately, Piper Rockelle is at the forefront of plastic surgery speculations on the internet. Did she really go under the knife? Let's discuss.
Piper Rockelle's Plastic Surgery – Joke or Real?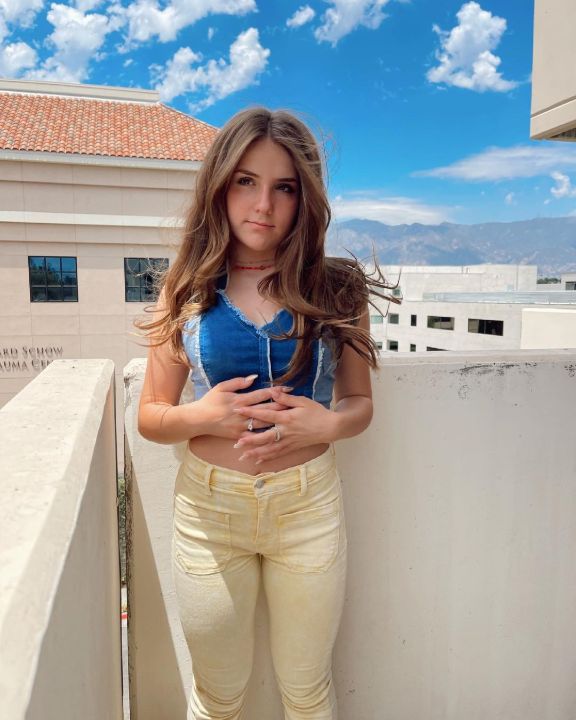 Piper Rockelle is believed to have undergone plastic surgery, allegedly lip fillers, and a nose job.
Image Source: Weight & Skin
Piper Rockelle recently went on Instagram and shared a clip on her story, where she revealed her intention to get plastic surgery. She said:
I'm here with Dr. K and what are we doing today?
The Doc replied,
Let's do it all. Let's do a little baby Botox. Show us those lines; liquid rhino. We're going to contour and straighten lift the tip and maybe a little cheek contour and jawline.
The pair also said they're gonna get work done on her lips. She ended the video by asking the viewers to stay tuned for the results.
It's evident by now Piper is getting lip fillers and straightening her nose.
You Might Like: American Magician Criss Angel's Plastic Surgery – Did He Go Under the Knife?
The fans were quick to respond on her social media. One user said she's already beautiful and perfect and can't understand the reason she feels the need to change herself.
Another user, however, defended her:
She is very beautiful but if she wants to do it she can it's not our choice it's hers and her moms.
Some, though, reckon she's already so perfect and doesn't need cosmetic enhancements. The fact that she's just 13 and not even 18 means her choice to go under the knife is even more absurd.
Since Piper is yet to post the results, some fans think it's just a prank and she didn't actually do it. Needless to say, we gotta wait a while before we know for sure whether it was a joke or she really did it.
Also See: Suzette Snider's Plastic Surgery – Has Dee Snider's Wife Gone Under the Knife?
We hope it's the former because Rockelle looks perfectly fine just the way she is and there's no need to succumb to the ridiculous beauty standards!
Who is Piper Rockelle?
Born on 21st August 2007, in Georgia, and belonging to the Leo star sign, Piper Rockelle is a well-renowned YouTube star.
She is a web sensation who uploads a variety of entertaining videos, notably pranks and challenges, to her renowned YouTube channel, which has almost 8 million subscribers.
Her skillset includes singing, dancing, and gymnastics. She appeared in the Brat series Mani as well as the reality show Piperazzi.
Prior to fame, she participated in beauty pageants and did some modeling work before gaining a social media presence.
Also Read: LaLa Anthony Before Plastic Surgery – Butt Lift, Nose Job, Botox!
The #Piperazzi are her adoring fans or at least that's what they're called. Impressively, she's learned how to surf. She is a member of the well-known social media influencer group The Squad.
When it comes to her family life, her mother, Tiffany, has been her only true guardian. She and her mom run a cat rescue that has given shelter to over 100 cats.
She has a pug named Frank Pugan, who has his own social media account. She was Lev Cameron Khmelev's partner on Valentine's Day last year. The couple got into a relationship later in May 2020.
Visit Weight & Skin for more plastic surgery stories of your favorite celebs.