All the facts behind Olga Tanon's 50 pounds weight loss after undergoing a gastric bypass aka bariatric surgery. Have a look at her before and after pictures.
Born on 13th April 1967, Olga Tanon is a Puerto Rican singer and songwriter. She has received two Grammy Awards, three Latin Grammy Awards, and 29 Premio Lo Nuestro Awards during her music career.
Recently, Olga Tanon has become the subject of weight loss surgery on the internet. Did she really lose 50 pounds? Let's find out.
Olga Tanon's Weight Loss: She Lost 50 Pounds Following Bariatric Surgery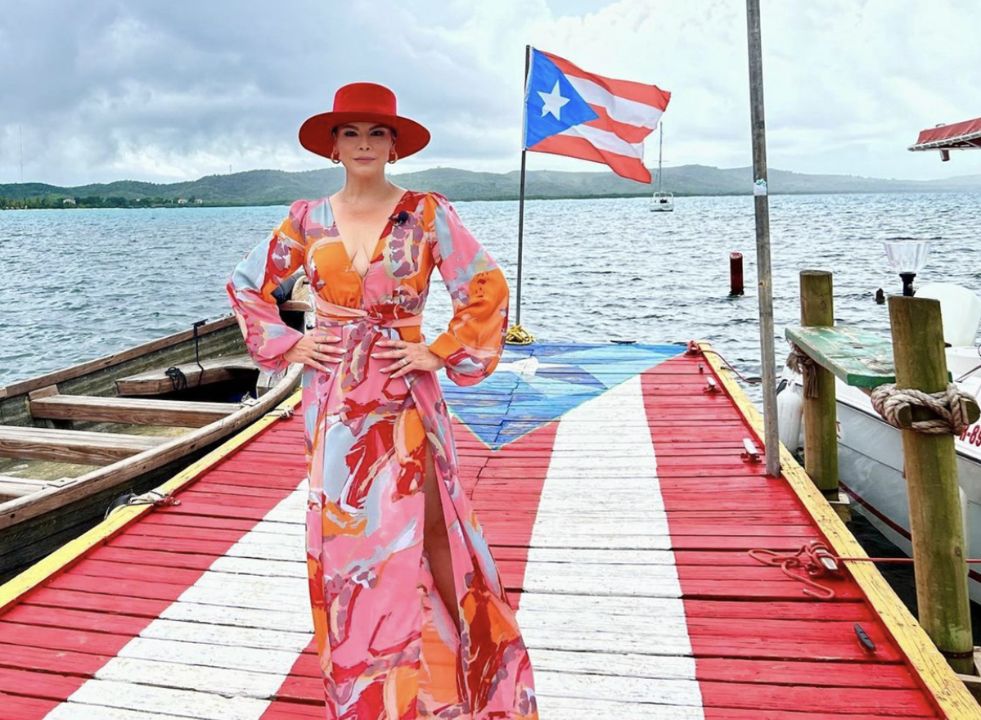 Olga Tanon underwent 50 pounds weight loss after undergoing bariatric surgery.
Image Source: Weight & Skin
Olga Tanon in a recent interview stated how she had previously undergone 50 pounds weight loss with bariatric surgery upon enduring a physical, mental, and emotional torment as she reached nearly 200 pounds and wore a size 16.
Speaking with Marie Antoinette Collins, she revealed that, after experiencing the lowest point in her life when she was massively overweight, she undertook bariatric surgery aka gastric bypass, in June 2021.
You Might Like: Sadie Sink's Weight Loss is Making Rounds on the Internet!
In a quiet conversation at the singer's home, where the reporter went for this exclusive, Olga confessed:
These two years of pandemic I ate it all … I have removed my implants, I have had lipo, but whoever gets fat with food loses everything, that is the stomach if you do not stop eating, and I ate as a troquera.
But, aside from the pandemic, self-isolation, or their cravings, Olga admitted that an emotional predicament may have pushed her to self-destruct: the abduction in which her mother was drugged and the robbers led her around all the banks to drain her accounts.
Tanon explained,
She was silent for three days and perhaps with all that she lived through, the doctors who said that her kidneys were dehydrated, she had diabetes too.
Three months later, her mother tragically passed away.
Meanwhile, Olga Tanon claimed that she thought she had reached a new low and began looking for alternatives on the internet.
Also See: Taylor Swift's Weight Loss 2021: SNL, Chia Seeds, Diet, Workout Routine & More!
She then came across footage of Marie Antoinette Collins after her bariatric surgery, which helped her to restore her health, and with determination and dedication, to be her best self.
The recording artist ended up achieving a weight loss of 50 pounds following surgery!
Who is Olga Tanon?
Olga Tanon was born on 13th April 1967 in Santurce, Puerto Rico. Currently 54 years old, she is an Aries.
Professionally, she is a Latin pop star with two Grammys, three Latin Grammys, and 28 Premios Lo Nuestro Awards.
Prior to fame, she began her career as a member of the Puerto Rican singing duo Las Nenas de Ringo y Jossie.
The singer, who is quite active on Instagram, has sold over two million albums since the release of her debut, Sola, in 1992.
Also Read: Jill Scott's Weight Loss Surgery: How Did She Lose 63 Pounds?
When it comes to her family, she was in a marital relationship with Juan Gonzales for a couple of years from 1998 to 2000. They shared a daughter named Gabriella Marie before they got divorced.
She then exchanged vows with Billy Denizard in 2003 and later welcomed their two adorable kids, Indiana and Ian.
Olga Tanon is a Dedicated Social Activist
Olga Tanon, a native living and voter in the state of Florida, raised her social activism resume in 2013 by declaring on the Univision TV channel that she would partake in the Immigration March on 10th April in Washington, DC.
Do Not Miss: Kenan Thompson's Weight Loss: Did He Undergo Surgery?
She intended to prop up immigration restructuring and a path to stay in this country and the ability to vote, as well as proclaiming her aid for the enrollment of her native Puerto Rico as the country's 51st state.
Visit Weight & Skin for more weight loss stories of your favorite celebs.