It's been three months since the NBA suspended its season after Rudy Gobert tested positive for COVID-19, and the Denver Nuggets star Nikola Jokic seems to have taken most of his time off.
Jokic came into the season weighing 284 pounds, but in recent days, Nuggets players and the front office were excited about the shape Jokic could be when the league resumes in July.
Nikola Jokic's Weight Loss – What's His Diet Plan?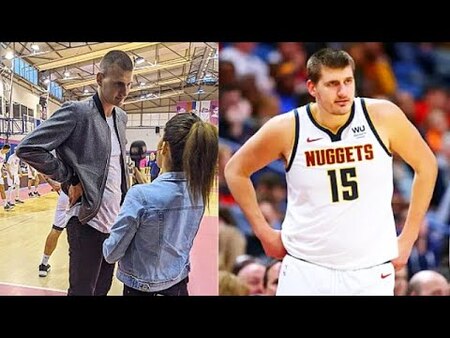 Nikola Jokic before and after weight loss.
Source: Pinterest
Nikola Jokic weighted around 284 pounds when the NBA postponed the new 2019-20 season three months ago. In recent weeks, however, following the suspension of the current season, Nikola has been busy attaining weight loss and maintaining his physique.
However, some of the outcomes of his weight loss were still expected but not recognized by others at the beginning of 2020. Back in February, CBS Sports reported Jokic admitted he had lost 20-25 pounds during the season through diet and exercise, suggesting Nikola was keen to strive for weight loss before the lockdown.
In fact, the report noted his weight loss correlated with the upward trend of his play – he averaged 25.5 points, 10 rebounds, and 7.2 assists on 64 percent shooting in February.
You Might Like: Former New York Yankees Pitcher CC Sabathia's Shocking Weight Loss Transformation Since Retirement
It is safe to theorize the NBA star just got more time to get involved in the weight loss routine he started. Quite obviously, he followed his eating schedule and workout regimen, so he could devote some time on it as he had all the spare time.
Nikola Jokic primarily focused on achieving a healthy and fit body that would be of huge benefit to him in his upcoming games. Many people claim Nikola's transition would improve agility and pace in his games.
How Did People React to Nikola Jokic's Weight Loss?
The first high profile personality to react was Tim Connelly, Denver Nuggets President of Basketball Operations. As reported by Fox Sports, Nikola himself sent Tim the outcomes of his vigorous weight loss journey. "He sent me a picture," Tim said. "No shirt on. He's got abs. I've never seen him have abs before."
While everyone is hyped up with his new look and slim figure, Nikola's fitness trainer, Jure Drakslar, is not all that impressed. "He's not in the best shape," Jure said, as per Dallas News.
This is quite expected. The NBA matches will not be played before the end of July, so there is plenty of time to help him regain his fitness. Drakslar added, "However, he will certainly be able to play right now,' bringing the fans a sigh of relief."
How will Nikola Jokic's Weight Loss Affect His Game?
Nikola Jokic is slimming down and looks to be in great shape. His weight was a real asset to him as his opponents struggled to just push him around and he would use his physique to his advantage. With him carrying a thinner frame now, could this be potentially detrimental to him? Could his weight loss be a liability?
Denver Post sports writer Mike Singer shared his response to such concerns from fans. "I get the premise and have no problem with the question. But from a year-over-year standpoint, Jokic just can't win."
He added, "At the beginning of this season, he was, fairly in my opinion, criticized for the shape he was in. After playing his way into another All-Star year and having his potential All-NBA campaign interrupted in March, I think Jokic's current shape is the product of a deliberate plan."
Also See: English Author Sophie Dahl's Incredible Weight Loss Transformation
Singer was told the NBA star abided to a stringent diet during the lockdown and bar a recent trip to Serbia, he spent most of the suspension in Denver exercising. Jokic admitted earlier a little added weight on him would help him feel confident in the post, which is why Mike's sure he had input into his current form. He would not have cut weight if he thought it would be detrimental to him.
The sportswriter is inclined to believe the guy who put up exactly the same numbers as last season when he placed fourth in the MVP race. Jokic shot 68 percent inside five feet this season — up by five percent from the same shots last season. He does not believe the Denver Nuggets star should sacrifice what rendered him invincible unless he was sure it would benefit.
Visit Weight & Skin for more weight loss stories of your favorite celebs.