Melissa Gorga feels at home with a barely-there bikini. The Real Housewives of New Jersey mom likes to display her curves and chiseled abs, so exercise is a massive part of her life. However, she recently opened up regarding the plastic surgery treatment she was considering — and why she finally opted against it.
Melissa has always been frank on the plastic surgery operations she has done, including the nose job that caused a lot of discussions. Let's grab all the details of Melissa Gorga's cosmetic treatments.
Melissa Gorga Announced Plastic Surgery Endeavors to Her Fans – Had Breast Implants for the Second Time!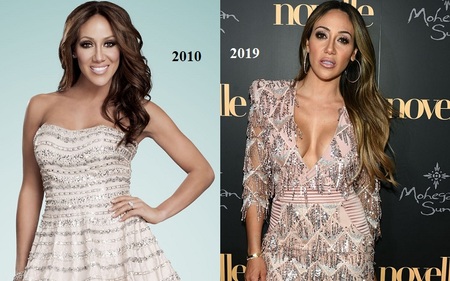 Melissa Gorga before and after plastic surgery.
Source: Pinterest
One of the initial plastic surgery procedures done by Melissa Gorga since the mid-20s was breast implants. Back in May 2015, she wanted to undergo the second breast implants after sticking with them for 13 years. She even announced her second operation would be conducted by Dr. Michael Fiorillo.
"Wish me luck!" She wrote in the Instagram post. "Following the Dr's orders… After 13 years, they say it's always best to switch out your breast implants 🙂 so here we go… I know I'm in good hands with @drfiorillo."
The Reality Star Admitted Having Nose Job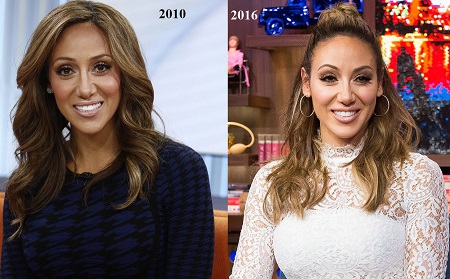 Melissa Gorga before and after her nose job.
Source: Bravo
There was a spirited argument between Melissa Gorga and Jacqueline Laurita, not about whether she had a nose job, but how many nose jobs she has had so far. Over a long time, Gorga had ignored, or even criticized, concerns pertaining to the specific plastic surgery.
Yet when Laurita suspected her of not doing merely one, but four procedures on her nose, she could not bear it anymore. She finally spilled the beans in 2016. "Let's be honest, it's the worst-kept secret that I've had a nose job, but it's my secret to tell, not hers," Gorga told The Daily Dish, why she'd keep it a secret all these years.
Also See: Catherine Zeta-Jones Plastic Surgery – Before and After
"It's a personal thing," she continued. "It's not hurting anyone. It's your own business. Some people like to say, 'Hey, I injected this, tummy tucked this,' and that's fine, too. It's something that's personal to me. There were definitely not four nose jobs. Four nose jobs? I would look pretty deranged, I would think. That is insane to say four, and I don't like that the seed was even planted because I think that's wrong."
Melissa Gorga's Husband Joe Gorga is Not Keen on Her Carrying Big Butts
It took a lot of thought for Melissa Gorga when she made the decision to get a nose job. She did not notice, for one thing, how she felt she needed a little adjustment. This was just until she recognized herself on the video that she saw why.
"If I'm being brutally and totally honest, I think it was watching my first season of Housewives," she said in a plastic surgery tell-all interview with Glamour Magazine.
"When you see yourself back on TV, sometimes you say, 'Oh, I didn't know I had a little lump in my nose.' As far as my breasts go, I've had them since I was in my 20s, so it wasn't about that for me. My nose was definitely from suddenly going from being a housewife to being on TV and in magazines. I was like, 'I never noticed that. I think if I do that little tweak, it'll make me feel better'."
You Might Like: Kaitlyn Bristowe's Plastic Surgery Speculations – The Real Truth
In the same interview, when asked if there are any hopes for more, Gorga promises there would certainly not be a butt lift of any sort. "I see a lot of butts on Instagram. But my husband's not into it. I was like, 'Fine.' I'm just so sick of squatting," she said.
While she did not talk about any other plastic surgery stuff, Melissa Gorga is suspected of having had Botox in forehead and fillers under her eyes, cheeks, and even lips.
Visit Weight & Skin for more plastic surgery stories of your favorite celebs.