Megan Fox is believed to have undergone plastic surgery following her appearance at the 2021 Met Gala and MTV Music Awards. Check out her before and after transformation.
She's been transformed, or at least that's what social media thinks. Megan Fox has matured a lot since she initially came to public attention.
While the Transformers actress has previously denied having plastic surgery, before and after images show she's had a significant change in looks since her debut.
The Midnight in the Switchgrass actress, who is currently dating Machine Gun Kelly, has also stated that she has never had Botox, cheek augmentations, or any other facial alterations.
So, what's the actual truth about Megan Fox's plastic surgery? Let's find out.
Megan Fox's Plastic Surgery – How Many Operations Has She Had?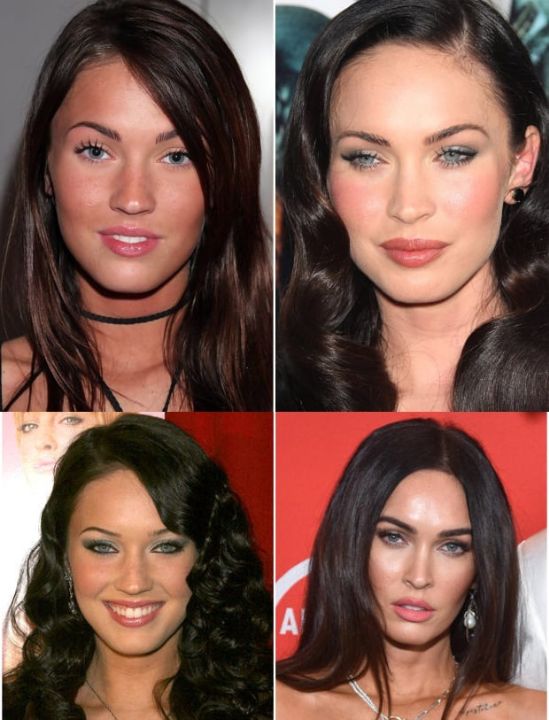 Megan Fox before and after alleged plastic surgery.
Image Source: Weight & Skin
Megan Fox has gained much more attention than normal since her serious romance with rapper Machine Gun Kelly became public.
Following her stunning appearances at the 2021 Met Gala and MTV Music Video Awards, many viewers have speculated that the Transformers star has undergone plastic surgery.
Fox has refuted plastic surgery rumors in the past, but when she attended the 2021 MTV Video Music Awards in an unbelievably sexy outfit, many viewers seemingly returned to their doubts.
You Might Like: Michele Tafoya's Plastic Surgery is a Source of Debate for NFL Fans
Speculations grew after she appeared at the 2021 Met Gala in a jewel-covered, long-sleeved dress with a V-shaped collar and crisscross strapping over her chest and flanks merely a day later.
Fans flocked to Twitter to voice their concerns when Fox appeared to be different on her red carpet appearances.
One user tweeted,
The wildest thing about Megan Fox is that at her peak, when she was considered the most beautiful woman in the world, she went and got plastic surgery. What?! She reached the pinnacle of attractiveness and still thought she needed work to be more beautiful.
Another person remarked on a photo of Fox and KUWTK star Kourtney Kardashian that was uploaded after the VMAs, saying:
Kourtney Kardashian and Megan Fox will be starting in the Netflix original 'Cocaine and Plastic Surgery.'
While it is uncertain whether Fox has performed any plastic surgery, she first addressed the issue in 2010 when people accused her of having lip fillers.
In an interview with Allure magazine, Fox denied having work done on her lips and issued a public service announcement to those who believe they do.
I will say for people who question the authenticity of my lips, you can clearly see that my lips are my lips.
While she has disputed that she has gone under the knife, Megan is not opposed to it; she simply wants everyone who seeks such surgery to be wary.
She once said,
I would encourage anyone [who wants plastic surgery] to first speak with a therapist, to try and figure out where this want comes from.
Megan Fox – who's also a subject of weight loss – added,
Because a lot of times it's not related to your teeth or your nose or your chin — the surgery is not going to alleviate that insecurity for you. If, then, you feel, 'This is something that I want to do,' then do it. It's amazing that we have the technology to do the stuff that we do.
Fox has previously spoken openly about her concerns, telling Rolling Stone that she's pretty anxious about anything and everything, contributing to the world's skepticism about her change over the years.
Also See: Amanda Ventrone's Plastic Surgery Debate is Raging on the Internet!
She told the media outlet,
I see what I look like, but there are things that I like and things that I dislike. My hair is good. The color of my eyes is good, obviously. I'm too short. But overall, I'm not super excited about the whole thing. I never think I'm worthy of anything … I have a sick feeling of being mocked all the time. I have a lot of self-loathing.
Despite being one of the most gorgeous ladies to ever grace Hollywood, Megan Fox seems pretty insecure about her appearance.
Megan Fox Famously Feuded with 'Transformers' Director Michael Bay
Megan Fox rose to prominence in the 2007 blockbuster Transformers and the 2009 sequel Transformers: Revenge of the Fallen as Mikaela Banes. However, speaking with Wonderland Magazine in 2009, the actress stirred a conflict with the movie's director, Michael Bay.
Fox said,
He's like Napoleon and he wants to create this insane, infamous mad man reputation. He wants to be like Hitler on his sets, and he is. So he's a nightmare to work for but when you get him away from set, and he's not in director mode, I kind of really enjoy his personality because he's so awkward, so hopelessly awkward.
The actress added,
He has no social skills at all. And it's endearing to watch him. He's vulnerable and fragile in real life and then on set he's a tyrant.
Her statements triggered a lengthy feud between her and Bay, she told The New York Times some months later. In retaliation, the Transformers cast wrote an open letter in which they dubbed Fox a "classless, graceless, and shall we say unfriendly b——."
Also Read: Blake Lively Before and After Nose Job Plastic Surgery – Check Out Her Old Nose on 'Sisterhood of the Traveling Pants'
Megan admitted,
I got myself in this whole mess, but it doesn't matter. I know that the things they said about me in the crew letter were not true, but Bay is not happy with some of the things I've said about him. I was waiting for someone to defend me, to say, 'That's not accurate,' but nobody did. I think it's because I'm a girl. They left me out there to be bludgeoned to death.
Bay and Fox later reconciled and worked together in the 2014 superhero film Teenage Mutant Ninja Turtles.
In a 2016 interview, Megan told The New York Times:
I had to ride out two years of very negative press. There's this perception that I was sort of thrown out of Hollywood. The positive thing was that it forced me to be very introspective and go, 'You were not totally right in this situation.' I reached out to him, and we had a very genuine exchange. From that point forward, it was good.
It's fair to say, the feud looks like it's finally over.
Visit Weight & Skin for more plastic surgery stories of your favorite celebs.