Matthew Stafford's weight loss in 2021 is making fans curious about his diet plan and fitness routine. Check out the before and after transformation of the NFL Quarterback.
The star American quarterback for the Los Angeles Rams of the National Football League (NFL), Matthew Stafford is a well-known personality in the sports realm.
Ranking in the top 20 for all-time in pass attempts, completions, passing yards, and passing touchdowns, Stafford is third in all-time passing yards per game and was the fastest NFL player to reach 40,000 yards. He is now coming into highlights for his weight loss transformation which left many shook.
Losing a significant amount of weight, fans are curious to know the motivation behind it and how he did it. So, here's all you need to know about Matthew Stafford's weight loss.
Matthew Stafford's Weight Loss 2021: The Athlete is Now Focused on Health & Longevity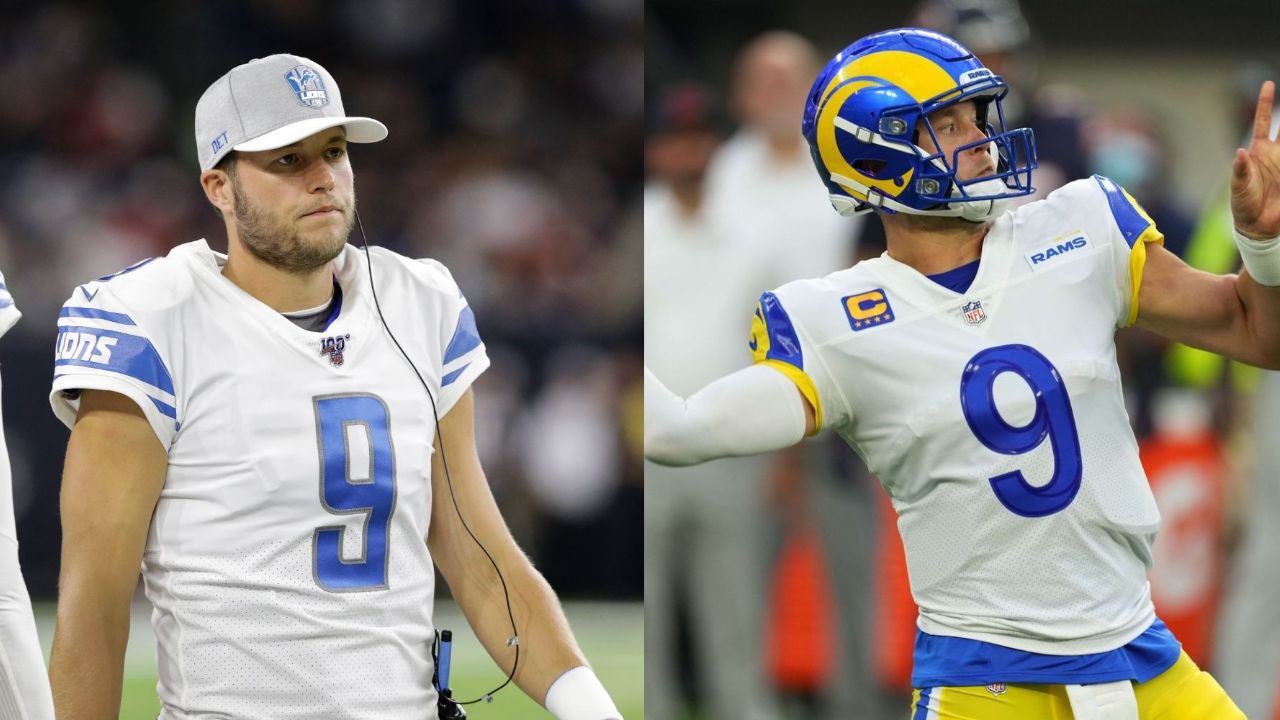 Matthew Stafford before and after weight loss.
Image Source: Weight & Skin
Stafford first turned heads in 2018 while getting set to tackle yet another season with the Detroit Lions. All of the unnecessary fats were gone, stunning many with his splendid physique.
Openly admitting his weight loss transformation relates to his health and his training, Matthew Stafford claimed he is working out in order to figure out how to stay healthy and stick in the game longer.
You Might Like: Meagan Good's Weight Loss: The Complete Breakdown!
In an episode of SiriusXM NFL Radio live from camp, the quarterback was asked what he did differently to bring about such appealing changes.
"Just more of the same, really just trying to play this game and be as healthy as I can for as long as I can. It's a year-round process," Stafford said with a laugh. When asked for the specific reason, he exclaimed it's so he can get along better on the field.
"Just getting up and moving around is more difficult as you play more years. None of it's easy. I'm always trying to find a way to be better. I don't see myself as a finished product really ever." Stafford said in an interview with Fox 2 Detroit when asked what motivated him to improve himself.
Stafford has clearly discovered the key to being one of the best quarterbacks in the league: personal health and well-being, thus promoting his weight loss. Comparing the quarterback's pictures then and now, the change is quite significant.
Also See: Simi Haze's Weight Loss: The Power Twins are Body Goals!
Being an athlete, Stafford might not have had a hard time losing weight and maintaining it. Along with an intense workout session, he maintained his carbs and diets prompting his insane weight loss transformation. Also working to tone out his physique, Matthew stunned many.
A Brief Look at Matthew Stafford's Career: How Did He Get to Where He is Today?
Born in Tampa, Florida, Matthew Stafford's family moved to Dallas, Texas, where he attended Highland Park High School with Los Angeles Dodgers pitcher Clayton Kershaw.
While in school, the star quarterback was coached by Randy Allen and was widely considered to be one of the best high school quarterbacks in the United States in the Class of 2006, ranked ahead of Tim Tebow.
In 2005, he coached his team to a perfect 15–0 record and a state championship in UIL 4A Division I.  Stafford defeated Ryan Mallett's Texarkana Texas 38–31 in the playoffs, as well as Jevan Snead's Stephenville 41–38.
Also Read: Carter Rubin's Weight Loss Secrets: Where is The Voice Season 19 Winner Now?
Despite missing the first three games of the season due to a knee ailment, Matthew threw for over 4,000 yards. He was eventually chosen to the Parade All-America Team and the USA Today Pre-Season Super 25 in 2005, among many other honors.
The incredibly talented quarterback was also voted the 2005 EA Sports National Player of the Year and won the MVP and Best Arm awards at the EA Sports Elite 11 Quarterback Camp.
Matthew Stafford was rated as the No. 1 pro-style quarterback prospect in the class of 2006 by Rivals.com, who rated him as a five-star recruit.
Analyst Mel Kiper, Jr. predicted Stafford would be the first choice in the NFL Draft before he had even started a game at the collegiate level, and he was correct. He enrolled at the University of Georgia in January of 2006, where he became the first true freshman quarterback to start for the Georgia Bulldogs football team since Quincy Carter in 1998, and first out of high school to start since Eric Zeier in 1991.
Stafford made his debut against Western Kentucky late in the 2006 season opener, going 3 of 5 throwing for 40 yards and a touchdown pass in a 48–12 victory. Stafford earned his first collegiate start against the University of Alabama Birmingham the following week with a score of 34–0.
Stafford and the Bulldogs struggled for the rest of the season. Following losses to Tennessee and Vanderbilt at home, head coach Mark Richt appointed Matthew the starting quarterback for the remainder of the season, ahead of Tereshinski.
Do Not Miss: Paolo Banchero's Weight Loss: The Health Concern is Worrying Fans!
Stafford was selected SEC Freshman of the Week after completing 20 of 32 passes for 267 yards and two touchdowns in a 27–24 win over Mississippi State. He had his finest game of the season statistically against the #5 Auburn Tigers.
In 2008, Stafford was chosen to Athlon Sports' preseason Heisman Favorites Others To Watch list. He continues to play today as well and can be seen shining in the field. The athlete's successful career has been the highlight of his life.
Visit Weight & Skin for more weight loss stories of your favorite celebs.