For the past decade, Marshal Yanda is the definition of premier tackle in the NFL. He was drafted by Baltimore Ravens 13 years ago, and since then, he is the leader in appearance for the team on the offensive side of the ball. He played for one team and announced his retirement after a heartbreaking 2019 season. Since then, Marshal Yanda has lost weight and says he is feeling good about his body.
NFL is a high-risk sport; there have been numerous studies on the effect of the game on a player's brain. Marshal Yanda excelled in the violent game and became the best guard in the NFL, according to Pro Football Focus. But there comes a time in a person's life when he/she needs to figure out what will be the next step in their life's journey; Marshal did not see himself strapping on the pad for one more season, so he retired after 13 years. A by-product of the player's decision to leave was his productive offseason when he lost 45 pounds of weight.
Marshal Yanda Weight Loss Journey
In the retirement press conference held by Baltimore Ravens, where the player announced his retirement, Marshal appeared nimble, well, as nimble as a former 315-pound man can be. It was pretty shocking to see the large offensive lineman looking like a tight end, and the Marshal revealed the reasoning behind losing so much weight so fast.
Baltimore was a great team in 2019; they looked to be Super Bowl-bound riding their running quarterback and a backfield team, which set the single-season rushing record for the NFL. Marshal could smell another Super Bowl ring, but the progress of the team was halted by a surprising Titans team.
Also Read: The Incredible Weight Loss Journey of Trisha Paytas
Before the season even started, Marshal said he told his friends and family, 2019 could be his last season. Yanda was named second-team all-pro, not someone who would retire, but he explained he did not want to play until the wheels came off, the player did not want to be a burden as he aged and got slow.
Marshal Yanda took the decision to go out on a high, but going into the offseason, it was still not clear if he wanted to retire. But he did want to lose weight, which is why soon as Baltimore exited the playoff, he went on his weight loss journey. From the time the team bowed out of the playoff to March when he announced his retirement, the player lost over 45 pounds.
How did Marshal Yanda Lose 45 Pounds of Weight?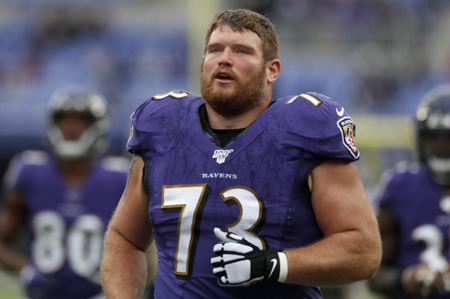 Marshal Yanda played around 315 pounds body weight, he lost 45 pounds after the playoffs.
Source: The Athletic
The one time Super Bowl winner got on a peloton bike after the loss to Titans. He was unsure about his retirement decision, but still, he wanted to lose some weight and keep it somewhere comfortable so he can put it all back if he decided to play one more season. He revealed in the press conference it was easy shedding bodyweight, and this is common among NFL players.
We've seen NFL players in the past losing a lot of weight after they hang up the boot. Marshal said he got the exercise bike and controlled his diet while also using a sauna frequently. He dropped 45 pounds in less than two months, and Marshal looked like he was ready to fight in the heavyweight category of the UFC.
The player said in the press conference, "The weight has been coming off, and I feel so much better already. Going up and down the stairs, bending over, flying on an airplane, my knees feel better." Marshal continued, "I just wanted to make sure, while I was still making sure I wanted to retire, was put it back on if I wanted to."
Marshal Yanda is Married to His Wife Shannon Hunt Yanda; They Have Three Kids
Though he may be a 315 pounds massive man, the player is a big softie when it comes to caring for his kids and loving his wife. The player was one of the few who was allowed to stay away from Baltimore for an extended period of time during the offseason. His family home is in Iowa, where all his family members are, and the Marshal used to spend a lot of time there while he was playing.
Marshal Yanda is married to his wife Shannon Hunt Yanda, and together they have three kids, Graham (9 years old), Libby (7 years old), and Logan, who is five. The player said his kids kept him on his feet, and there was no way he could get out of shape. He also mentioned in his press conference that he is living a life he wants with his family and may decide to lose ten more pounds before maintaining his bodyweight at around 250 pounds.