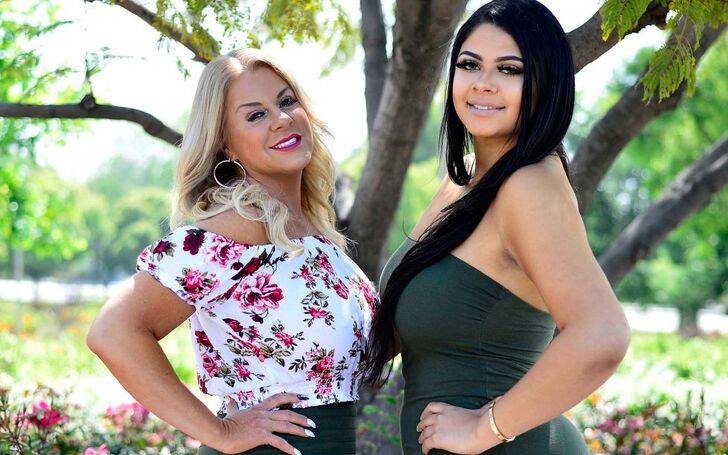 The TLC series sMothered continues to be one of our favorite programs on the channel these days. The show reflects the bond between mothers and daughters that might be a bit too extreme for everybody's approval. Now, fans are obviously pretty interested in one of the stars of the show, Mariah Caldwell's apparent plastic surgery.
Let's dive into the cosmetic surgery speculations of Mariah from sMothered, including the details of the relationship between the mother-daughter duo Mariah, 21, and Sandra, 45.
Mariah from sMothered Plastic Surgery – Mother Sandra Took Daughter to Get Lip Fillers for Birthday
A mother marks her daughter's 21st birthday by giving her identical lip filler injections so that she may 'feel the same' in sMothered.
In the August 2019 episode of the TLC show, Sandra, 45, surprised Mariah, 21, who are both from LA, when they pulled up outside her plastic surgery clinic.
'Are you ready for your surprise?' says the excited mother. 'Remember how you've been wanting to get your lip injections…?' she teases, much to her daughter's delight, but her sister Jen's dismay.
You Might Like: Helen Hunt Plastic Surgery – Did She Have a Facelift?
Walking into the surgery, the excited pair pout their lips, twerk, and dance around – much to Jen's embarrassment.
'I don't need the lip injections,' explains Mariah. 'I'm not going to overdo it, I just like how it gives you more of a pout.'
After a short wait, plastic surgeon Dr. Mirkia walks in and introduces himself to Mariah and Sandra. 'I want to look just my daughter,' Sandra says to him. Dr. Mirkia explains: 'The majority of people get like a picture of a celebrity and they would say they want to look like this person. But when I ask Sandra who she wants to look like, she says her daughter, which is very unusual!'
Despite more push backs from Jen, Sandra and Mariah decide to go ahead with the procedure.
We realize the lip filler is pretty normal these days, but we can still call it plastic surgery. If you're using a local anesthetic that changes your look, it's definitely cosmetic surgery. There are no two ways about it.
It doesn't matter whether you agree with it or not. What matters is that this mother and daughter have been able to bond through their love of lip filler, and that's something we should all appreciate. Especially with such outstanding outputs.
Take a look at the mom Sandra.
https://www.instagram.com/p/Bnp_V5NBvvS/
And here's Mariah, better known by her Instagram handle 'stayyjealous', the 21-year-old Instagram model.
https://www.instagram.com/p/B79Ddhdp8v9/
The resemblance is uncanny! Especially those lips. So before you judge them for the wildly bizarre decision to get joint face alterations and quite clear plastic surgery, remember that this is what makes them happy. You do your thing and let them do theirs. Best of luck to Sandra and Mariah. Don't listen to the haters.
TLC's sMothered Stars and Mother-Daughter Duo Mariah and Sandra Do Everything Together from Botox to Dating
From the moment she found out she was pregnant, Sandra, who works in real estate, knew that she wanted a daughter. "I wanted to have a little mini-me," she says on the show.
Mariah, who's studying political science in college and also works at a nightclub, says her peers wish they had as close a relationship with their mothers as she does with hers. "Outsiders wish they could be like us," she shared. "They wish that their moms were like my mom."
In an interview with the New York Post, the duo revealed just how much they enjoy each other's company. "I feel like she's my twin," Mariah said. "We're super close."
"I don't like to go out if my mom's not there," she continued, "like restaurants or clubbing. It's just not as fun." But they're not just going-out partners. "She comes to my Botox appointments, I go to her laser hair removal [and] waxing appointments," mom Sandra adds.
"We go to the dentist together, we vacation together, and we shop and grocery shop together. We cook together, we fold clothes together, we work out together, we go to clubs, concerts and comedy clubs together," Sandra continues.
Also Read: Grab all Details of Simon Cowell's Plastic Surgery
But their mother-daughter activities get even more untraditional. As Sandra tells it, "We go on double dates together — we have to approve of each other's dates!!" Plus, "we got our boobs done," presumably together and at the same time, mom says.
Visit Weight & Skin for more plastic surgery stories of your favorite celebs.