If somebody asked you before April 2020 if you knew who Madelyn Cline was, then you probably wouldn't have given too much thought to it and said no. If you're here after Outer Banks exploded in the Netflix rankings, then you know she's been the talk of the town. And you know she's a veteran in acting.
She's been acting since her pre-teen years despite getting seriously only a couple of years ago. And her fame is not only because Netflix is the thing during the pandemic lockdown, with an overwhelming number of viewers in recent months. She'd already featured in Netflix's Stranger Things (yeah, go dig, she played 'Tina' in the first two episodes of Season 2) way back in 2017.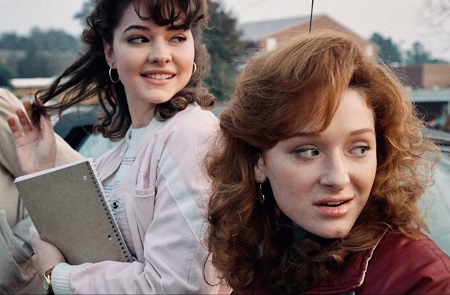 With the '80s look, Madelyn Cline was almost unrecognizable in 'Stranger Things'.
Photo Source: Stranger Things, Netflix
In addition, she also featured in other projects like 23rd Psalm: Redemption in 2011, Savannah Sunrise in 2016, The Jury in 2016, The Originals in 2017 and so much more. Now, people are raving about whether she is dating co-star Chase Stokes. But there's another aspect of her that would've been obvious for them to talk about too.
Is There a Sign of Plastic Surgery on Madelyn Cline?
One might compare Madelyn Cline to Dove Cameron at first glance in certain photos due to some striking resemblances, like the lips and the smooth facial structures. Yeah, it's not just the name of her character, Sarah Cameron in Outer Banks that might spring at you. Of course, their puffy lips could be referred to as industry-standard. And yeah, Cline's smile has changed since breaking out in her teens. But there's no denying she melted your heart with her acting.
Her face without makeup tells you that she doesn't need makeup in order to make her lips accentuate her beauty. And when comparing her current look to her portrayal of Tina in Stranger Things, you might think she's injected something to make it look the way it is now. But that's no proof. Even in Outer Banks, her lips aren't as puffy as you'd see during her appearances outside the reels.
Also, observing a post she made on Instagram a while back, she gave a glimpse of her youth before she firmly decided to be a full-time actor. And it looks like she hasn't aged at all, but maturity has come easy for her.
Ah, that look now.
Photo Source: Madelyn Cline, Instagram
It doesn't seem like her lips have changed (although, an argument may come from the time the photo on the left was taken). And as for other any plastic surgery possibility, elegant makeup is all you need for that smooth face. Meanwhile, her dating partner on and off-screen, Chase Stokes, too, is at the forefront of plastic surgery speculations.
There Has Never Been a Requirement for Madelyn Cline to Talk about Plastic Surgery
It's a silly thing to have to say. The way she has made boys "drool" since the big break all over the world for her, according to a fan, you'd think some people would get jealous. But there may be those kinds of people. However, you probably wouldn't find any words against her in the comment sections of her social media posts. She's just so lovable. Thus, she doesn't have the need to significantly reply to any such claims like plastic surgery.
Also: Lisa Rinna Did Have Plastic Surgery on Her Lips
It might seem like she's done something to her face, though. But all we can say now is that No, Madelyn Cline has not had any plastic surgery operation on her. But she did do one silly (in a funny way) little thing though. She attempted to shave the tip end of one of her eyebrows. She did it for a dare when Outer Banks hit Number 1 on Netflix earlier in May 2020. And for recuperation, she colored on the end-point in order to make it look like she hasn't shaved it.
https://www.instagram.com/p/B_z9-pRFLbV/
Still, this discussion is an open thing, until she herself says anything about it. There are, of course, a lot of visible inconsistencies on her that can be proved to be true though. Her hair color, for instance, has drastically changed over the years. She used to be a full brunette, but as you can see, she opted for blonde.
Cline and Stokes Are Sparking Dating Rumors Amid the Coronavirus Pandemic
Chase Stokes fueled the romance speculations with co-star Madelyn Cline when he flirtily commented on Cline's Instagram post on April 27, 2020, as he followed it up with more fuel. "Heart rate … decreasing … help," the actor wrote under a glamour shot of the actress for 1883 Magazine. "Man I really stirred the pot here didn't I," he wrote again, realizing what he'd done.
They had already fueled rumors when they appeared inside the same apartment for interviews together in the midst of the coronavirus pandemic lockdown in May, this month. But she cleared it out telling E! News, "Some of the cast — Drew Starkey, Rudy Pankow, Chase and myself — and our friend Elaine are all kind of quarantined together right now."
The two have yet to confirm anything about the dating rumors though. And it seems, it will go on for quite a while before their real relationships are revealed.
Keep checking in to Weight & Skin for more celebrity Plastic Surgery details.