Lyn May's plastic surgery ruined her face to such an extent it became difficult to recognize her. What cosmetic treatments did she opt for? Before and after transformation.
Born in 1952, Lilia Mendiola de Chi is a Mexican vedette, exotic dancer, and actress best recognized by her nom de guerre Lyn May.
During the decades of the '70s and '80s, she was one of the most prominent Mexican vedettes, a popular sex icon, and one of the major stars of Ficheras cinema.
Recently, however, Lyn May finds herself in the media for her botched plastic surgery that destroyed her beautiful natural face. So, what exactly transpired? Let's discuss.
Lyn May's Plastic Surgery – What Treatment Ruined Her Face?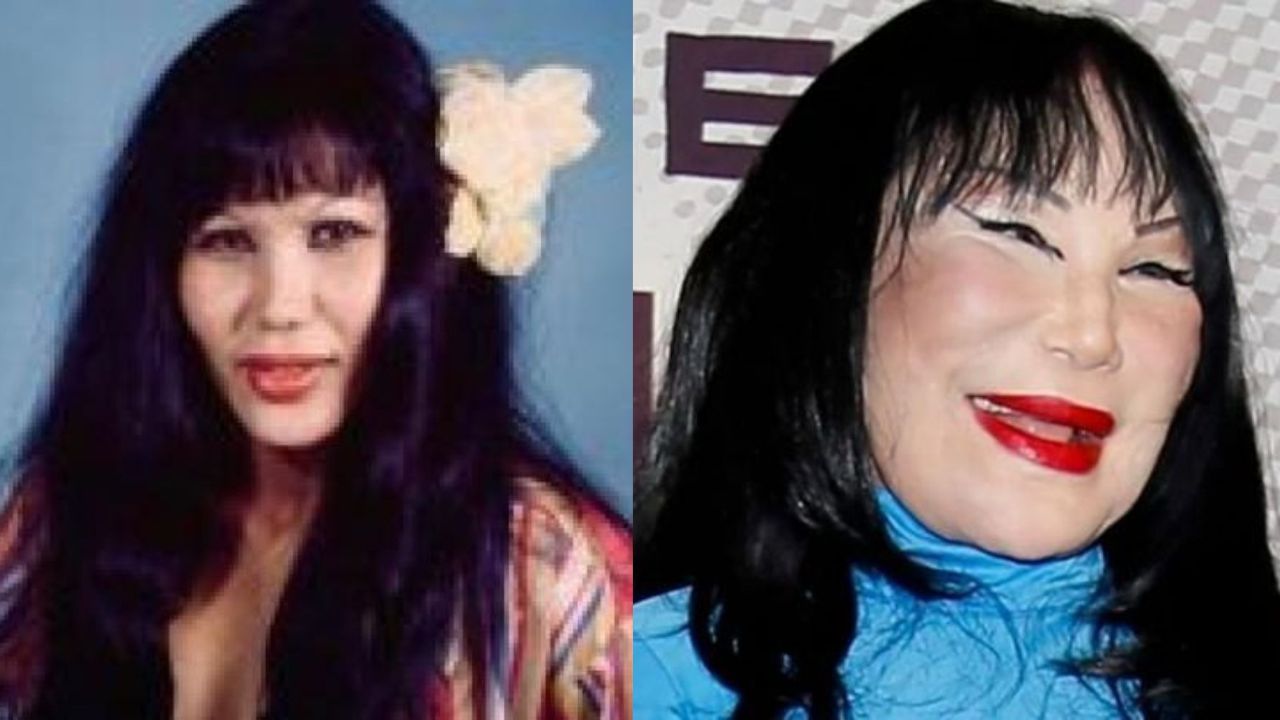 Lyn May before and after plastic surgery.
Image Source: Weight & Skin
Lyn May has long established herself as a well-known performer in Mexico and Latin America, particularly since diving into her profession at a young age.
Keeping this in mind, it is no mystery that Lyn May flourished as an actress for several years; yet, the popularity and stardom faded with time, which ultimately invited the urge for plastic surgery.
You Might Like: 'Dead to Me' Christina Applegate's Plastic Surgery – Does Her Before & After Pictures Provide Any Hint?
On numerous instances, the star admitted she was scared of aging which might have led to her desire to get plastic surgery, in an effort to embrace eternal youth. Well, things didn't go as planned as the operation triggered a dramatic change in her life, for the worse.
As her success dwindled with time, the actress decided to have her face worked on in order to revitalize herself, and to achieve this, she asked the doctor to perform the most appropriate procedure. Unfortunately, Lyn could never have imagined how her life would alter due to the deformity of her face.
The Mexican starlet was allegedly injected with baby oil during a purported cheekbone operation, which destroyed and disfigured her face, more so as time passed, due to her facial traits. When she noticed the issue, she resorted to different surgical operations to fix it, but it was to not much avail.
While Lyn May struggled to retain her previous face, she did the best she could and accepted the consequences of her eagerness to get plastic surgery. Now, she does not care for the opinions of the harsh critics.
Also See: Rahki Giovanni's Breast Implants Plastic Surgery – Yay or Nay?
The actress said,
I don't turn back anymore, for nothing else I have learned that I have to live what suits me in order to be happy and positive despite adversity, because I have accepted myself for who I am.
Fair play to this legendary woman!
Lyn May Previously Showed Her Face Proudly Following Surgery
Lyn May went under the knife back in 2020 and proudly displayed her 'new' look on Telemundo's Un Nuevo Dia program. The 68-year-old Mexican star was asked to show her post-surgery appearance.
May wore a masquerade mask during the show, concealing her face to build anticipation among viewers. Lyn featured alongside the Un Nuevo Da drivers, Jorge Bernal and Héctor Sandarti, as well as the doctor who performed cosmetic treatment on her, José Achar.
After speaking with the drivers, Lyn May stated that her waist and hips are genuine, but she wants larger breasts while the cosmetic surgeon proceeded to examine her face.
According to José Achar, the vedette had the volume on her face since this was a really serious condition that troubled her all the time.
With her new face beaming, Lyn May exclaimed:
I feel dreamed and grateful to the doctor (José Achar).
The interview was posted on A New Day's YouTube account, where it received over a million views and tons of comments, some of which were supportive of Lyn May and others that were critical.
Also Read: Barbra Streisand's Disastrous Plastic Surgery – The Complete Details!
One user said,
There is a definitely positive change, her face looks less inflamed and with slightly smaller cheekbones. I think you have to be a little more human with her and send her many blessings so that she continues to recover, even if little by little.
Others thought she didn't look better in her face, but they agreed that she has a lovely figure.
There is not much change, but you also have to remember that the lady already had a very damaged face and apart is already old, but it is not necessary deny that he still has a great body that many already want.
Needless to say, Lyn May was visibly moved and pleased with her new appearance, so it's nice to see so many were supportive of her.
Visit Weight & Skin for more interesting plastic surgery stories of your favorite celebs.