Grab all the details of Lori Harvey's plastic surgery speculations, notably lip fillers, breast implants & nose job by inspecting her before and after changes.
Steve Harvey's daughter Lori Harvey is trending on the internet after her relationship with Hollywood star Michael B. Jordan became public. Fans have since gotten curious about her looks and the much suspected plastic surgery endeavors.
The perceived alterations in her body have left people speculating if Lori Harvey went under the surgeon's knife. Without further ado, let's find out if she performed plastic surgery.
Lori Harvey's Plastic Surgery – Did She Get Lip Fillers?
Lori Harvey responded to critics who said she's raised her lips through injections. The 24-year-old model recently posted a video on Instagram, urging fans to join Spotify's revolutionary digital program that helps people to get an overall look at the artists they love the most.
Lori Harvey is referring to people who say she performed plastic surgery and enhanced her lips through injections.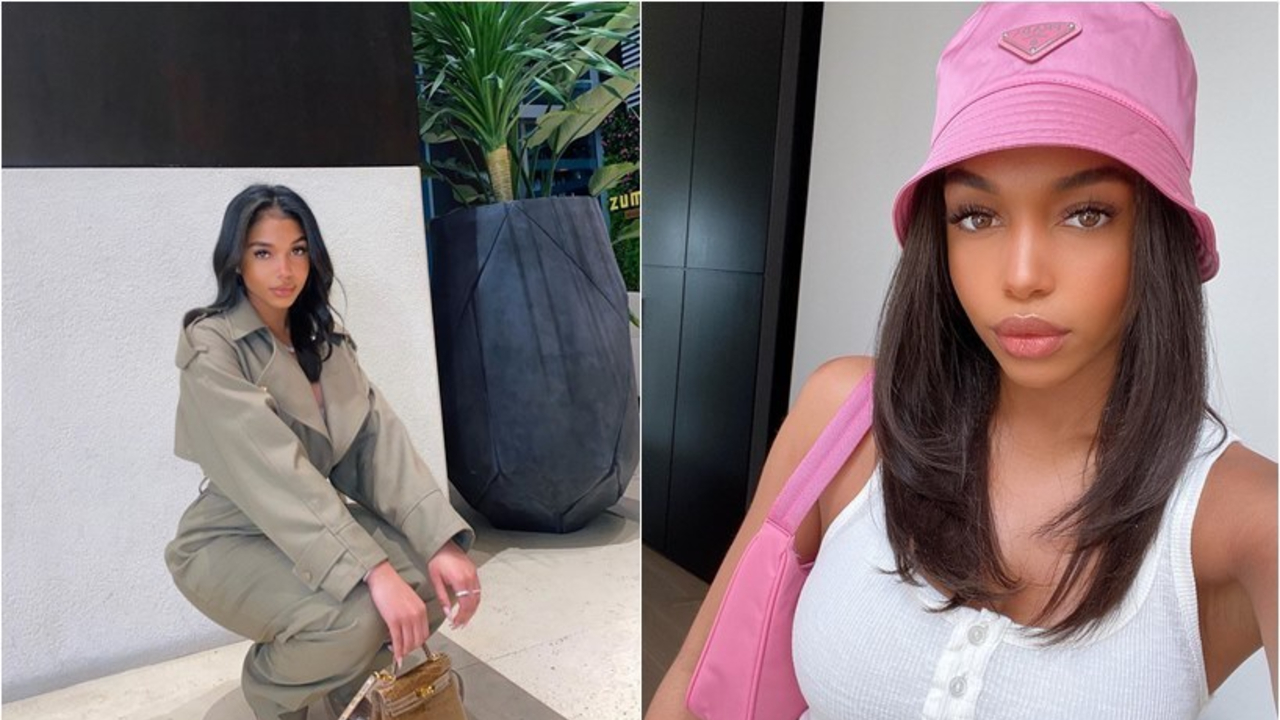 Lori Harvey before and after alleged plastic surgery.
Image Source: Pinterest
Almost immediately, people flocked towards the clip, sharing the impression that Lori's lips looked wider than normal.
You Might Like: Sabrina Carpenter's Plastic Surgery – Did She Get a Nose Job?
One user wrote,
I cant concentrate with dem damn lips…what she say????
Another person asked,
Are they over lined or did she get some fillers? If she did she did not need them. Her face is beautiful.
The third person mentioned,
Them lips though!?
The Tennessee native addressed their queries in the comments, stating:
I felt like using a filter y'all relax I didn't get my lips done ??
While Lori has never confessed to undergoing plastic surgery, she visited Bahar Contours in Los Angeles last July, where she performed a cellulite removal operation. She shared her encounter with the now-deleted Instagram post.
She explained in the caption,
Getting rid of this stubborn cellulite.
Harvey then proceeded to explain the benefits:
This machine is amazing for sculpting, tightening, and toning the skin, increasing cellular metabolism, lymphatic drainage, and circulation, boosting collagen production, and minimizing the appearance of cellulite.
Lori is taking her beauty game and workout schedule pretty seriously. The socialite practices a strict fitness regimen and says her excellent playlist makes her inspired to exercise even though she doesn't feel like it.
Also See: Serena Williams' Plastic Surgery – The Complete Breakdown!
Speaking with PrettyLittleThing in 2019, she said:
I start off with a five-minute warmup, then I'll usually do a few circuits of strength training, either lower or upper body, depending on what day it is, and I always finish with ab work.
Meanwhile, fans are convinced this gorgeous model has undergone other plastic surgery procedures besides her face.
Did Lori Harvey Have Breast Implants?
Back in July 2019, Lori Harvey's latest breast implant image went viral. Daughter of TV host Steve Harvey, Lori had headed out for dinner with her friends.
Although the young star looked absolutely gorgeous, there was one thing that didn't look 'natural.'
At the dinner, Lori debuted her latest much bigger breast implants.
Lori Harvey, 24, is pretty gifted when it comes to the "figure," but the young model apparently wanted to take it to the next level. During a dinner with friends at the famed Nobu cafe in Malibu, Lori unveiled her new breast augmentation.
Also Read: 'Wonder Woman' Actress Lynda Carter's Plastic Surgery – The Untold Truth!
Harvey, who was in a relationship with rapper Future at the time, looked trendy wearing a black crop top paired with black leggings and finished the ensemble with a gray oversized jacket. What fans couldn't help notice were her new bosoms.
One popular surgeon said:
Most Breast Augmentation Dominican Republic procedures last between 45 minutes and one hour, although time may vary with respect to this calculation.

Breast Augmentation Dominican Republic can be done as an outpatient procedure in a hospital or accredited surgery center, and you should be able to return home the same day.
Meanwhile, she's also speculated to have undergone a nose job.
There's yet to be much confirmation on whether she performed rhinoplasty.
Lori Harvey is Currently Dating Michael B. Jordan
On 10th January 2021, Michael B. Jordan took to Instagram to debut his relationship with Lori Harvey, posting a snapshot of the couple for the first time.
Jordan, 33, shared two photographs of him and Harvey, including one of them looking at each other in a tight embrace.
Steve Harvey's daughter was earlier pictured together with Jordan during the holiday season.
Do Not Miss: Complete Breakdown of 'Teen Mom' Star Chelsea Houska's Plastic Surgery Procedures
On 20th December 2020, the pair was seen getting off a plane together in Salt Lake City as seen in pictures posted by The Sun. And both of them shared snowboarding videos and images at identical locations on their Instagram Story.
In November, prior to Thanksgiving, Jordan and Harvey were seen arriving at the airport of Atlanta as seen in images posted by TMZ.
Jordan even opened up in November about what he was seeking in his love life for a successful relationship.
The actor said,
A sense of humor, true understanding, because [an actor's] life is not conducive to a relationship—it's really not.
Jordan added,
Somebody that's nurturing. I've got a list. That's probably why my ass is still single, but yeah, it's a list.
When it comes to his perfect date night, the Just Mercy star stated:
The freedom to go wherever I wanted in public, not worry about paparazzi. Enjoy somebody's company. Go for a drive, dope playlist. Drive somewhere just for dessert. I'm definitely a movie guy, and then I'd ride the vibe for the rest of the night.
Previously, Harvey was in a romantic relationship with Future and Sean "Diddy" Combs.
Visit Weight & Skin for more plastic surgery stories of your favorite celebs.