Grab all the details of Lana Condor's plastic surgery endeavors, most notably the alleged work on her lips. Did 'To All Boys I've Loved Before' actress go under the knife?
Born on 11th May 1997, Lana Condor is a well-renowned actress and YouTuber.
She made her debut as an actor, playing the role of Jubilee in the superhero movie X-Men: Apocalypse (2016), and received international acclaim for the role of Lara Jean Covey in the teen romantic comedy movie series To All Boys I've Loved Before (2018–2021).
She also took upon the character of Saya Kuroki in the comic book series Deadly Class (2019) and Koyomi in the cyberpunk action film Alita: Battle Angel (2019).
Lately, this gorgeous actress is at the forefront of plastic surgery speculations on the internet. Is there any truth to it? Let's find out.
Lana Condor's Plastic Surgery – Did She Get Work Done on Her Lips?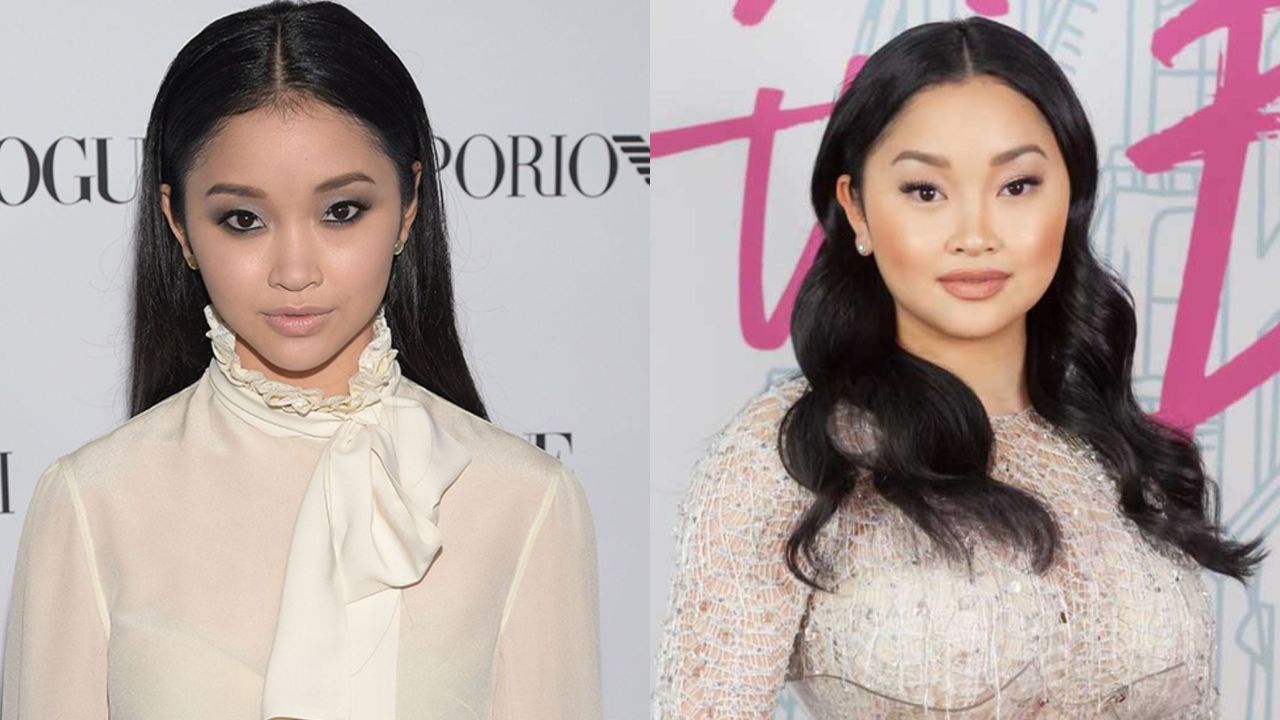 Lana Condor before and after alleged plastic surgery.
Image Source: Weight & Skin
Back in February 2020, Lana Condor posted her first YouTube video called "Everyday Make Up Tutorial" where she was continuously asked whether her lips were real or she performed some form of plastic surgery.
Let's rewind the entire story a bit.
At the time, Lana had been promising a new YouTube video for a while, and it eventually came out. The video is titled My Everyday Make Up Tutorial | Lana Condor and it was her most popular video on the internet.
The 12:40 clip shows Lana informing fans what she's doing with her daily makeup routine, and fans couldn't help but fall in love with the personality she carries!
You Might Like: Has Bette Midler Had Plastic Surgery? Learn the Real Truth!
Next, she begins with a new, bare face and puts on a moisturizing SPF 15 CC cream on her face.
Lana explains,
I typically like to use a CC cream because I think that it's kinda like having lotion on your face instead of like, a foundation that sucks the moisture out of your face.
She adds, though, that she prefers using foundation whenever she's working. And what are her guidelines for applying foundation? To use it on your neck as well.
Let's talk foundation. Bring it down your neck, don't forget. You don't want to be caught when your neck looks like a different colour, and your mom's like, 'What did you do to this part of your body!'
Lana then shifts to her eyes, where she pours some tea. No, she hasn't had plastic surgery, if you're wondering!
OK, here's the tea. My eyelids are very small. And I love that about myself. If you have eyelids like mine, sometimes it's hard to have eyeshadow show because I have small lids.
But Lana already has a tip for this. And that consists basically of "windshield wiper motions."
You want to use small circles in the windshield wiper's motion and build the crease. That is the most important part if you have small eyelids like me. You want to build the crease like this, boom, boom, boom, and kind of work at it.
While she is often accused of plastic surgery, Lana states she invests much of her time concentrating on her "creases" and that the way she does so is to go nearly "too high" that reaps rewards for her.
I almost go too high, but it's what works for me. I mean, every eye shape is different. […] I go almost up to the fricking eyebrows, and then I'm like, that's enough.
And she pops a "shimmer" on her eyelids, not worrying that it's a "chill day."
I don't care if it's a relaxed, chill day, going to buy groceries… If I'm gonna wear makeup, I'm gonna have shimmery eyes. I don't know what to tell ya, I just love shimmer. I think that's so freaking pretty […] boom, shimmer on.
She admits to viewers that she likes "autumn tones" and wants to look like a "damn sunset" or a "sherbet." Heading over to the eyeliner, Lana reveals that she favors "really thin baby wings" to "really thick ones."
Also See: 'Expedition Bigfoot' Cast Dr. Mireya Mayor's Plastic Surgery Allegedly Includes Lip Fillers
Since Lana says her eyebrows "is the death of me," she does "small short strokes" to ensure the eyebrows don't come off as "too intense."
Next, she talks about her concealers, then a very light bronzer, a deep blush (because her skin appears to "eat" it), and then a highlighter.
In the end, she switches to the lips that she lines first. Yeah, and she spills more beans, refuting suggestions of plastic surgery.
I get a lot of questions about whether my lips are real or if I have fillers on my lips. My lips are indeed real. I've never "touched", I would never, you guys. You heard it here first. My mom would kill me if I did.
Lana then admits she is not fond of "nude" lips and wants a bit more glitter to her lips.
I love lips that look like they've just been kissed, or you just had a glass of wine.
Later, she concludes with a setting spray, followed by a rehydrating spray.
Also Read: 'WandaVision' Star Elizabeth Olsen's Plastic Surgery – Did She Get a Nose Job?
She finishes up her YouTube clip by saying:
It was really fun. I love makeup so it was really cool to finally be able to tell you guys about it. Do what works for you. There is no right answer. Makeup is supposed to be awesome and fun, and there are trial and error to everything you do.
Needless to say, Lana Condor is not having any of the plastic surgery claims and credits her makeup and skincare routine for her flawless appearance.
Lana Condor Reveals Beauty Hack for Her Eyebrows
Many viewers fell in love with Lana Condor when we first witnessed her on the Netflix teen romantic comedy film To All Boys I've Loved Before.
Speaking in a recent interview with News Beauty, the actress and the ambassador of Neutrogena revealed her beauty findings she's made since the world was effectively shut down last year. This goes in line with the fact that she's always been adamant about the reluctance to undergo plastic surgery.
Do Not Miss: 'Wayne's World' Star Mike Myers' Plastic Surgery – Did the Actor Go Under the Knife?
When inquired about her beauty aspirations for 2021, Condor said she needed to take proper care of herself, both inside and outside.
What I learned in 2020 is to truly expect the unexpected and be prepared for anything, and with that knowledge, the way I'm choosing to take care of myself from the inside and also on the outside is making sure I can stay ready for anything thrown my way. This also means being as healthy as possible with the way I do my self-care.
She added,
The Neutrogena [Healthy Scalp] products make me feel like I'm actively doing something for myself and taking care of myself. In this new year, I want to indulge a little bit more and kind of be soft with myself. When you do a mask or you take that extra time to pamper yourself, you feel better after.
As for the makeup tricks she discovered during quarantine, Condor turned into a fan of soap brows.
This sounds so weird, but I've been using soap on my eyebrows. You can just get regular soap, and you put a spoolie in your soap and then you brush your eyebrows and it keeps your eyebrows in place. I mean, everyone has soap in their house—especially now, I hope you have soap in your house—so that's a little hack that weirdly I thought was great.
She's also fully endorsed the rise of ice rollers.
I have an ice roller, and listen, it's a rude awakening in the morning when you put ice on your face. I'm not a morning person—it's painful, but it's worth it because you feel alive. I've been drinking less caffeine because of it. I keep it in my freezer and it's awesome.
She's actually been trying to reflect on the quality of her hair, because in the last few years, with her career alone, she's got heat on her hair on a daily basis; she's had extensions and bonds on her hair.
Check Out: Real Truth About Lil Nas X's Plastic Surgery – Breast Implants or Not?
For All Boys I've Loved Before, the first film, her hair was super long, and of course, it was her own. When you go back to replay the movies, her hair is down to her backside.
Then she cut it, but for the second and third movies, they had to use extensions to accommodate the wild length of her hair. She had these bonds in her hair, but they were pretty thick extensions, and her hair would just come out at random, like on the set, at dinner.
Unfazed by the accusations of plastic surgery time and again, Condor insists she didn't consciously work on her scalp at the time, but she's turned that into a priority over the past year with much more time at her disposal.
Because of all the wear and tear my hair has gone through, I've really take a lot of time to heal my hair. I have dandruff and a dry scalp, so I take the time to use scalp scrubs and I take my brush and very gently tease it into my scalp to make sure it's exfoliated even more. It's about bringing my hair back to its original state after years of abuse.
Lana Condor believes she should do a hair mask every week since she's got far more time on her hands now.
Recommended: 'Firefly Lane' Katherine Marie Heigl's Plastic Surgery is Trending But Is It True?
Visit Weight & Skin for more plastic surgery stories of your favorite celebs.