It's no mystery that housewives often get their faces done in-between seasons. They've got the money to do so because they want to look pretty during the show. But, of course, it's usually a risky bet, because there's no assurance of what they're going to look like in the end.
Most may look special; that's why viewers of The Real Housewives of Beverly Hills believe that Kyle Richards may have undergone plastic surgery. How did she do that? Here's everything you might wanna know.
Kyle Richards Denied Getting Plastic Surgery
Kyle Richards put a cute picture on Instagram with her husband, Mauricio Umansky, and their daughter, Portia. However, viewers felt the reality star's appearance looked a bit strange, implying she might have undergone plastic surgery. One fan said, "Tell us what you did please, mini facelift? Fillers?" Richards replied, "lasers and PRP on my face. Google."
PRP is sometimes referred to as Platelet-rich plasma. The procedure takes plasma from the blood, isolates it, and then injects it into weakened tissues to promote the development of new cells, according to Health Line. It's not really known to be successful, but it's become famous for celebrities.
You Might Like: Dane Cook Plastic Surgery Rumors – Botox and Rhinoplasty Done to His Face?
Kim Kardashian most notably took a video of this procedure with blood dripping over her face. After that, it was dubbed the "facial vampire." Kyle Richards revealed that she had done work in the past and that she was doing something else to stay young.
Richards Admitted She Got Her Nose Done in 2006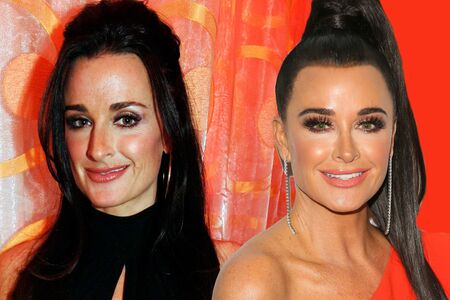 Kyle Richards before and after plastic surgery.
Source: Page Six
Another fan wrote "Some serious plastic surgery right there! It looks good though" under the housewive's Instagram photo. The reality star replied, "I have not done plastic surgery. I did my nose in 2006, and I get Botox. That is it. There are things you can do to look younger that require surgery. Lasers are key."
It isn't the first occasion she's thought about getting her nose fixed. Apparently her nose had been bothering her for a long time, and the surgery made her feel better. She wasn't alone. Her sister, Kim Richards, was also on rhinoplasty for Season 3 of The Real Housewives of Beverly Hills. Kyle Richards also announced that she had liposuction in the series.
Kyle Richards explained, "After having four kids, no matter what exercise I did, the love handles wouldn't go away. I wanted to wear jeans and a tucked-in shirt and not feel self-conscious. I'm very happy with the results."
And the reality star didn't have any fresh stuff done on her nose, but she's having Botox and PRP. She announced that she had a nose job and liposuction in the past. This way, the television celebrity looks amazing and excited for Season 9 of The Real Housewives of Beverly Hills.
Kyle Richards Plastic Surgery – The Reality Star Clapped Back at Face-Lift Accusations
The Real Housewives of Beverly Hills star Kyle Richards flipped the bird at a follower who suspected her of doing plastic surgery on March 1—and, of course, we applaud the businesswoman for taking a stand to the naysayers. What would a housewife do, after all?
It all started when the 51-year-old shared a set of photos of herself, husband Mauricio Umansky, costar Lisa Rinna and husband Harry Hamlin, Real Housewives of Atlanta star Cynthia Bailey and nieces Nicky and Paris Hilton at an event.
"Such a wonderful and fun evening supporting @wcrfcure," the brunette beauty wrote, adding a sparkling heart emoji. "Always love wearing my favorite designer @alexperryofficial."
"Did [you] have a face-lift? You look very different," a follower piped up in the comments section — but Kyle wasn't about to take the accusation lying down.
She quickly responded to the user, "No, I did not. And I do not look different." Unfortunately, the commenter didn't like not having the last word. "Sorry, but [you] do," they added after Kyle's response.
While the resident of Los Angeles didn't turn around to resume the battle, some fans came to her support in reply to the snideness. "What did you do? Cause you look damn good, and I want some!" one follower wrote, while another added, "[You] look exactly the same, beautiful."
Plus, another user really came to bat for her. "Her makeup is snatched and she is happy and glowing, no 'work done' can do that," they wrote. Tell 'em!
Though Kyle hasn't updated her look lately, it wouldn't be the first time she's turned her heads in a different direction. As a matter of fact, in September 2019, the Bravo TV babe showed off a chic new haircut with bangs that really threw fans and followers for a loop.
Kyle was in the middle of shooting a reprisal of her appearance in the first Halloween sequence for the new iteration of the horror franchise—so she put it back in tribute to her character's initial hairstyle.
Also Read: Lisa Rinna Plastic Surgery – Learn All the Details About Her Signature Lips and Augmented Breasts!
Clearly, this television glamour model isn't hesitant to claim it like it is… or do what's best for her. Couldn't be more admirable!
Visit Weight & Skin for more plastic surgery stories of your favorite celebs.