Grab all the details of 'The Bachelor' season 25 contestant Kit Keenan's weight loss speculations, along with her diet plan and workout routine.
The much-awaited Matt James' season of The Bachelor is finally here, and viewers now get to meet his contestants who are vying to earn the final rose, as well as, to gain the prestigious Neil Lane engagement ring!
But now that season 25 has taken shape, fans are getting curious about the youngest girl in the contest who's trying to catch Matt's heart—Kit Keenan.
As she is gaining attention on the internet, some of the viewers have become keen to learn about her weight loss. Without further ado, let's get to it.
Did Kit Keenan Undergo Weight Loss?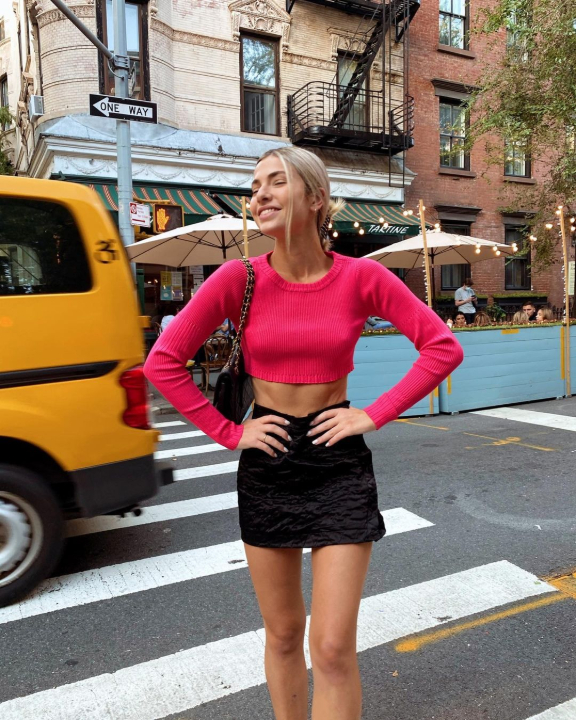 'The Bachelor' contestant Kit Keenan's weight loss is trending on the internet.
Image Source: Instagram
To be quite blunt, it's not clear if Kit Keenan underwent some form of weight loss.
Back in September 2020, Kit shared a "What I Eat in a Day" vlog on her official YouTube channel where she shared her diet plans and recipe ideas.
Moreover, she mentioned in the clip she alters her dietary habits all the time. She concluded the video, saying:
Sometimes I am intermittent fasting, sometimes I am not; sometimes I eat completely plant-based, other times I eat animal protein at every meal of the day.
Aside from her clean nutrition and special recipes, the new Bachelor contestant enjoys sharing her fitness workouts to inspire her fans.
You Might Like: 'Chilling Adventures of Sabrina' Star Jaz Sinclair's Weight Loss & Diet Plan – The Untold Truth!
She frequently shares videos for a wide range of needs, such as extensions for back pain, pre-Thanksgiving cardio strikes, and the ankle-weight ab workout. Recently, she shared her lean arm work out routine on Instagram.
In a 2019 interview with Sunday Edit, she revealed her favorite workout.
I love LISS (low-intensity steady state) training like walking and Pilates — it's easier on the joints and keeps the muscles long and lean.
As for when she typically works out, she said:
I try to move every day whether that be a workout class, a surf session, or just a long walk listening to my favorite podcast.
Likewise, Kit Keenan revealed how she refuels following an intense workout.
Protein and fats! I work out first thing in the morning, so I love having some sort of eggs and avocado combo after a workout.
Although her weight loss is unclear, she said she's been working out on a regular basis since she graduated from high school because it's an important part of her morning routine.
Also See: Full Story on 'Cobra Kai' Star Griffin Santopietro's Weight Loss
Kit's inspiration stems from the way moving her body makes her feel.
Who is Kit Keenan on 'The Bachelor' Season 25?
Born on 20th May 1999, Kit Keenan, 21, is a Taurus and a member of Gen Z! While Kit is almost a decade younger than Matt, it shouldn't be a concern since her official Bach Bio states,
She's found that most guys she meets don't match her maturity level, and although she is only 21, she is very ready for a serious commitment.
Kit is the offspring of Cynthia Rowley—a fashion designer based in New York City who produces clothes so stunning (and so pricey) that people's hearts tend to weep.
Also Read: 'Ma Rainey' Viola Davis' Incredible Weight Loss – The Complete Story!
Kit's father, William Keenan Jr., is a craftsman. Her parents are no longer married, but it appears she and Cynthia are close—in Keenan's official Bach bio, she says she strives to be a fashion entrepreneur like her mom.
They're also co-hosting a mother-daughter podcast on Spotify called Ageless.
According to Kit's profile,
She is a true born-and-raised New Yorker. She currently lives at home with her parents in the heart of the West Village while finishing her last year of undergrad at NYU.
So essentially, this implies she and Matt already share something in common—he knows NYC well after heading to work there following graduation.
Do Not Miss: Full Story on 'Family by the Ton' Casey King's Weight Loss!
Kit Keenan's biography also mentioned she hasn't been in a committed relationship since she was 17 years old because she is yet to find a guy who can match up to the level of emotional maturity she desires.
Visit Weight & Skin for more weight loss stories of your favorite celebs.