Kim Seon Ho has alleged performed multiple plastic surgery procedures to boost his appearance. The 'Start-Up' star has reportedly had work done on his eyes, nose, lips, and chin.
Bold, sparkling eyes, unicorn features, and sun-kissed complexion are the attributes that we associate with South Korean stars, who display 'ideal' physical characteristics and promote them through their performance on screen.
Kim Seon Ho is no different, who is accused of undergoing plastic surgery to enhance his looks. Is there any truth to it? Let's find out.
Kim Seon Ho's Plastic Surgery Includes Eyelid Surgery & Nose Job Among Others
Kim Seon Ho's plastic surgery is heavily speculated on the internet right now. Did he go under the knife? What are the cosmetic surgery procedures he underwent? Fans are curious to learn about this dashing actor's artificial enhancements.
The Korean star Kim Seon Ho is currently one of the hottest celebrities thanks to the Korean drama Start-Up. The 34-year-old actor has enjoyed a rise in recognition in Korea and overseas for playing the part of Han Ji-pyeong in Start-Up starring Bae Suzy, Nam Joo-hyuk, and Kang Han-na.
You Might Like: Complete Breakdown of TV Chef Sandra Lee's Plastic Surgery
Start-Up, which screened on TVN, debuted at No. 1 on cable TV on 17th October and held its peak rating until Episode 14, earning the strongest of 5.42 percent in Episode 5.
As per Nielsen Korea, its 16th and final episode on 5th December received national scores in South Korea by 5.18 percent (part 1, second place) and 4.84 percent (part 2, third place).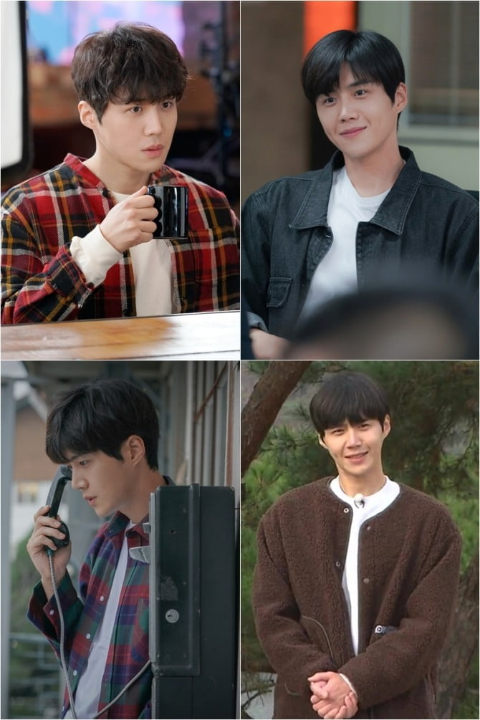 Kim Seon Ho is at the forefront of plastic surgery speculations as fans are eager to see his before and after changes.
Image Source: Pinterest
It also screened on Netflix where the series ranked No. 1 in a variety of nations including the Philippines, Vietnam, Thailand, Malaysia, and South Korea, as per FlixPatrol. It was ninth among the top Netflix TV programs in November and 8th as of 6th December.
Kim Seon Ho's success was mirrored on his Instagram page, where he accumulated almost two million followers in merely a month. His followers hit 3 million on 5th December, from 1.08 million on 3rd November, which saw a rise of 1.92 million followers on the basis of Social Blade figures.
Fans honored his Instagram achievement by launching the #KimSeonHo3M hashtag on Twitter on 5th December. As of 18th December, Kim Seon Ho boasts 3.7 million followers on the picture-sharing platform.
Also See: Riley Burruss' Plastic Surgery – Real Truth About Her Nose Job!
In November, Kim Seon Ho was ranked No. 1 in the brand popularity index for drama actors due to Start-Up.
With the surge in fame and stardom, more and more people are getting interested to know Kim Seon Ho's plastic surgery endeavors.
Upon contrasting his before and after images, the actor appears to have performed a double eyelid surgery that removes excess skin and fat in order for the eyelid to fold over.
This treatment enables the eye to appear broader as well as to transform the solo lid into a double lid. As a matter of fact, double eyelid operation is so typical in South Korea that parents offer this treatment to their kids as a graduation present.
Moreover, Kim appears to have performed a nose job. Rhinoplasty is extremely popular amongst Korean celebrities. Prior to their debuts, almost all of them perform rhinoplasty. Such operations remove the humps, redefine the nose, or scrape the tips of the bulbous nose.
In addition, Seon Ho looks to have undergone plastic surgery on his lips. This is a common cosmetic treatment that involves embroidering the lips in natural color to return the ravaged lips to their former glory. Furthermore, the actor appears to have done some work on his chin as well.
Also Read: Jenny Lee Burton's Plastic Surgery Addiction – The Untold Truth!
Meanwhile, Korean pop culture has boosted the use of plastic surgery. Thanks to prominent Korean dramas and music videos, audiences are introduced to the ideal features of their favorite stars.
With the rise of K-pop and K-Dramas, fans from around the world are now seeking cosmetic surgery. Some are eager to look like their favorite stars while others want to feel more positive about themselves.
Kim Seon Ho is Currently Negotiating to Lead New Drama By "Suspicious Partner" Writer
Kim Seon Ho's next drama could be on the cards pretty soon.
On 10th November, a source revealed the actor would be starring in the forthcoming TVN drama "Link" (working title). His agency SALT Entertainment promptly responded to the news.
Kim Seon Ho received an offer to star in the tvN's new drama 'Link.' We feel cautious about giving an exact statement at the moment as Kim Seon Ho is still filming 'Start-Up,' but he will thoroughly review the script.
"Link" is a fantasy romance and mystery drama that revolves around chef Eun Gye Hoon, a role played by Kim Seon Ho, who runs a restaurant in the town where his twin sister had gone missing two decades ago.
One day, he finds himself suddenly experiencing impulses, unexpectedly crying and grinning, and it turns out they are the feelings of a woman named Noh Da Hyun.
Do Not Miss: Nadia Bjorlin's Plastic Surgery – The Complete Breakdown!
The drama will be penned by Kwon Ki Young, who formerly developed "I Remember You" and "Suspicious Partner," while the director's chair will be reserved by Noh Sang Hoon, who previously worked on "I Remember You." It is expected to air on TVN sometime in 2021.
Visit Weight & Skin for more plastic surgery stories of your favorite celebs.