Grab all the details of Kelly Osbourne's weight loss surgery. Fans are eager to check out her before and after weight loss photos, along with her diet plan, notably the soup.
Transformations of celebrities have always been a hot topic, whether it's a glow up or it's a glow down. Even subtlest of changes are always noticed and it surely raises curiosities of stories behind the transition.
Every now and then celebrities undergo slight changes, whether it's their hair color or the way they style. Kelly Osbourne has taken the cake with her mindblowing weight loss among all the recent celebrity transformations.
Along with ditching her gothic look and shaved hair, Kelly's newest glimpse of long locks with stunning weight loss has awed the fans and everyone wants to know what could have happened? Here's everything we know about Kelly Osbourne's slim-down.
Turning Heads With Her Major Weight Loss Transformation, Kelly Osbourne Says "All It Does is Move You in the Right Direction"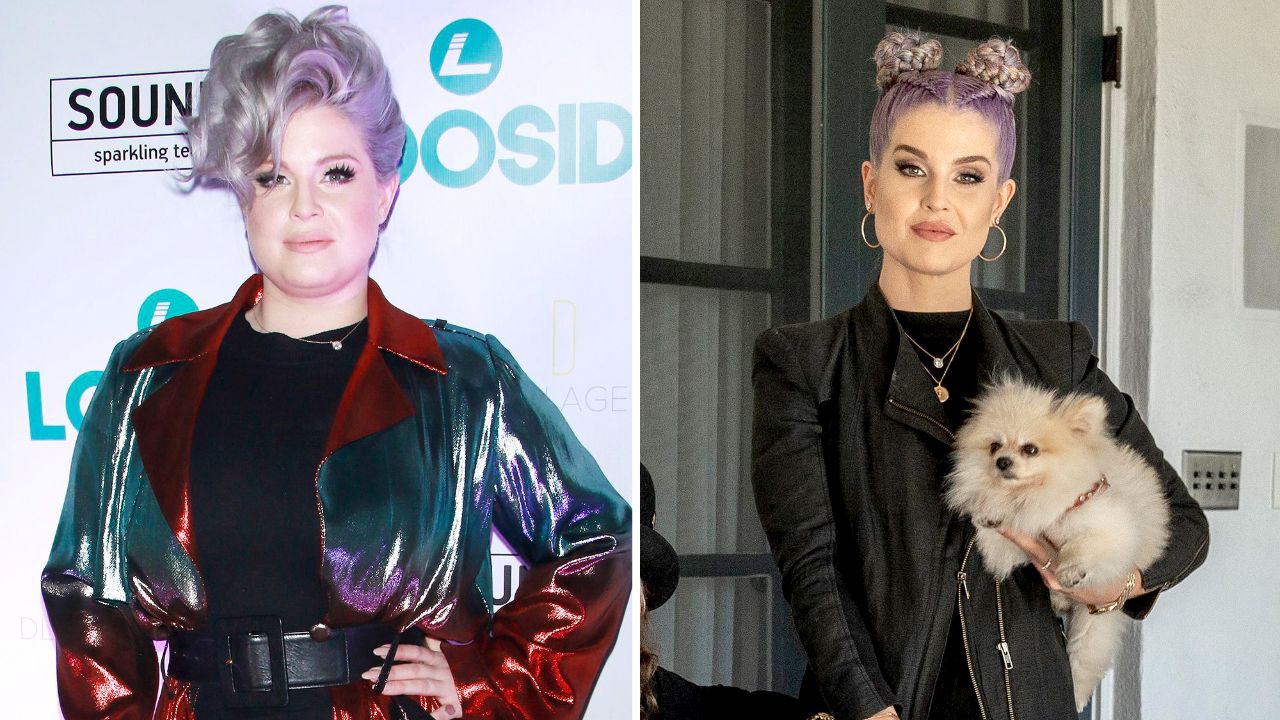 Kelly Osbourne before and after 90 pounds weight loss.
Image Source: US Magazine
Living under the limelight since a teen, Kelly Osbourne's life has been an open book and she has equally been vocal about her experiences.
In a special episode of the Hollywood Raw Podcast, Kelly Osbourne revealed the secret of her dramatic weight loss. She admitted to getting gastric sleeve surgery in 2018, which changed the shape of her stomach. In a shocking reveal, she announced to have lost 90 pounds of weight.
You Might Like: Billy Joel's 50 lbs Weight Loss in 2021: Check Out His Before and After Pictures!
Constantly being shamed and trolled on the internet for her size, Kelly says it's "the best thing" she has done to improve her life. The journey however wasn't as easy as it seems.
Osbourne also revealed that she had to have a year of therapy ahead of the surgery, which put a stop to her addiction issues and helped prevent her from "emotionally eating".
She also shared that she had to completely change her lifestyle to keep up with the surgery.
The kind of surgery I had…if you don't work out and you don't eat right, you gain weight. All it does is move you in the right direction.
In an episode of her own podcast The Kelly Osbourne & Jeff Beacher Show "Half My Size – Kelly & Jeff's Weight Loss Journey", Kelly shared how her addiction to Adderall had a harsh effect on her body.
As she was sober, the addiction showed up as hunger and starvation and took Kelly down the path of emotional and uncontrollable eating.
Once she underwent therapy, her relationship with food changed for good and accompanied by her surgery, her lifestyle changed for the better.
"I did it because I wanted to live," she explained. "I wanted the body to match the mind, because I, I spent so much time working on my mind, and then I spent a year working on my body and now it's about the soul."
Also See: Jennifer Franciotti's Weight Loss in 2021 is Trending on the Internet
Osbourne opened up on why she underwent the surgery. She also started working out, eating healthy, and adapting to an overall healthy lifestyle. Committed to her sobriety, Kelly has also been actively sharing her sobriety journey and how it has helped her body and mind.
A recent picture of her with the caption, "She's back!!!!! Let's do this!!!#sobrietyrocks" has received massive support from her fans and the audience has loved the 'New Kelly'.
Did Kelly Osbourne Also Get Facial Surgery?
A celebrity as honest and as vocal, Kelly Osbourne has denied getting any facial surgeries. Online rumors have claimed that Osbourne has done some serious procedures on her face along with her gastric sleeve surgery. Her massive glow-up seemed to raise quite a lot of questions.
Osbourne, being one of the transparent celebrities took it to her Instagram and shut down the rumors. In a video post captioned, "Let's squash these stupid rumors!!! Can't you just be happy for me?", she clarified:
I'm always really honest and really upfront about what I have done to my body, who I am. I HAVE NOT HAD PLASTIC SURGERY! I've never done anything to my face other than a couple of injections in my lips, in my jaws and forehead.
A very outspoken personality, Kelly Osbourne actively shares her life and her journey with her audiences. Whether it is about her addiction, relapse, sobriety journey, or surgery, she is pretty honest and fans have always loved this attribute of Kelly.
Also Read: Adamari Lopez's 20 Pounds Weight Loss Journey Thanks to Weight Watchers
"This is something I am going to battle for the rest of my life. It's never going to be easy. Through being accountable and owning your own journey and sharing what you can go through you can help other people. That's why I came clean, I could have sat here and nobody would know." as Kelly shared in an episode of ExtraTV on her journey.
Visit Weight & Skin for more weight loss stories of your favorite celebs.