Grab all the details of Kay Adams' alleged plastic surgery procedures through before and after pictures.
It's no mystery being a lady in a typical men-dominated profession can come up with some infuriating obstacles. Sportscaster and TV personality Kay Adams understands this reality.
Kay's impressive career as a host for Good Morning Football on NFL Network is there for everyone to see. However, recently fans appear curious to learn about more personal matters, in particular plastic surgery.
Did Kay Adams go under the knife? Some fans suspect so. Let's find out the truth.
Fans Often Debate Kay Adams' Plastic Surgery on the Internet
Recently, fans took to Reddit to debate Kay Adams' apparent plastic surgery since she looks much different (for the worse).
One user wrote,
Can someone explain to me wtf happened to Kay?? Why does she look so different this year? Did she get plastic surgery on her face or something? She looks like a different person it's insane. Maybe she just lost a bunch of weight but her cute soft face looks boney now and I'm not digging it.
Some fans were quick to refute the claims as they believe it's just because she's "depressed" since her housing situation wasn't good and she had to move twice during this COVID year.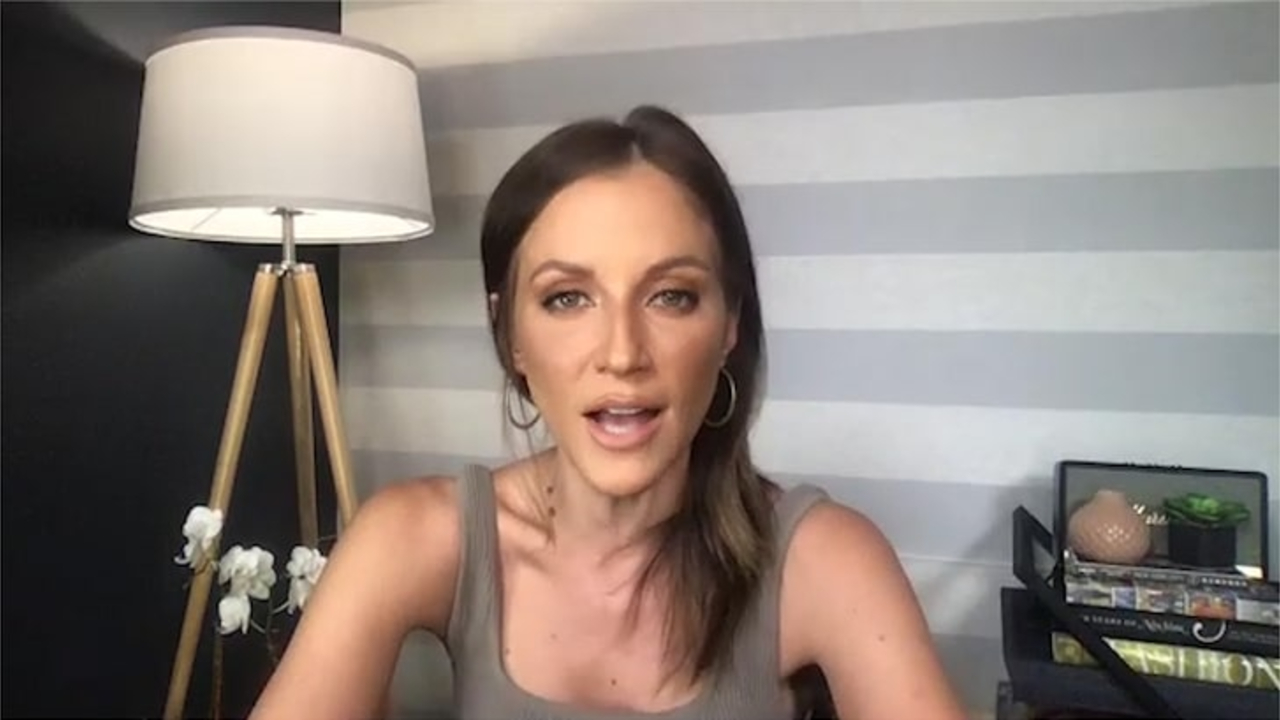 Kay Adams is the subject of plastic surgery after her most recent TV appearance.
Source: TMZ
The second user said,
I'm with you. She's definitely had some work done, no question. Really lost that girl-next-door vibe. Her lips and cheeks/jaw are totally different.
Another person was quite rude through his/her remarks.
Kind of lost the girl-next-door vibe with how it seems like her ego has gotten a bit bigger compared to when GMFB started. Could just be me though.
Some fans even believe she's gone under the knife more than once since "her face seems to change every few years."
You Might Like: 'Ghost Adventures' Star Zak Bagans' Plastic Surgery – Did He Get Nose Job?
Likewise, another user claimed, "She looked different in the studio last season and looks WAY different this year."
Another commenter explained,
Totally different. Here are my theories. 1) had work done 2) lost 10-15lbs 3) is doing her own makeup now during COVID times. I'm hoping it's 3 and everything gets back to normal eventually because she scares me now.
Most fans seemed positive about facial work, most notably around the chin as she looks to have gotten the "Khloe Kardashian treatment." Many were disappointed as well since she "took a natural look and ruined it."
One user was more elaborate with the explanation:
Her face looks too thin and her makeup looks like a witch. Too much dark on the eyes. She was rocking the near natural look a few years back.

I don't watch GMFB regularly, only during winter holidays because family watches it. So I see a HUGE difference over many who watch the show on a regular basis. Easier to see the huge change for me. Huge!

Kay is no longer the babe I once saw, that is sadly in the past. Some women just can't leave themselves alone.

At the peak of their fantastic look and then they get bored of it and change to worse? I can understand aging over the years but this was only since last year? Unacceptable.
It goes without saying, Kay Adams had a far more natural look in the past. Now, following her alleged plastic surgery, she's got those extravagant features of a model by slimming the cheeks and raising the cheekbones.
Kay Adams' Dating Life Has Been a Struggle Because of Her Career
Kay Adams might be in the media spotlight for her profession to a certain degree, but she's been super private about her dating life and romantic endeavors in general.
She gave some clues about her romance back in 2012 when she was invited as a guest at Craig Ferguson's Late Late Show.
Kay revealed it's challenging to find a companion who is not daunted by her and the level of expertise she carries when it comes to sports.
Also See: 'Cobra Kai' Star Martin Kove's Plastic Surgery – What's the Secret to His Good Looks?
When host Craig inquired about romance, and whether men were intimidated by her, in terms of her vast sporting wisdom, she said it's not been easy.
It's not easy, it's not the easiest thing, but I deal with it… I think it takes a very special person to, you know, support someone who knows more than they do.
He then questioned if she's finding it tough in the dating world, and Kay made it clear it wasn't "difficult" but that she adores her job and she seeks somebody who is appreciative of that.
She reaffirmed it's "not easy," before Craig interrupted by asking her if she would ever date a professional player.
The obvious response was a swift "no" for Kay. She said she does not wish to get in a relationship with any player, irrespective of the league.
Craig followed up and asked why she'd never considered dating a sportsman, wondering if there'd be some line crossing of sort.
Also Read: 'The Real' Co-Host Jeannie Mai's Plastic Surgery – Did She Get Butt Implants?
Kay's answer appeared to be more centered on the sort of personalities involved in sports.
The word player kind of says it all, right? … Not every sports person or athlete, but, yeah, no. No thanks.
Despite her reluctance to get in a relationship with a sportsman, Kay Adams was previously rumored to be dating a football star.
Back in 2015, there were rumors in the media that claimed Kay Adams was in a relationship with NFL player Danny Amendola, who starred as the wide receiver for the New England Patriots at the time.
They were pictured together with a bunch of friends who were hanging out during the 2015 Super Bowl.
Kay uploaded a picture on Instagram at the Super Bowl, and fans responded by pointing out that the two were dating in the comments section — though both of them were reluctant to break the silence at the time.
Rumors kept insisting these two were a thing in spite of Kay's previous acknowledgment that dating a football player wasn't something she was striving for when they showed up together five months later at the ESPY Awards in July 2015.
Do Not Miss: 'Agents of SHIELD' Star Chloe Bennet's Plastic Surgery is Trending But Is It True?
Just like the last time, neither Kay nor Danny talked openly about their speculated relationship.
By 2016, the unconfirmed relationship between Kay and Danny seemingly ended after they reportedly dated for a year.
Visit Weight & Skin for more plastic surgery stories of your favorite celebs.