Everything you need to know about RHOBH star Kathy Hilton's plastic surgery endeavors, most notably nose job, Botox, and facelift, along with before and after pictures.
Paris Hilton, one of the most famous socialites in the world, recently opened up about her mother's casting in season 11 of The Real Housewives of Beverly Hills.
After witnessing her two aunts feud on the show in previous seasons, Paris has demonstrated her concerns about the "drama" Kathy Hilton might get into on the program.
Kathy will be appearing on the show for the first time as a regular cast member rather than a special guest. Along with the full-time housewives, she joined the series as a friend.
Kathy was always welcome to join the franchise because her two younger sisters were original housewives. She's decided to make a few appearances as a guest star in the past. However, after a falling out with her sister Kyle Richards, she walked away in later years.
Kim Richards, a fellow sister, quit the reality program after five seasons following a famous tussle with Lisa Rinna. With Kyle as the lone survivor, Kathy was irritated when she decided to make a documentary about their younger years as child stars.
Although the two sisters have placed their feelings aside and reconciled since then, it still leaves the door open for future feuding.
Meanwhile, Kathy Hilton is lately at the forefront of plastic surgery speculations on social media. Did she really go under the knife? Let's discuss.
Did Kathy Hilton Have Plastic Surgery?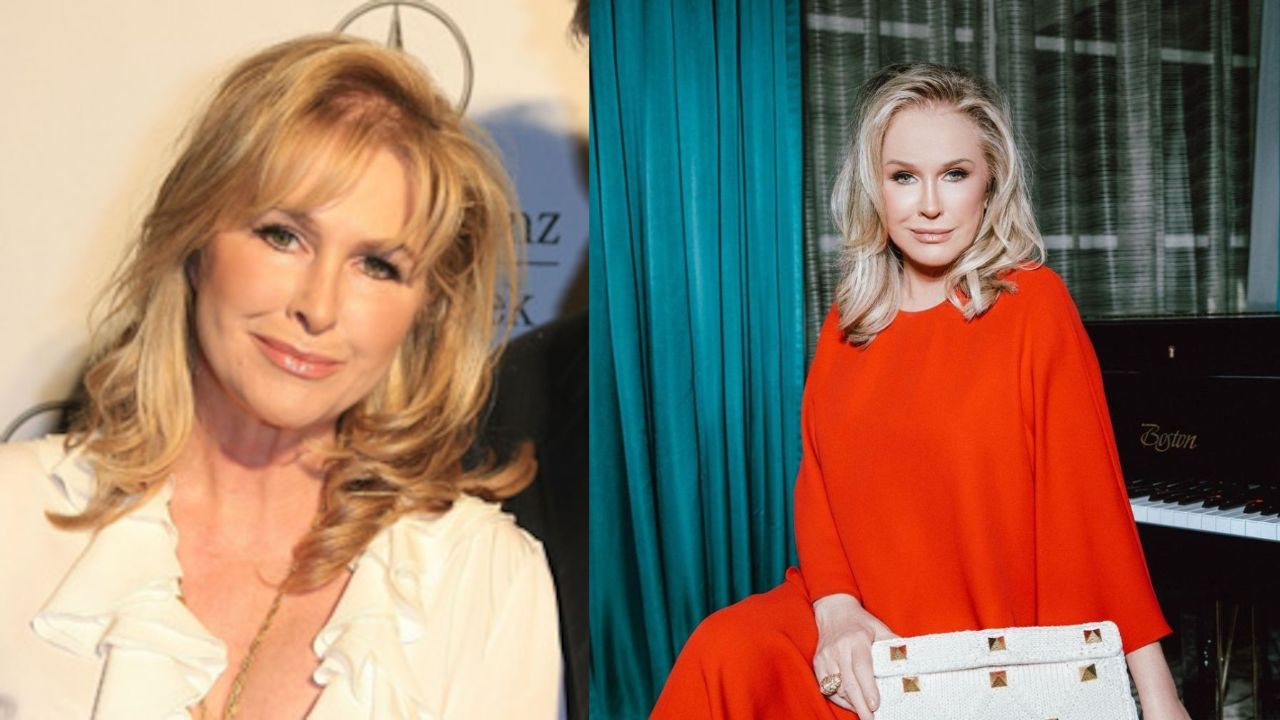 Kathy Hilton before and after alleged plastic surgery.
Image Source: Weight & Skin
Kathy Hilton, 62, is a well-known actress and fashion designer. In addition, she is the mother of Paris Hilton.
Throughout the last decade, Kathy was mentioned among the celebs that underwent plastic surgery when it came to her appearances. What kind of procedure might Kathy be subjected to?
You Might Like: Golfer Phil Mickelson's Plastic Surgery – Did He Make Cosmetic Enhancements?
Hilton may have had a nose job, judging by her changed appearance around the nasal region. Though it is still debatable, you can contrast the before and after photos of Kathy Hilton. Her nose appears to be a little shorter than before, and as we know, rhinoplasty is often used to correct the tip of the nose.
A famed plastic surgeon back in 2010 touched on the possibility of Hilton using Botox. Dr. David Shafer claimed,
Kathy Hilton looks great for her age. She does have a slight Botox glow, but otherwise appears to be a natural beauty.
This could explain why she carries such a smooth appearance. You couldn't rule out the possibility that The Real Housewives of Beverly Hills star may still be getting Botox on a regular basis.
Also See: 'Army of the Dead' Dave Bautista's Plastic Surgery – Complete Breakdown of Alleged Enhancements!
Some suggested that a facelift plastic surgery might have played a role as well since she appears to have smooth, wrinkle-free skin on her face.
To conclude, it's fair to suggest Kathy Hilton has likely had Botox, facelift, and nose job.
Paris Hilton is Worried About Mother Kathy Hilton Joining RHOBH
With her mother and aunts portraying components of their sisterhood on reality television, Paris Hilton has expressed her dissatisfaction with her mother's casting.
Paris admitted on her podcast This is Paris,
I don't know what to think. My mom is so hilarious and so beautiful and so much fun. But I haven't watched that show actually in a while. I used to watch it in the beginning. But then it's so much drama
Hilton then explained how difficult it was for her to watch her two aunts battle on national TV.
Also Read: 'Friends' Star Lisa Kudrow's Plastic Surgery – The Untold Truth!
She shared,
It's hard because both of my aunts are on the show and they would have these fights and arguments and when you're watching your family do that, it's kind of just weird to watch.
After getting in a relationship for a year, Paris announced her engagement to Carter Reum, a rich and powerful venture capitalist. With love in the air, the former Simple Life star expressed her wish for her mom, Kathy Hilton, to stay away from the spotlight.
She added,
I hope that my mom doesn't get into arguments with people because I feel like those type of shows feed off of that and they want everyone to fight and they love the drama and I just don't want my mom having to argue with people on national television
Paris also stated that she does not want her mother to be drawn into the controversy.
Do Not Miss: 'Destiney Shahs of Sunset Plastic Surgery' – Destiney Rose's Botox & Cosmetic Fillers!
Regardless of how preoccupied she is as a businesswoman and media figure, Paris will be watching RHOBH season 11.
Visit Weight & Skin for more interesting plastic surgery stories of your favorite celebs.