Katherine Heigl's 50-pound weight gain caused her to panic. She has two adopted daughters, but giving birth to a son Joshua Bishop introduced her to the world of pregnancy and the bizarre changes that occur in her body. She hoped to gain only 25-30 pounds like her mother did during her pregnancy, but this was impossible for her.
Katherine Heigl is a 44-year-old American actress, producer, and former fashion model. She starred as Dr. Izzie Stevens on the ABC television medical drama Grey's Anatomy from 2005 to 2010, a role that earned her a Primetime Emmy Award for Outstanding Supporting Actress in a Drama Series in 2007.
Heigl has also become a cover model, appearing in magazines such as Maxim, Vanity Fair, and Cosmopolitan. She added a lot of weight while she was pregnant with her son. Fans want to know more about her transformation. In this article, we will examine Katherine Heigl's weight gain in detail.
Earlier, we touched on Caitlyn Jenner's and Oliver Hardy's weight transformation.
Katherine Heigl's 50 Pounds Weight Gain Before Was Due to Giving Birth to Her Son Joshua Bishop
The weight gain of Katherine Heigl (@katherineheigl) has sparked debate on social media. Weight gain can occur for a number of reasons, including lifestyle changes, medical conditions, or as a natural part of the aging process. But in Heigl's case, she previously gained weight during her pregnancy.
Heigl revealed in a candid blog post that gaining 50 pounds while pregnant caused her to panic, but the experience of losing her post-baby weight has made her appreciate her body even more. During her pregnancy in December 2016, she had no idea what to expect.
Katherine Heigl added 50 pounds before giving birth to her son Joshua Bishop.
Source: Daily Mail
Despite following a pregnancy-friendly diet and hiking five days a week, her weight continued to rise. She hoped to gain only 25-30 pounds as her mother did during her pregnancies, but that was impossible for her. Katherine's pregnancy and postpartum bodies instilled in her a sense of body pride and freedom from the body shaming that had been such a persistent part of her life for so long.
Katherine gave up the struggle at some point, probably around four months, and instead tried to respect her body's needs, trust, and instincts. She lost 30 pounds after giving birth, which her doctor explained was normal after giving birth to a baby weighing 10-15 pounds. The rest of the weight, on the other hand, has not vanished quite so magically.
And, as her body clung to the last few pounds, Katherine resolved to forgive the glorious flaws that would forever grace her new post-baby body. Explaining how she came to terms with her new shape, she stated that gaining weight during her pregnancy was the most natural and healthy thing in the world.
Meet Katherine Heigl's Husband, Josh Kelly & Her 3 Kids
Katherine Heigl has been married to musician Josh Kelley (@joshbkelley) since 2007. They appear to be very smitten with each other, whether they are happily attending professional events where they pose and smile on the red carpets or spending time together with their family for casual outings. The pair first became acquainted in 2005, when Heigl appeared in his music video Only You. The blonde beauty watches her future husband sing and play guitar while sitting in a window in a building in the video. They reportedly began dating immediately and were engaged after a year.
Adelaide Marie Hope, Naleigh Mi-Eun, and Joshua Bishop Kelley are the couple's three children. When Naleigh was nine months old, they adopted her from South Korea. Margaret was adopted from South Korea as well. Naleigh was born with a congenital heart defect that necessitated surgery before she could leave South Korea. Adelaide, their daughter, was also adopted in the United States and joined the family in 2012. Heigl and Kelley named her Adelaide, after her great-grandmother, and Marie, after her own middle name. The couple and their children live in Oakley, Utah.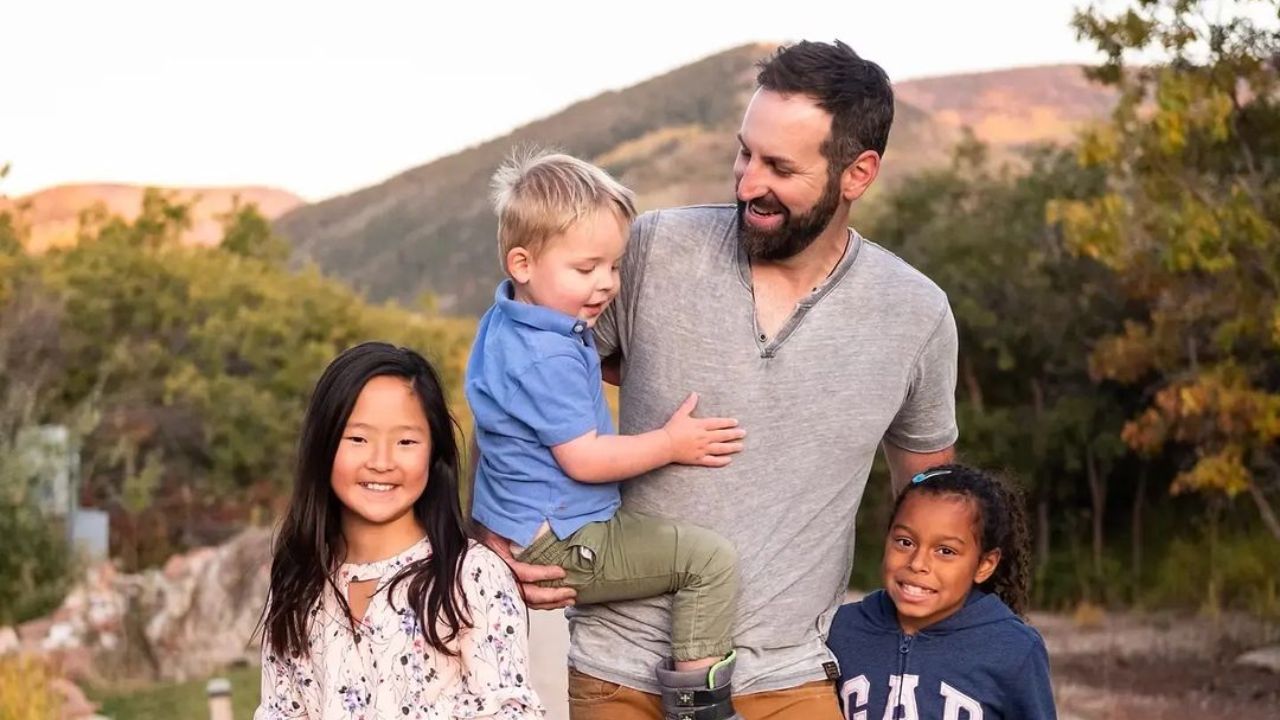 Katherine Heigl's husband with her 3 kids.
Source: Instagram
Josh, who was born in Augusta, Georgia, and attended the University of Mississippi, has released a number of albums over the years, with some of his songs, such as Amazing and Only You, reaching the Billboard Adult Top 40 chart. Changing Faces, his first independent album was released in 2001, and he signed with Hollywood Records in 2002. The following year, his debut studio album, For the Ride Home, was released. Josh signed with MCA Nashville in 2009, and his first country album, Georgia Clay, was released in 2011. He has since toured with major country stars such as Miranda Lambert and Lady A.