Country hottie Kacey Musgraves clearly lives in her Golden Hour. With such big hits as "Butterflies" and "Space Cowboy," the 30-year-old artist has soared to fame over the last few years.
Recently, however, the singer is subject to massive plastic surgery speculations. So, let's find out if Kacey Musgraves really went under the knife.
Kacey Musgraves's Plastic Surgery Speculations – What do the Experts Say?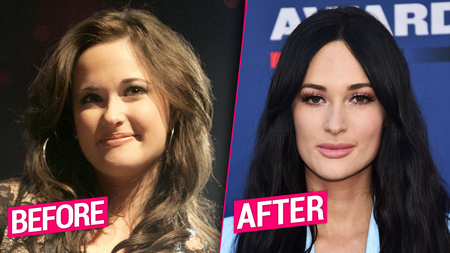 Kacey Musgraves before and after plastic surgery.
Source: Radar Online
Upon watching a series of pictures of Kacey Musgraves, three of the nation's leading plastic surgeons, who had not treated the artist, told Radar that they believed she has had major plastic surgery procedures.
Anthony Youn, M.D., F.A.C.S.—who has not performed surgery on Musgraves said, "She looks great but I suspect that, like many who hit it big in Hollywood and Nashville, Kacey has had a nose job."
"Her nose just looks thinner and more refined than it used to and the only way to achieve this is through rhinoplasty."
You Might Like: All Facts Behind Tanya Tucker Plastic Surgery
Dr. Youn added, "In addition, her lips look much different."
"She may have also undergone lip fillers recently, causing her lips to look a lot plumper than they once were."
But that's not all of the procedures Musgraves had allegedly undergone.
As per Dr. Dennis Schimpf, M.D., F.A.C.S., who is yet to treat Musgraves, "There is a dramatic difference in the volume of Kacey's face. Some of this may be due to weight loss and some of this may be due to a reduction of volume in the cheeks and neck."
"This can be achieved via injections of such products as Kybella, or surgically via excision of buccal fat or facial chin liposuction," Dr. Schimpf (Sweetgrass Plastic Surgery, South Carolina) said of her facial look.
Dr. Shimpf added, "There are numerous heat-based procedures use to decrease chin volume, as well as tighten the skin. There is an increase of prominence of [Musgraves'] cheeks, most likely due to filler and/or possible fat grafting."
Also See: Full Story on Former 'RHONJ' Star Dina Manzo's Plastic Surgery Operations
Dr. Schimpf concurred with Dr. Youn about Musgraves' mouth, "Kacey's lips appear more full and defined."
"Overall, the size of her nose and width of her nose is smaller, most likely due to a well-performed rhinoplasty," Dr. Schimpf noted.
Adam Schaffner, M.D., F.A.C.S., Director of the Plastic Surgery Institute of New York, agreed with his colleagues. Even though Dr. Schaffer did not treat Musgraves, he figured she possibly had a few touch-ups in her rise to stardom.
"Kacey's skin tone may be due to make-up, lasers, chemical peels, radiofrequency, and/or great skincare products," Dr. Schaffner added.
Kacey Musgraves and Ruston Kelly Filed for Divorce in July 2020
Grammy-winning star Kacey Musgraves and her musician-husband Ruston Kelly filed for divorce in early July 2020.
Representatives for both singers confirmed the news in a joint statement to Associated Press: "We've made this painful decision together."
The email statement read:
With heavy but hopeful hearts we wanted to put our own thoughts into the air about what's happening. These kinds of announcements are always met with scrutiny and speculation and we want to stop that before it even starts.
The statement continued:
We believe that we were put into each other's lives for a divine reason and have both changed each other infinitely for the better. The love we have for each other goes far beyond the relationship we've shared as husband and wife. It's a soul connection that can never be erased.
Kacey Musgraves and Ruston Kelly tied the knot in 2017.
Visit Weight & Skin for more plastic surgery stories of your favorite celebs.