Learn all the facts about Julie Chen's plastic surgery that made her eyes look bigger.
During The Talk season premiere in 2013, interviewer and co-host Julie Chen dropped a surprise that she underwent plastic surgery on her eyes while she was a teenage reporter living in Ohio.
Her decision to do so came at the recommendation of an advisor and news director who told Chen she would never make it a top news anchor if she did not improve her look.
They advised her that the form of her monolithic eyes always made her appear "disinterested."
Julie Chen Underwent Plastic Surgery to Make Her Eyes Look Bigger
Julie Chen before and after plastic surgery.
Source: USA Today
Back in 2013, Julie Chen revealed on The Talk she opted for plastic surgery years ago to change the way her eyes looked.
"My secret dates back to — my heart is racing — it dates back to when I was 25 years old and I was working as a local news reporter in Dayton, Ohio," she recalled.
Julie told her news producer if she should fill in for holiday anchors.
"And he said, 'You will never be on this anchor desk because you're Chinese.' He said 'Let's face it, Julie, how relatable are you to our community? How big of an Asian community do we really have in Dayton?"
"On top of that because of your heritage, because of your Asian eyes, I've noticed that when you're on camera, when you're interviewing someone you look disinterested and bored because your eyes are so heavy, they are so small.' "
You Might Like: Drake's Baby Mama Sophie Brussaux's Plastic Surgery – Is There Any Truth to It?
She said, "It felt like a dagger in my heart."
Chen sought a future in broadcasting, so one day she planned to travel to New York. "It was racism."
She felt "very insecure" about it all. She would see her episodes, because, "All I could see was my eyes."
And she began getting in touch with recruitment agencies to pursue a new career.
Julie said a "big-time agent" told her, "I cannot represent you unless you get plastic surgery to make your eyes look bigger. And I did it."
The 50-year-old displayed her before and after photos, telling "how dramatic" the operation was, and pointing out, "The eyes are bigger. I look more alert. … more expressive."
She went on to say, "Now, it's like I sometimes wonder, but I will say after I had that done everything kind of, the ball did roll for me. I struggle with, 'Wow. Did I give in to the man in doing this?' "
Her co-hosts backed her divisive statement.
"You made a choice that was good for you and you have represented your race, women, and your colleagues," said Sheryl Underwood. "Don't look back."
Also See: Did American Actor Val Kilmer Ever Undergo Plastic Surgery?
"It was the right thing to do," said Sharon Osbourne.
"I think you were beautiful before and you're beautiful now," said Sara Gilbert.
Chen said, "I don't like to live with regrets. I did it. I moved on. No one's more proud of being Chinese than I am."
Did Julie Chen Get Nose Job?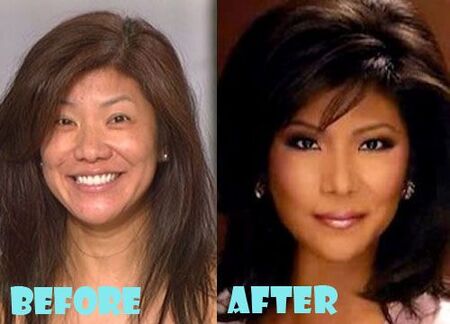 Julie Chen before and after an alleged nose job.
Source: Pinterest
Reality and talk show host Julie Chen's appearance has been the topic of discussion after she announced she underwent plastic surgery operations on her eyes in the 1990s after forming a fixation owing in part to remarks by a long-standing news chief at WDTN-TV.
Numerous people said online Chen — the host of CBS's "Big Brother" and "The Talk"—had obviously not stopped at the eyes.
Lisa Scott, the founder of Beaute Box Day Spa in downtown Dayton, claims Julie's nose is distinctly wider in her headshot from about 1995 than all of her after images, including a new one of her without makeup.
Also Read: Instagram Model Abby Rao's Plastic Surgery – Did She Have Breast Implants?
Scott said there is more to work on the picture than contouring.
"I am going to say nose job. You can make a nose look narrow, but come on now," said Scott, who often uses makeup to alter the appearance of her facial characteristics.
There have been rumors for a long time that Chen has had a nose job.
Scott wondered whether Chen was not just "upsold" by a plastic surgeon who conducted her "double eyelid surgery." The surgical technique reshapes the skin across the eye.
"Do you want fries with that shake?" Scott asked.
Like Scott, Square One Salon and Day Spa director Brent Johnson, a part of the Rubi Girls Drag troupe, said Chen is gorgeous.
He claimed great stuff could be achieved with contouring and cosmetics design, but he also felt Chen had a nose job.
"If that helped take a barrier out of her way, rather real or imagined, good for her," he said."We sometimes see things in ourselves completely differently than the world sees us."
Square One is located in Dayton, Centerville, and Columbus.
Do Not Miss: Real Truth About US Senator Kamala Harris' Plastic Surgery in 2020
While the issue of whether Chen had a nose job or not is mostly light-hearted, her disclosure on The Talk raised a host of serious concerns on beauty and how they correspond to race, television news, and the workplace.
Julie claimed she was being scrutinized over her racial background, and she witnessed prejudice at work.
In the exclusive 'secrets' section of the program, Chen claimed the then WDTN-TV news chief advised her she will never be welcomed as an anchor in Dayton. she remembered the news supervisor telling her that her Chinese eyes had made her seem disinterested.
An agent subsequently repeated several of the news director's comments and advised Chen she needed plastic surgery if she wished to be popular.
Joe Abouzeid, WDTN chairman and WBDT, said he was sorry to hear about Chen's encounter and that bigotry is not accepted at either station.
Recommended: Has Martha Stewart Had Plastic Surgery?
WDTN is now the owner of LIN Communications. It was owned by the Hearst Corporation when Julie was working there.
Chen claimed her reputation was boosted by the infamous treatment that made her eyes appear wider and less Asian. But she wondered if she should have given in to "The Man."
Visit Weight & Skin for more plastic surgery stories of your favorite celebs.