Botox and fillers are only two of the several anti-aging treatments utilized by celebrities to appear younger. Yet Julianna Margulies claims to be taking a somewhat different path in adopting her glamorous look.
So what's the actual truth about Julianna Margulies's alleged plastic surgery? Let's find out.
Julianna Margulies Plastic Surgery – What's the Real Truth?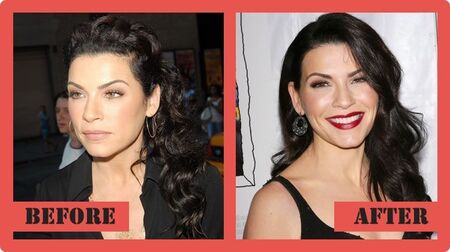 Julianna Margulies before and after plastic surgery.
Source: Pinterest
The theories about Julianna Margulies's plastic surgery were raised when the actress appeared to defy the regular aging process and held a youthful appearance even in her old age.
Julianna Margulies had long been accused of undergoing plastic surgery, but when there was no significant shift in her looks following her 40th birthday, her followers and fans started to believe something was definitely up. The skin around her eyes looks tighter than it used to be and shows signs of a facelift that includes fillers such as Botox to make the face look fuller and more natural after the skin has been stretched.
You Might Like: 'sMothered' Star Mariah Caldwell Plastic Surgery – Get All the Details
To be fair to the actress, Julianna Margulies's plastic surgery looks incredibly well executed. It's added to the aesthetic and glamour quotient of the 'ER' star and should serve as an example to everyone.
Back in 2015, the actress discussed the burden of looking youthful. She said: "There is so much pressure to look young, but it sure beats the alternative. If I wasn't aging, I wouldn't be living. You have to embrace it. Hopefully, I will age. What are my other choices?"
The actress added, "I am against juice cleanses and detoxes, and I always have been. They are a slippery slope. Every friend I have who has done one looks great for two days, then they gain 10 pounds. Your body needs fuel like a car. It needs energy. It needs to be a well-oiled machine."
Julianna couldn't be aging more gracefully as she sure looks amazing for a 53-year-old.
Julianna Margulies was Afraid to Touch Her Face After Starring in NatGeo's 'Hot Zone'
Back in 2019, after shooting the Ebola miniseries, it seemed really fair to give more care to your hands than normal (especially now since the coronavirus outbreak). But Julianna Margulies took that suggestion to the extraordinary level.
Adapted from Richard Preston's 1994 book "The Hot Zone," the National Geographic miniseries traces the origins of the virus. She stated that while studying the role of Nancy Jaxx, a government pathologist who helped manage a potential Ebola outbreak in 1989, following which she became more knowledgeable about hygiene and germs.
"I definitely wash my hands more, and am very aware of what I'm touching and where things might have been," she told the Television Critics Association. "I now carry wipes in my bag. I never used to do that."
"It's also not just the hand-washing," she added, as she described working with her character's real-life nephew, an infectious disease specialist, on the series.
"He told me infectious disease specialists never touch their face. And he said now that you know, you're going to watch people, and you're going to see how often they touch their face. … So now I'm always sitting on my hands. It is kind of fascinating; it's really horrible."
Performing on "Hot Zone" had even made the actress more conscious of the illness, so she was slightly worried it's not bigger news.
Also Read: Helen Hunt Plastic Surgery – Did She Have a Facelift?
"There were a lot of stories about Ebola the whole time we were shooting," she said. "Every day there seemed to be another story about Ebola in small print. I found it disturbing that it wasn't on the front page. … It just makes our show more relevant and more timely. … People think because Ebola is found in these faraway African villages it has nothing to do with us here in the U.S.," she said. "My reaction is that it's good that it's out there, that people understand that it's something we need to take seriously. But I don't see any action."
Unfortunately, the NBC show "ER" did not prepare Margulies for using hazmat suits and speaking about viruses in "Hot Zone."
"Being a nurse in 'ER,' aside from the fact that you're dealing with gloves and blood, is completely different from being a pathologist," she said, comparing her roles. "It didn't, sadly, help at all. Because I don't have a medical brain, so none of the terminologies stays there. I memorize it … I can't hold it. Otherwise, I'd think I'd be doing really important work."
Yet some of her time on television was ingrained in her head, particularly what she learned while portraying a lawyer in the CBS series "Good Wife."
The actress stressed, "The lawyer stuff stays!"
Visit Weight & Skin for more plastic surgery stories of your favorite celebs.