John Finlay is a name that is taking over the internet right now. All thanks to Netflix stranger-than-fiction docuseries, 'Tiger King,' now the whole world knows his name, face, and body covered with tattoos. John Finlay has more than fifty tattoos on his body, but we are going to include only the prominent ones.
In an interview, directors of the show, Eric Goode and Rebecca Chaiklin, revealed why Finlay was bare-chested throughout the whole series. The answer was, he wanted to show off his tattoos. While talking about his other trivial tattoos, Finlay's body is covered with many large and small tribal designs.
So, let's discuss some of the prominent tattoos that we noticed on the series on Finlay's body.
John Finlay's Love For Joe Exotic – "Privately Owned by Joe Exotic" tattoo
We are pretty much sure you noticed a big pelvic tattoo on Finlay's. The tattoo read, "Privately owned by Joe Exotic." Joe Exotic and Finlay started out as lovebirds, but over the course of time, their sweet relationship turned sour.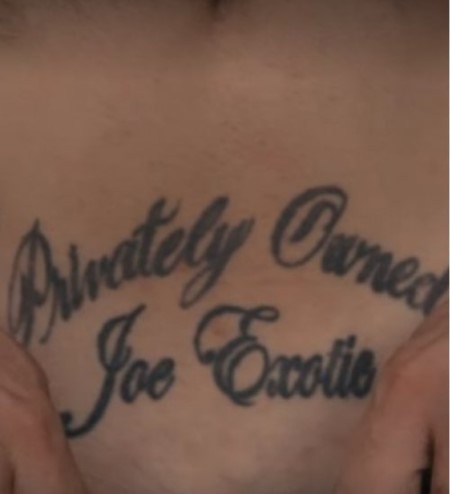 John Finlay's pelvic tattoo that reads "Privately Owned by Joe Exotic."
Photo Source: YouTube User
The tattoo we saw on the show has already been reworked, as suggested by Finlay, himself. Well, recently that's not the only thing that has been redone recently, Finlay did some work on his smile too.
Also Read: Lynette Romero Weight Loss Secret — How She Lost 50 Pounds
After the split with his previous partner, Joe Exotic, Finlay is currently in a relationship with, or should we say, engaged to Stormey. Remember that girl he was with at the end of the docuseries? Well, she's the woman John is currently engaged to.
Another Instance of John Finlay's Love for His Previous Partner Joe Exotic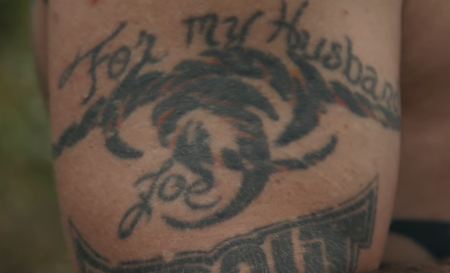 Finlay has a text inked across his upper arm that reads, "For My Husband, Joe."
Photo Source: YouTube User
John Finlay seemed proud of his tattoos, and his love for Joe Exotic, that's one of the reasons he was dwelling shirtless all through the series. While he was walking bare-chested out of his boastfulness, we noticed something.
There's a tattoo on his right chest with a big cat, under which there's a text that reads, "Joe." Moreover, Finlay also has a text inked across his upper arm that reads, "For My Husband, Joe."
Reworked Version Tattoo is a Bull's Head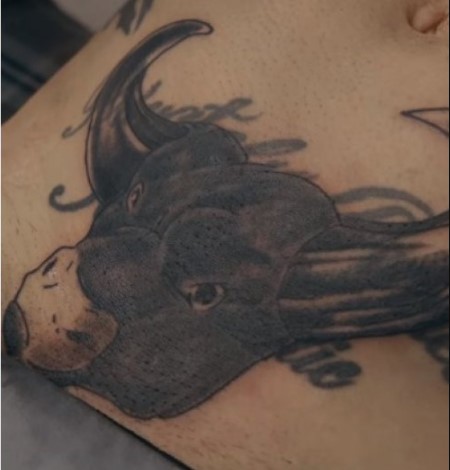 The old tattoo is covered by Bull's Head.
Photo Source: YouTube User
As we mentioned earlier, John Finlay just got a rework for his old tattoos, which were reminders of his past relationship with Joe Exotic. The reworked version of 'Privately Owned by Joe Exotic' has a new look now.
After his split Joe Exotic, it makes no sense to still have a tattoo that reads you are owned by the same person. So, to make the message clear, he covered his old tattoo with a furious bull's head, but we still can see old tattoo leaking from the sides. But we will give it to him; he did what he could.
Some Random Tattoos of John Finlay
As said before, John Finlay's body is covered with more than 50 tattoos. While it was nearly impossible to write about them all, we thought we should give you some glimpses of his tattoos.
John Finlay has over 50 tattoos on his body. His body is basically an art canvas.
Photo Source: YouTube User
And one more thing, this might be little out of context here but, we thought his message should be heard. According to Finlay, he seemed a little upset with certain parts of his characterization on the show, following which Finlay created a Facebook page – "The Truth About John Finlay,' to clear all the confusion.
You May Also Like: Shonda Rhimes Weight Loss; 150 Pounds Later, Learn Shonda's Workout Routine and Diet Plan
Moreover, if only you want to know or see how his fiance looks, you can find the detail on his page. His Facebook page has a profile picture of the two.
If you liked what you read, don't forget to sign up for the newsletter. And stay tuned to Weight&Skin for more celebrities' lifestyle.