Everything you need to know about 'Myth & Mogul' John DeLorean's plastic surgery on his jaw. Why did the DMC (DeLorean Motor Company) owner decide to change his chin?
Myth & Mogul: John DeLorean, a new Netflix docuseries, dropped on the streaming platform on 30th July, shedding light on some trifle truths about the creator of the DeLorean Motor Company.
In just ten years, the entrepreneur went from being an automotive tycoon on the rise to stepping out of a courtroom, his firm bankrupt, and asking if somebody would purchase a secondhand car from him.
Aside from his infamous cocaine trafficking case (in which he was convicted) and his trademark automobile design that will eternally evoke '80s nostalgia, here is one intriguing detail concerning his plastic surgery transformation you likely want to know more about DeLorean, thanks to Myth & Mogul: John DeLorean.
Without further ado, let's jump right to it.
John DeLorean's Plastic Surgery on His Jaw – What's the Reason for Him Changing His Chin?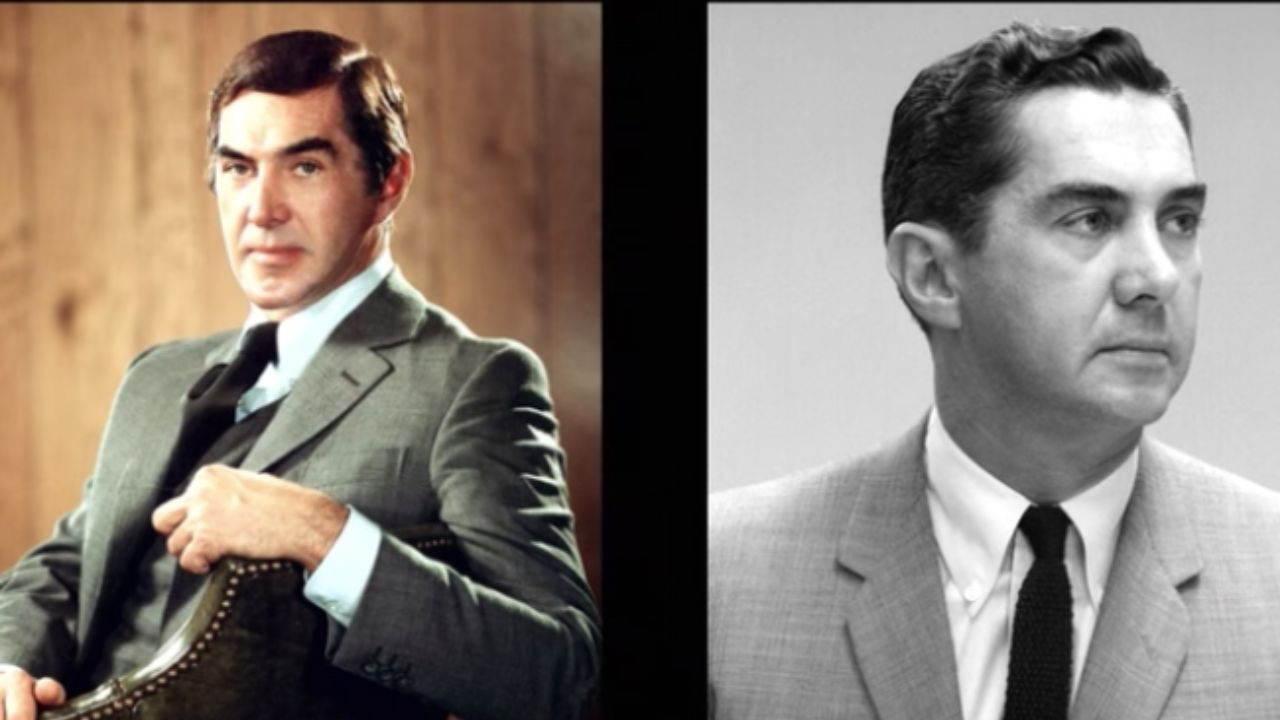 John DeLorean before and after plastic surgery on his jaw.
Image Source: Movie Maker
The stark contrast between how John DeLorean appeared when he was employed at General Motors in the late '50s and '60s and how his face changed when he came to Hollywood and founded DMC in the 1970s is startling.
You Might Like: Haley's Plastic Surgery from Hooked on the Look – The Unspoken Truth!
In the opening episode of the Netflix docuseries, writer Gail Sheehy, who conducted an interview with DeLorean for her 1974 book Passages, states how he looks altered through a mere glance of his before and after appearance.
He genuinely embraced the youth program, adds investigative journalist Hillel Leven. At this time, he begins to physically change himself by undergoing plastic surgery. His jaw, specifically, has benefited from plastic surgery, as he has been able to build out his chin.
Sheehy claims DeLorean formed DMC and began constructing his eponymous automobile during a midlife crisis. Born in 1925, DeLorean was 45 by 1970. He began working out and got in a relationship with his third wife, model Cristina Ferrare.
He went Hollywood, writes Ivan Fallon, author of John DeLorean: The Rise and Fall of a Dream Maker. When John DeLorean moved to Hollywood, he became acquainted with the outside world.
Also See: Laura Fine-Baker Actress Monet Mazur's Plastic Surgery – Did the All American Star Get a Nose Job?
John DeLorean used to make up reasons to go out there and explore, and he built friendships while he was there. In the documentary series, Ed Lapham, publisher of Automotive News, states it became a cool fad.
'Myth & Mogul: John DeLorean' Details Surprising Story Behind Back to the Future Car
Doc Brown (Christopher Lloyd) develops a time machine in Robert Zemeckis' 1985 classic Back To The Future by modifying a DMC DeLorean with a "flux capacitor," a fictitious gadget that allows time travel. It's a ridiculous but hilarious story.
The story of the real DeLorean's creation is equally interesting, involving incredible genius, greed, pride, and even some drug smuggling.
Myth & Mogul traces the ascent and downfall of John DeLorean, who started his career as an automotive engineer in Detroit, using archive footage from a 1981 documentary by famed Oscar-winning married pair Chris Hegedus and D.A. Pennebaker, as well as original interviews.
Also Read: Did Kate Beckinsale Have Plastic Surgery? The Untold Truth!
He mastered motor engineering at Packard Motor Company before heading to General Motors in 1956, where he rose to prominence. When the car firm failed to engage with the infant market in the 1960s, DeLorean produced the game-changing GTO Pontiac, which pioneered the "muscle car."
It was a big success, and he quickly ascended through the ranks, turning into the company's youngest manager at the age of 40 – and subsequently the personification of capitalist greed.
After the GTO's success, DeLorean changed himself: from a short-back-and-sides, three-piece tuxedo guy to a rock-star, he wore stylish clothes, worked out, and divorced his first spouse.
He also adopted the West Coast lifestyle, quickly associating with Hollywood stars and dating female celebrities such as Tina Sinatra and Ursula Andress. To blend in with his newfound lifestyle, he even underwent plastic surgery, which we discussed earlier.
Spurred by his success, DeLorean founded his own firm, The DeLorean Motor Company, with the goal of designing his own "ethical car," influenced not by environmental concerns but by the 1973 oil crisis.
It was bold, but DeLorean, who had now wedded model Cristina Ferrare, who was 25 years younger than him, and spending time with Johnny Carson and Sammy Davis Jr, was nothing if not self-assured.
Following a search for government funding, the money — $100 million – was eventually provided by the British government to develop a factory in Northern Ireland. It was a large sum, but DeLorean couldn't resist spending it.
Do Not Miss: Michael Phelps' Plastic Surgery – Is There Any Truth to It?
Soon, the British, US, and Swiss administrations would be among his victims of deception, extortion, and unpaid loans, compelling a designer to pay $500,000 to buy back his own creation, and talk-show star Johnny Carson, who spent $1.5 million in the car.
The car was a flop when it was ultimately released in 1981; there's a terrific clip of a British TV correspondent taking the first edition for a test drive and needing to be aided to pry open the hatchback door to get out.
From there, everything went south quickly. Especially after the main plot twist in which DeLorean was captured in an FBI trap for deciding to sell 220 pounds of cocaine believed to be worth $24 million.
Visit Weight & Skin for more plastic surgery stories of your favorite celebs.