Check out cat face lady Jocelyn Wildenstein before and after plastic surgery. Why did she get surgery? Fans wonder how she looks now in 2021. Many are curious to see her transformation from a young woman through the years to today.
It's easy to see why Jocelyn Wildenstein, a plastic surgery enthusiast, is dubbed "Catwoman" around the world.
Wildenstein, who was born in Switzerland, spent tons of millions on cosmetic enhancements to impress her kitty-loving, art-dealing spouse, Alec Wildenstein, who passed in 2008.
The New York socialite has, in fact, spent over $6 million on cosmetic treatments and no longer resembles her former self. Let's get to know her plastic surgery endeavors in further detail.
Why Did Jocelyn Wildenstein Get Plastic Surgery?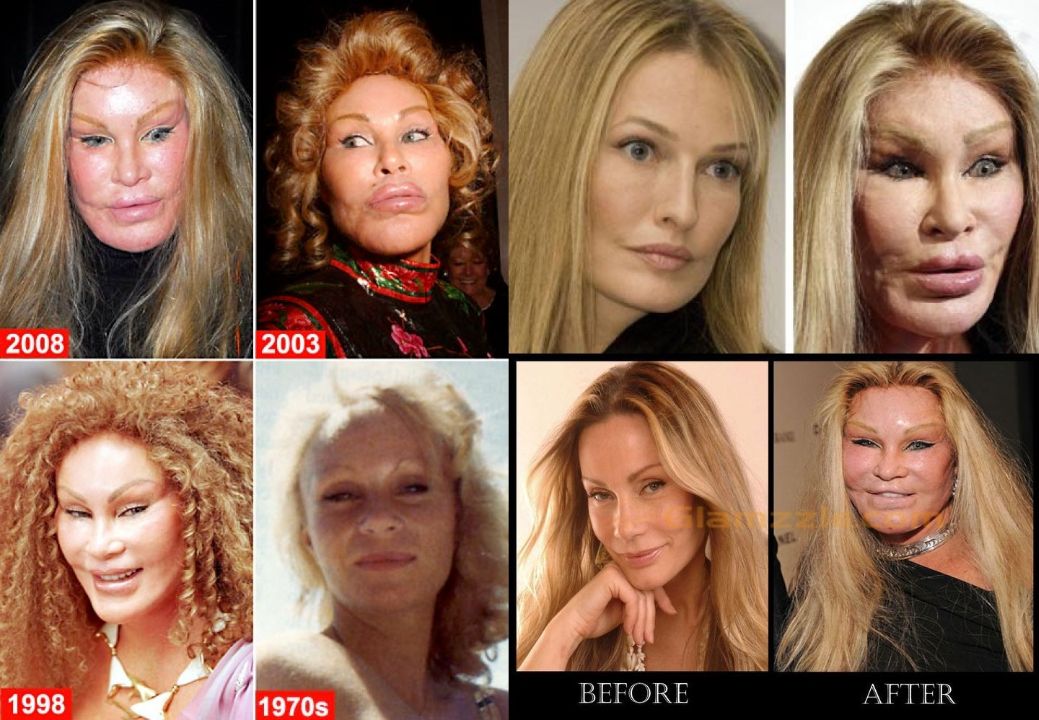 Cat face lady Jocelyn Wildenstein before and after plastic surgery through the years.
Image Source: Weight & Skin
It is believed that Jocelyn Wildenstein has received canthopexy, a treatment that raises the eyes to create a cat-like look, since beginning her plastic surgery journey. She has undergone an astounding alteration, as seen by images taken before she underwent surgery.
She has apparently received upper & lower eyelid surgery, a brow lift, a facelift, lip-plumping treatments, chin enhancement, fat transplantation, and/or cheek implants, according to a cosmetic expert.
You Might Like: Laura Kightlinger's Plastic Surgery: What's Wrong With Her Face?
However, the 71-year-old has stated that she is not through with plastic surgery and that she does not have a surgery obsession.
Speaking with the Daily Mail, the socialite vehemently refuted cosmetic surgery and attributed her "elevated cheekbones and long hair" to her Swiss heritage.
Wildenstein's fiance Lloyd Klein even stated to the publication that when the pair visits France, she is frequently mistaken for French actress and legendary sex goddess Brigitte Bardot.
Jocelyn Wildenstein's Spending Habits were Insane!
Per a 1998 Vanity Fair feature, the lady dubbed "Bride of Wildenstein" by the media did not come from a wealthy family, but it wasn't long before she settled into the part of the wife of an incredibly rich art dealer.
She met Alec Wildenstein on an African trip in 1977 and left everyone she was with to be with him.
Jocelyn Wildenstein began doing highly cliché billionaire spouse things after they decided to get married in 1978, such as purchasing $350,000 for a Chanel gown and frosting it with $10 million in diamonds. At that time, she projected their monthly spending to be over $1 million.
Also See: Will Poulter's Plastic Surgery: Fans Think Marvel Actor Has Gone Under the Knife!
Jocelyn's extremely pricey plastic surgery appetite was also a significant contributor to those bills. She was imagining she could restore her face like a piece of furniture, her former husband explained. Skin does not function in this manner. But she refused to listen.
According to an unnamed acquaintance described in the profile, Jocelyn disfigured herself. Despite the fact that Jocelyn, a wildlife enthusiast, stated, "The lynx has amazing eyes," she insisted her obviously exaggerated facial characteristics were natural.
Jocelyn claimed her grandma had cat eyes and high cheekbones, but her face reveals the story of a person concerned with looking like a wild cat with a terrible attitude.
Despite the fact that she spent money recklessly, if you ask Wildenstein how she squandered it all, she will predictably deny having anything to do with it.
According to Express Digest, the person who could rack up a $5,000 phone bill per month (recall the days before unlimited calls and text messages?) didn't splurge her way to disaster.
She claimed that the confidence she gained as a result of her divorce was assured through artwork by 17th-century Spanish painter Diego Velázquez that proved to be a counterfeit, as well as a Cézanne that showed to be worth less than she thought.
Also Read: Toby Keith's Plastic Surgery: The Untold Truth!
According to The New York Post, the reportedly $35-million worth picture only went for $4.7 million.
Still, that fails to clarify what transpired with the other billions Jocelyn presumably possessed. Wildenstein seems to be a horrible money manager.
According to The Blast, she and her partner Lloyd Klein submitted bad checks for a $250,000 emerald and diamond necklace, then "lost" it when the jeweler demanded it back.
Visit Weight & Skin for more plastic surgery stories of your favorite celebs.